RECALL ALERT: Popular taco seasoning found to contain allergen
WASHINGTON -- Taco seasoning, enchilada sauce and certain taco-making kits made by Ortega and Las Palmes are being recalled after the company learned the product may contain ingredients potentially dangerous to consumers allergic to nuts.

B&G Foods is voluntarily recalling certain Ortega Taco Seasoning Mix, Ortega Taco Sauce, Ortega Enchilada Sauce and Ortega Taco Kit products and certain Las Palmas Taco Seasoning Mix and Las Palmas Taco Sauce, the company said.

B & G Foods is voluntarily recalling the mixes after learning that one or more of the spice ingredients purchased from a third party supplier contain peanuts and almonds, potentially posing a dangerous risk to those with peanut allergies.

People who have an allergy or severe sensitivity to peanuts and almonds run the risk of serious or life-threatening allergic reaction if they consume these products, the company said. There is no health risk associated with these products for individuals without an allergy to peanuts or almonds.

This recall affects the following products, which were sold in retail stores and food service outlets, according to B&G Foods: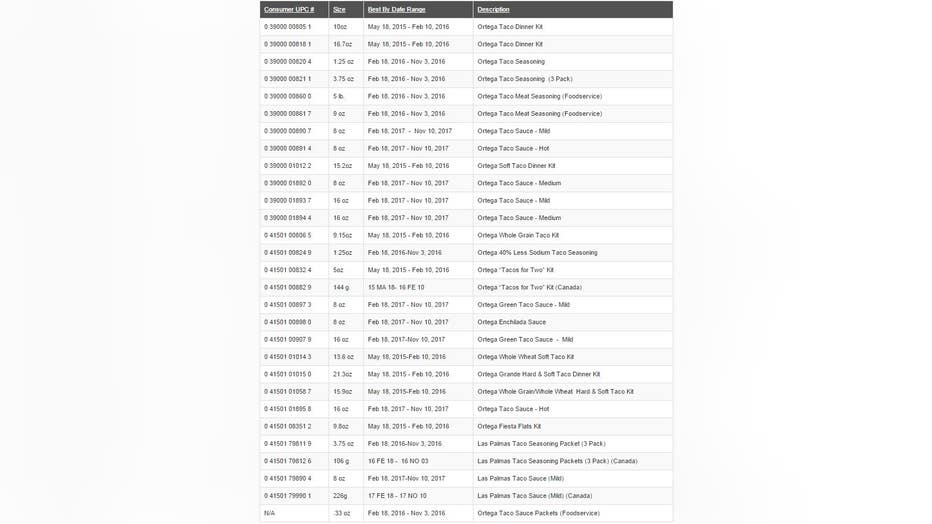 Questions can be directed to the company's recall hotline at 877-929-2576 from 8:00 a.m. ET to 8:00 p.m. ET, or visit www.ortega.com for additional information.