Brazen thief gets away with $7K worth of bikes in broad daylight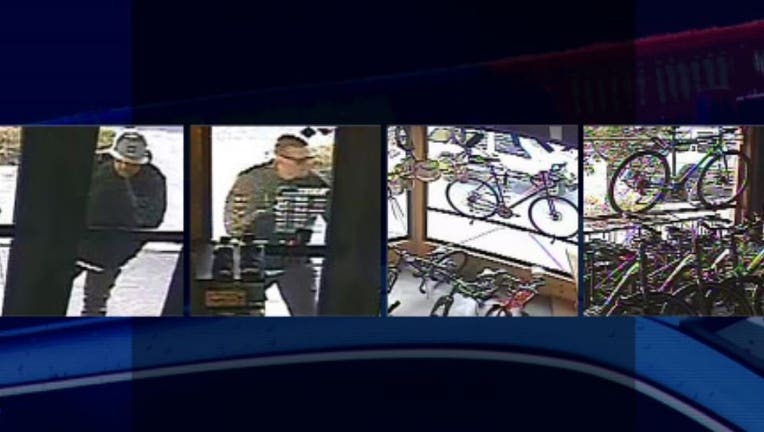 article


SEATTLE -- A Seattle bike shop owner says he's had enough. The latest break-in at Montlake Bicycle Shop happened in broad daylight on Aug. 1, when a thief made away with three bikes worth more than $7,000.

"We've had break-ins before," said Montlake Bicycle Shop owner Neil Wechsler.

But perhaps none as brazen as this one.  In broad daylight as busy commuters rushed to work, the thief walks up to the shop door.

"You're gonna see him monkeying around with the front door. What he's really doing at this point is breaking the lock," said Ret. Det. Myrle Carner with Crime Stoppers of Puget Sound.

Seconds later he makes it out with his first bike.

"From this angle you can see him putting the bike into a white vehicle, likely a white Nissan Pathfinder," said Carner.

Then, he comes back again.




"Because he didn't break any windows, it really wasn't very obvious to passers-by what was going on," said Wechsler.

From this angle you can see him make away with another bike and then driving off.

"If this isn't bad enough, he comes back a third time. This time, he's not wearing his cap. He walks up to the door, looks around, walks in, exits with one more bike. We're talking about several thousand dollars worth of bikes," said Carner.

"A lot of work you put into it, just down the drain," said Wechsler.

Wechsler showed us the bikes stolen.

"This is a giant TCX bike. One of these was stolen," said Wechsler.

The most expensive bike is worth $4,200.

He's been hit by thieves more than 10 times in the last 36 years of business.  Some of his bikes returned and some suspects caught, but not every time.

"It's terrible running a business and having that kind of thing happen," said Wechsler.