Caught on tape: Man severely beaten by five others in Seattle


SEATTLE -- It appears to have been an unprovoked, random attack.

Perhaps robbery was the motive, but one thing is certain--  it was five against one and the victim never had a chance.

"It's horrific. I mean I come downtown quite a bit.   I work downtown and to think that something so brutal can just happen," downtown worker Kimberly Simaha said.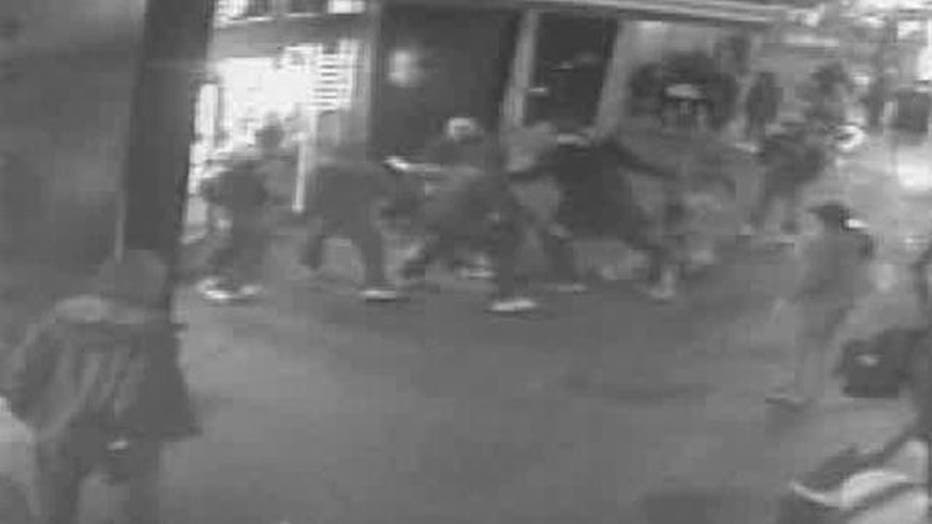 It was at 10:30 p.m. on Feb. 19 and, in the video, the five men are seen loitering in front of the smoke shop.

The victim walked into the shop. Outside on the sidewalk, one man can be seen pointing inside the shop -- and when the victim comes out, the beating starts.

"What you see in the video is very disturbing to the police. Once he exits the smoke shop, they immediately pounce on him.  One guy sucker-punches him, throws him to the ground and they all start to put the boots to him," retired Seattle police officer and Crime Stoppers of Puget Sound Executive Director Myrle Carner said.

At one point, the man managed to get away his attackers -- but they ran him down and beat him again, leaving him with serious injuries.

The area has long been considered dangerous but police and the city have worked hard to clean it up and arrest the bad guys.

Some say their efforts are paying off.

"I'm glad things have changed for the better for us.  We're able to walk down the street and not have to worry about so much of the gang violence, so much of the drug scene.  It's getting better in Seattle," one downtown worker said.

But some say little has changed here and the danger is still very real.

"It's just ridiculous.  I know I heard of violence in the past and the city says they're cleaning up, which I think they've done quite a bit, but I know it's escalating in this area and it's quite unsafe.  I know a lot of my co-workers don't like to come down here," Simaha said.

"At my bus stop I've seen a guy pull a knife out on somebody and I've seen blood being sprayed off the sidewalk, like, it's scary," downtown worker Sara March said.

"Someone probably remembers that incident; February 19th, 10:30 at night, downtown Seattle.  If you know anything about that at all we need get these guys off the street," Carner said.

Police hope someone may have seen something; perhaps know the suspects or maybe someone knows the victim, while his name is being withheld police hope someone who saw the attack may recognize his face and come forward with information.

Crime Stoppers is offering a reward of up to $1,000 for information and charges. The number 800-222-TIPS.