Councilman O'Brien: If viaduct sinking continues, plan for shutdown


SEATTLE -- The Alaskan Way Viaduct has settled up to 4/10 of an inch as a result of contractor work on the Highway 99 replacement tunnel, according to WSDOT.

The Seattle City Council took up the issue at a meeting Monday afternoon. Council members say if the viaduct continues to settle it may need to be shut down, and it's time to start thinking about a contingency plan.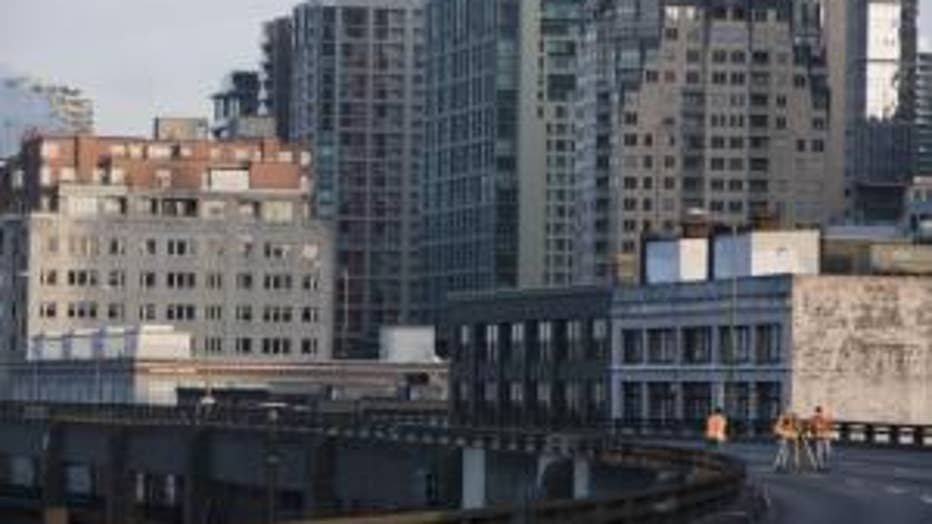 The Alaskan Way Viaduct winds past downtown Seattle. The viaduct, which was constructed in the 1950s and carries 110,00 cars a day, is slated to be replaced by a deep bore tunnel. (Photo credit: Stephen Brashear/Getty Images/2009)


"We're clearly in a phase where this is unanticipated what is going on, and I think the fear is that everyone knows exactly what we've agreed to is safe," said Seattle City Council Member Mike O'Brien. "And we're very clear if something happens, there's going to be a lot of contractor activities happening in that area coming up, and if all we have is 6/10 of an inch on to move with on the viaduct before it gets tagged and it gets shut down we need to start planning on that."

They called for clear guidelines on keeping drivers safe and how to get people through Seattle if viaduct were to be shut down.

The contractor is responsible for making sure construction work does not cause the viaduct to sink any further.

"We're in a pretty good place, there's monitoring equipment all over ," said WSDOT Assistant Regional Administrator Todd Trepanier. "There's been 1/10 of an inch or two, maybe up to 4/10 of an inch of settlement that has occurred because of some of the contractor's activities."

Engineers are performing a regularly scheduled inspection of the viaduct this weekend. It's inspected four times each year.

Officials say work on the waterfront seawall restoration project has had no effect on the viaduct.

Concern for the viaduct has been high since the Nisqually earthquake caused it to sink a number of inches back in 2001.