Fall storm hammers NW, bringing whipping winds and flooding rains all weekend


SEATTLE - Flooding rains and whipping winds from a fall storm continued to pound the Pacific Northwest on Friday.

In what the National Weather Service is calling an "atmospheric river event," the jet stream is taking dead aim at Washington and Oregon for  much of today and into the weekend.

While the rain will be heavy at times, it's the duration of the rain and wind that will cause the most problems for people.

Flooding, power outages, downed trees, possible landslides, soaking rains and topped off with a LOT of mountain snow before it's all over.

Q13 FOX Meterologist MJ McDermott says she's calling this rain event "The Friday the 13th Storm" due to the falling trees and flooded roads we're seeing around the sound.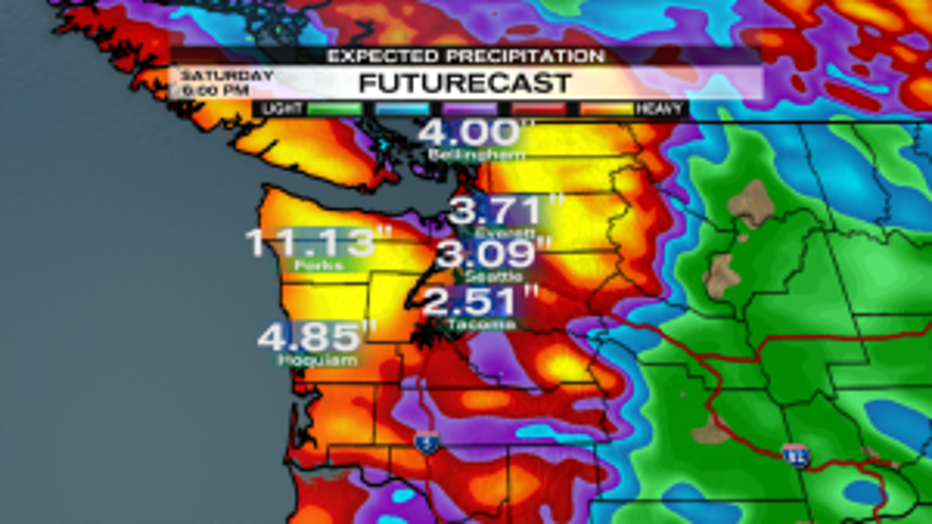 Forecast models on Friday show some spots getting massive amounts of rain this weekend.


The rain has been intense in many areas - and it won't be letting up anytime in the near future. The wettest location Thursday was Forks, which reported 4.62 inches of rain in 24 hours as of Friday morning. Other areas reporting more than an inch of rain on Thursday: Hoquiam (1.89), Shelton, (1.88), Port Angeles (1.09), Olympia (1.07).

And we're going to be adding to that significantly during the day today and tomorrow. Forecast models earlier this week were forecasting rain totals (Thursday through Saturday evening) in the double digits in a lot of areas. Many rivers are above flood stage and will not start to recede until Sunday.

The jet stream is the river of fast-moving air at the top layer of the atmosphere where airplanes fly. It contains the lift that keep the train of rain moving right into our region. And much like a fire hose that no one is holding-- it can whip north and south. That fire hose will be sagging south later today bringing more of the heavy rain to the South Sound and giving the northern end a bit of relief for most of the late afternoon and evening. However, we're not done yet-- we'll see it swing back north again and the front looks to almost parallel the Puget Sound before pushing through finally on Sunday morning.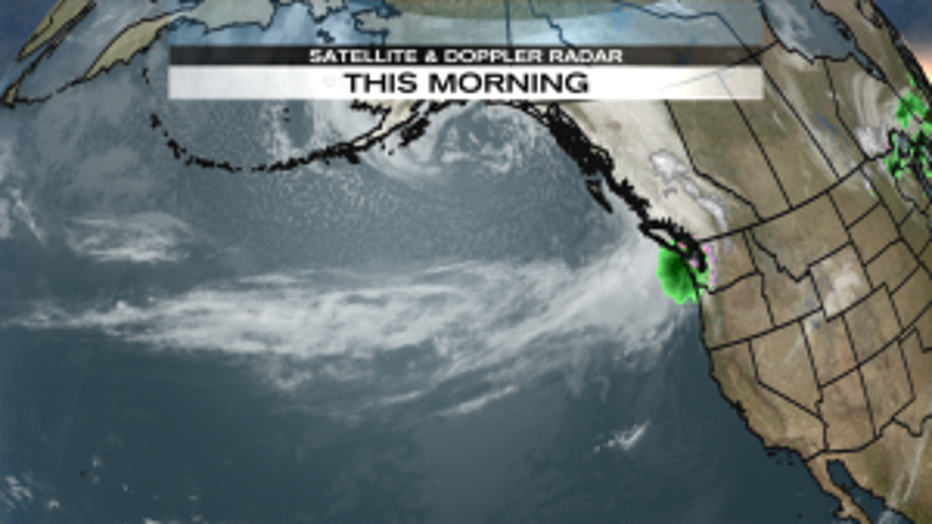 This screen capture from earlier this week shows the jet stream taking aim at the NW for the next several days.


The winds that made our 520 and I-90 floating bridges into a free car wash this morning will continue. Strong southerly winds will continue and the National Weather Service Office in Seattle has extended the wind advisory for the Puget Sound until 3 p.m. today. Coastal areas are under the wind advisory until 4 p.m.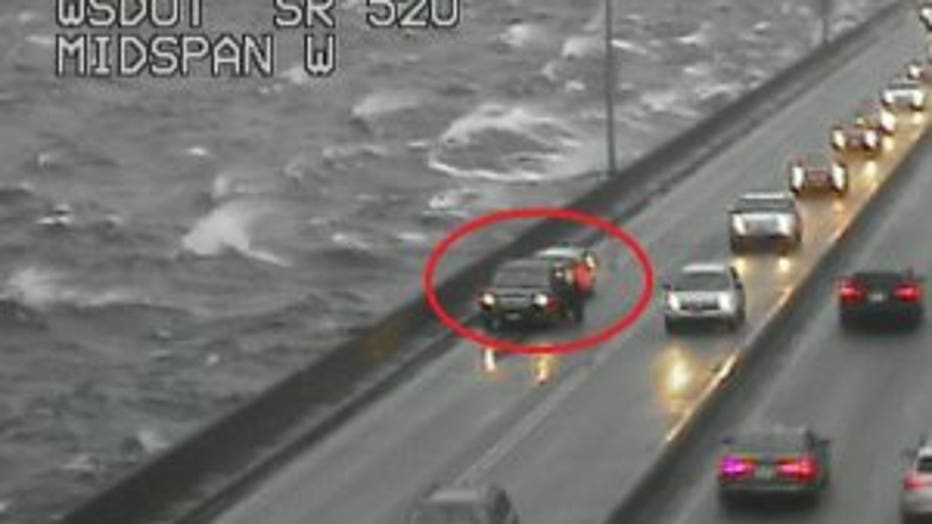 520 Bridge and a very unfortunately stalled car & driver on Friday morning's commute. Courtesy: WSDOT


Peak wind gusts (so far, in mph):


We start to dry out a little bit Sunday afternoon, but we'll see passing showers. What you'll really notice will be the colder temperatures. Highs will only be in the mid 40s for the Puget Sound lowlands. That's about five degrees below normal-- and would be a typical high temperature for Seattle in January.  If you're going over those mountain passes standing water will be the issue on Friday - but you'll need those chains as the snow levels plummet with the passing front Saturday night into Sunday. They'll be around 2,000 feet on Sunday and Monday.  I wouldn't even rule out a dusting of snow in the Cascade foothills in Pierce and Thurston Counties between 4-7 a.m. on Sunday morning.

And while we could by totally dry for the Seahawks game on Sunday evening, don't get too used to it. Another round of rain and wind is taking aim at Western Washington for late Monday into Tuesday.