Families in Skagit County desperate for help as eroding soil eats away property


LYMAN, Wash. - An excruciating situation for a small town in Skagit County. People are watching their homes literally hanging in the balance, on the edge of a cliff because of eroding soil.

The erosion started on Wednesday in the town of Lyman and as of Monday, the affected families are still waiting for help.

The current of the water is slowing down but the erosion hasn't stopped.

"It's indescribable I've been here 28 years. I never imagined something like this could happen here," Mark Harris said.

Harris' back porch is hanging over the cliff. Harris says about 150 feet of his land has already plunged into the river including a workshop and orchard.

Now the mayor of the town worries Main Street will get swallowed up if another big flood hits.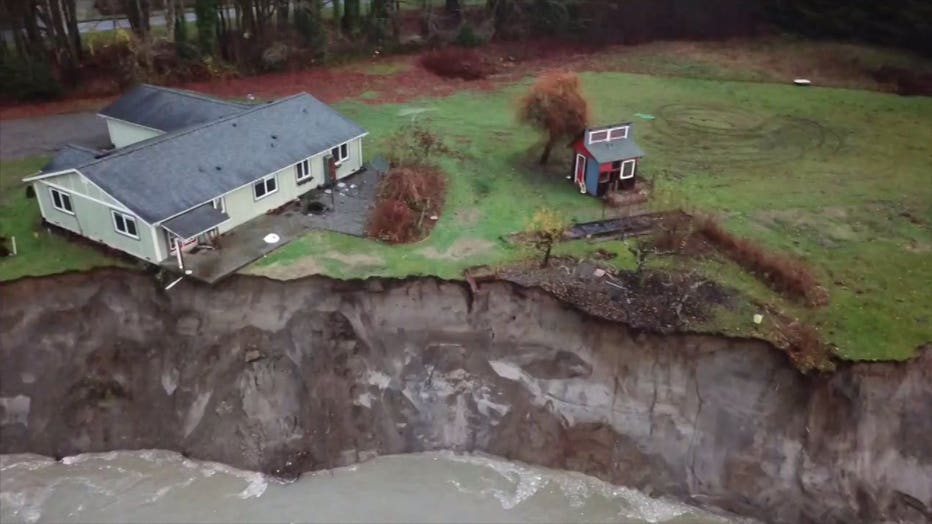 "Major road going through town, major road behind us," Mayor Eddie Hills said.

So far three families forced to move out including the Guidinger couple.

"As soon as I stop to think about it I actually cry," Richard Guidinger said.

Guidinger and his wife built their dream home and they are desperate to save it. They are trying to find a way to move their home.

The families are all hoping the federal government can help.

"At this point a buyout. Our houses are not livable," Sherry Taxdahl said.

Taxdahl's son is affected. He moved his family and all of their belongings out of a home inches away from the edge.

Congresswoman Suzan Delbene visited the families affected on Monday but no word yet on when help will come.

"You just never know when the ground is going to drop off underneath you," Taxdahl said.

It's a nerve-wracking scene the mayor says could have been avoided.

"The fish are put before anything else," Hills said.

The water flowing behind the affected homes was once just a creek but over the years it turned into a river.

The mayor says federal regulations prevented the city from diverting the flow away from homes.

"We can't maintain it, as a city, a town, a state based on the fact that fish and wildlife are more valuable than homes and people," Hills said.

People like Mark Harris.

"Everything I built here by hand," Harris said.

Everything sacred in his life slowly crumbling away.

The town of Lyman is hoping the Army Corp of Engineers will take over and stop the erosion. But the agency told Q13 News the help they can provide is limited because the erosion is happening on private properties. The department says they can work with the town on getting the proper permits so they can divert or block the flow of water.