New superstars, new villains and 3 other takeaways from the midterm election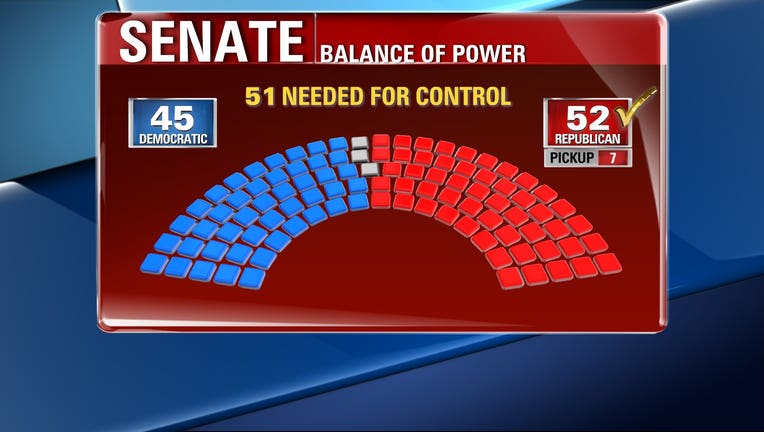 article


WASHINGTON (CNN) -- Democrats entered Tuesday anxious, yet hopeful, that the party would avoid major losses in the midterm election.

What little optimism Democrats harbored early in the day had dissipated well before the clock struck midnight. Predictions of a long night, a Senate hanging in the balance waiting for the results of Southern runoffs, fell flat.

The Republican Party won and it won big. It was a good ole fashioned thumping -- one that reverberated well beyond vulnerable incumbents running for federal and state offices.

While every Democratic loss was stinging to the party, losing seats in reliable political strongholds was cutting.

Democrats lost the governorships in Illinois, Maryland, and Massachusetts -- states that President Barack Obama won by 17, 26 and 23 points, respectively, just two years ago.

In the fight for control of Congress, the goal for Republicans was a net gain of six seats in the Senate -- a notion well within the bounds of possible in the days leading up to Tuesday.

The GOP won seven: Arkansas, Colorado, Iowa, Montana, North Carolina, South Dakota and West Virginia. We are still waiting on the results in the Senate race in late closing Alaska. In Louisiana, pre-election polls indicated that Republican Rep. Bill Cassidy would be favored in a December runoff against Democratic Sen. Mary Landrieu.

If there was a tacit acknowledgment that Democrats might lose the Senate majority, it was a complete surprise that Republicans clobbered them in governor's races. Endangered Republican governors in Florida, Kansas, Maine, Michigan and Wisconsin all won re-election.

The new governor of Obama's home state of Illinois will be a Republican. It was a tough night for Democrats -- a party that will be searching for answers, and an inspirational leader in the coming weeks and months.

Here are five takeaways starting with the next likely political leader of the Democratic Party.

Democratic political chief: Hillary Clinton

Look no further than Hillary Clinton's travel schedule over the past two months to see how popular she is with Democratic lawmakers and base voters. It was a path her husband, the political iron man, started blazing earlier in the year -- crisscrossing the country as the "go-to" surrogate.

The Clintons went where the President could not, did not and was not welcomed. Together, the Clintons participated in more than 100 campaign events. Yet, even they couldn't save Democrats on a night that went big for Republicans.

Today, we enter a new election cycle and Hillary Clinton is the frontrunner for the Democratic presidential nomination. If she runs, Clinton will become the new political head of the party, as the President bears down and focuses on his final two years in office.

"At the end of the big slaughter, a party out in the woods wonders who can lead them out," said a veteran Democratic strategist, who spoke candidly about Clinton only on the condition of anonymity. "We are going to be looking for our Moses, and in this case everybody knows who they want to get them out of here. People will turn to her and want her to be that. The question will be will she accept it?"

While GOP operatives will highlight the fact that Clinton and her husband failed to help Democrats win Tuesday, it won't harm her standing among Democratic voters. The CNN exit poll showed that 83% of Democrats think that she would make a good President.

New 2016 GOP mentionables

The biggest story from Tuesday about the 2016 Republican presidential field will be Gov. Scott Walker's victory in Wisconsin. Democrats had a political bulls eye on his back. After all, he took on the unions and won, survived a recall election in 2012 and won. On Tuesday night, he won again. A loss would have ended any serious talk about Walker running for President. That possibility is still alive.

But there are several other names that will emerge from the midterm election and become part of the 2016 conversation. Ohio Gov. John Kasich easily won re-election in a state that boasts 18 electoral votes in a presidential election. On a recent trip to New Hampshire, a well-known Republican elder immediately mentioned Kasich, a former chairman of the House Budget Committee, as the candidate he would like to see run in 2016. That just might happen.

Gov. Rick Snyder was in danger of losing re-election Tuesday night. But the governor, who embraced the "One Tough Nerd" slogan -- sailed to victory in a state that Obama won by 9.5% in 2012. A GOP strategist, who works with several potential 2016 candidates, noted that Snyder has a "compelling" story to tell as a successful executive and venture capitalist who may be looked upon favorably by business-type donors.

New Mexico Gov. Susana Martinez won re-election by 16 points in a reliably Democratic state -- Obama won it by 10 points two years ago. She is the first Hispanic woman governor in American history and at a time when the GOP is trying to rebrand itself and reach out to minority communities, Martinez offers a different choice for GOP voters. Martinez is not well known nationally -- her political advisers made it a point that she was running for re-election this year, not auditioning for the White House. Well, she has won a second term and even if Martinez doesn't seek the GOP nomination, there is no question she will be on everyone's short list as a potential vice presidential running mate.

Hey Washington, no one likes you

While the CNN exit poll showed that 59% of the electorate was angry/dissatisfied with the Obama administration, 60% said they were angry/dissatisfied with GOP leaders in Congress. That is hardly a ringing endorsement for the nation's leaders at a time when fear is driving people's emotions on the economy and personal safety.

The CNN exit poll showed that 45% of the electorate named the economy as the most important issue facing the country, followed by health care 25%, illegal immigration 14% and foreign policy 13%.

Looking ahead to 2016, White House contenders and congressional candidates will be emphasizing that they have the plan to turn the economy around and protect the U.S. homeland. How the candidates differentiate themselves -- especially in the presidential race -- will be interesting and telling.

Political rhetoric will define policy

Listen for the tone, and look closely at the body language when the President addresses the nation today following the political drowning his party took last night. It will be instructive as to how things may go in the lame-duck Congress. It is unclear if anything will get done when the House and Senate returns this month, let alone in the final two years of Obama's presidency.

Just days before the election, Vice President Joe Biden said the White House was "ready to compromise" in an interview with CNN's Gloria Borger. What does that mean? Who knows? But Biden is correct that if Obama wants to get anything done, he is going to have to work with Republicans. Will they work with him?

Senate Minority Leader Mitch McConnell, who is likely to become the new majority leader in January, sent a signal Tuesday night that the GOP has its own policy priorities to pursue.

"For too long, this administration has tried to tell the American people what is good for them and then blame somebody else when their policies didn't work out," McConnell said in a speech following his own re-election.

Common ground was a common theme a handful of K-Street lobbyists with business interests echoed Tuesday as they looked at the new makeup of Washington.

"Republicans are going to have to decide if they are going to negotiate, and Obama is going to have to decide if he is willing to negotiate," said a veteran lobbyist, who worked for centrist Democrats on Capitol Hill and spoke freely only on the condition of anonymity. "Will they be able to negotiate or continue to govern by deadline? They both should realize governing by deadline doesn't work."

Worst campaign

There were plenty of nominees to choose from for this dubious award, but one candidate stood out from the rest, by a long shot. Sen. Pat Roberts, R-Kansas, should have never had a serious general election challenge, let alone a bruising primary in August. The veteran senator refused to acknowledge that times were changing, and lawmakers who appear out of touch with their states were vulnerable. Sen. Dick Lugar, R-Indiana, fell in 2012, Sen. Robert Bennett, R-Utah, and Rep. Mike Castle, R-Delaware, both lost in 2010.

Roberts had to fight his way through the primary and he thought it was over. It wasn't. A rescue mission from national Republicans saved his campaign and gave him another six years in the Senate.

"If he didn't run the worst campaign in the country, it is only because he didn't have one until recently," said a senior GOP adviser, who spoke on the condition of anonymity.