NWS: Pacific Northwest could see 'worst case windstorm scenario' Saturday


SEATTLE -- Western Washington will be hit with two powerful wind and rain events in the coming days. The first beginning Thursday and the second beginning Saturday.

The first event is predicted to bring sustained winds of 20 mph with much stronger gusts. The National Weather Service says the strongest winds are expected in the evening or overnight along the coast and interior areas north of Everett.




Several inches of rain is predicted across the entire region. All area rivers will rise with a likelihood for flooding on Olympic Penninsula rivers.

Read more on that storm, here.

Second Storm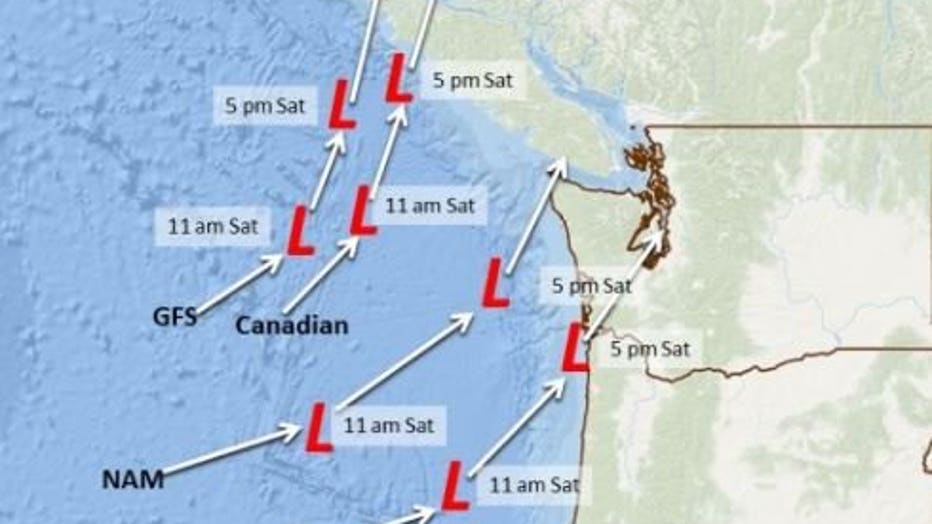 (Credit: National Weather Service)


The second storm will hit Saturday. The National Weather Service in Seattle called special attention to this storm Wednesday, saying it could have the potential to be "historical."

In a special weather statement, the NWS said there is an incredibly deep low-pressure center that will move into the Northeast Pacific and peak in strength on Saturday. This low-pressure is the remnants of Typhoon Songda.

The NWS said which path the low takes will make a huge difference in how bad the storm is.

The agency says, "there is a 1 in 3 chance of the low center directly crossing some part of Western Washington. This would be a worst case scenario leading to a historical windstorm for nearly all of Western Washington that would be long remembered."

"There is a 2 in 3 chance that the low center will pass hundreds of miles off the coast making landfall over central or northern Vancouver Island instead.

This outcome confine the most damaging winds to the coast and to the north interior (areas north of Everett) but inland locations such as the Puget Sound region and the I-5 corridore of southwest Washington would experience the type of windstorm that would normally be expected few times each storm season."

The National Weather Service says, either way, all residents should prepare for an intense windstorm, with the likelihood for stronger wind than the first storm, and the possibility of widespread wind damage and significant power outages.