Oak Harbor councilmember sparks gun control debate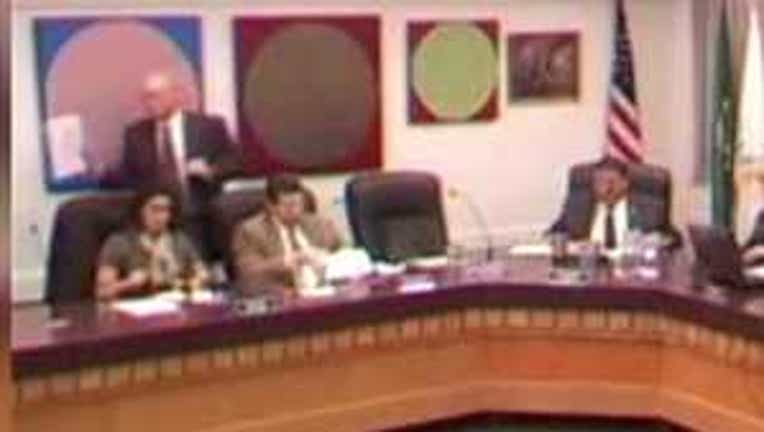 article
OAK HARBOR -- A failed attempt to ban firearms from city council meetings in Oak Harbor has thrust the Whidbey Island town into the national gun control spotlight.

During a public meeting on Jan. 15, councilmember Rick Almberg proposed that guns be banned from the council chamber after an Army vet stated that he was carrying a concealed weapon during a public comment period.

Lucas Yonkman had gone to the meeting after a friend notified him that the council would be discussing an ordinance currently banning firearms in public parks.

The council decided to table the issue, but Yonkman was moved to testify after another person said they didn't feel safe at a previous meeting where a few citizens were carrying concealed weapons.

"He was speaking of how terrified he was and where we should and should not be able to carry firearms and how dangerous it is and I just felt like I needed to say something reasonable to the contrary," Yonkman said.

Yonkman is no stranger to firearms. He was served as infantryman in Afghanistan until his unit was struck by an IED. The attack left Yonkman with injuries to his neck and back.

While addressing the council on the importance of the Second Amendment, Yonkman told councilmembers that he was a professional with a weapon and he carried a weapon every day, mainly for the purpose of protecting other people.

Almberg directed Oak Harbor Mayor Scott Dudley to ask Yonkman if he was carrying a gun at the time.

Mayor Dudley deferred the topic of questioning to interim city attorney Grant Weed, who advised the mayor that public comment period was usually reserved for citizens to ask questions of the council and not the other way around.

The legality of that question has since been called into question, but Yonkman voluntarily answered Almberg, replying that he had a CCL and was indeed armed.

Almberg proposed a motion that all firearms be turned over to the Chief of Police or the police department before entering council chambers. The motion was seconded and moved to the floor for discussion and a vote, where it was eventually defeated by a vote of 4-2.

Not pleased with the results, Almberg informed Mayor Dudley of his intent to leave the meeting and walked out of the council chambers.

At the conclusion of the meeting, Dudley apologized to Yonkman, saying he felt safer knowing the disabled vet was armed.

"If an elected official felt a threat, it wouldn't be coming from the likes of this disabled vet, it would be coming from someone else, most likely someone who obtained a weapon illegally," said Dudley.

Dudley said part of the oath councilmembers are sworn to take requires them to uphold the laws of both the U.S. and state constitutions, something he said Almberg's motion failed to recognize.

"I think it was an opportunity for one councilmember to use it as a soapbox to try to make a statement," Dudley said. "Based on the overwhelming response, I think it backfired."



Dudley says his office has received thousands of emails and phone calls from people all over the world who watched a clip of the meeting on YouTube. As of Sunday, the video had received more than 80,000 views.

Dudley said most of the comments have been positive, mostly from people thanking him for defending Yonkman.

"Here's an individual that we shouldn't be disarming, here's an individual that we should be thanking," Dudley said.

Yonkman admits that the YouTube clip thrust him into the national spotlight, making him a face for gun right advocates. It's a responsibility he takes very seriously.

"It's not about popularity with me, it's about sending that right message and doing something good for my country," he said. "I definitely didn't wake up on the 15th thinking that this was going to be the result."

Mayor Dudley said the council plans to take up the park ordinance once again during their Feb. 5 meeting. He expects it to be a packed house.