TIMELINE: What we know so far about the murder of Leticia Martinez
SEATTLE - Brett Gitchel, 46, has now been charged in connection to the murder of 58-year-old Leticia Martinez. 
Martinez was last seen with Gitchel at a Seattle Mariners game on March 31. Her body was found April 11. 
Here's what we know about the case so far, all according to court documents from the King County Prosecuting Attorney's Office. 
Timeline of events leading up to her disappearance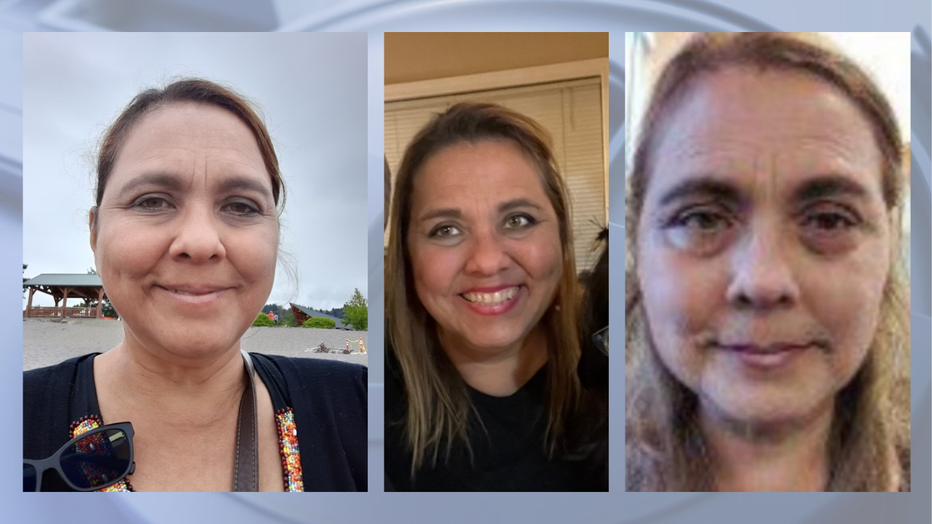 March 19
Martinez meets Gitchel at the Seattle Costco in SoDo. The two appear to exchange numbers. Martinez had a friend with her at that time. 
March 31
5 p.m: Phone records used to trace Martinez's phone indicated that she had been in the same location as the phone number associated with Gitchel's phone. 
7 p.m: Martinez texts a photo of her and Gitchel at the Mariners game to a friend.
Time unknown: Newly released court documents say surveillance footage captured Martinez and Gitchel leaving T-Mobile Park together.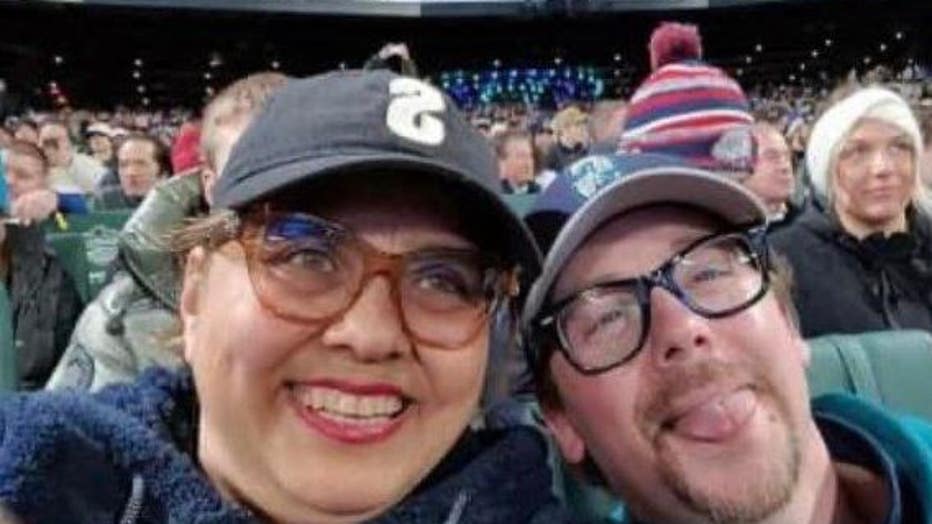 Photo provided by Seattle Police
April 1
Sometime in the morning: A friend gets text messages from Martinez's phone. One message from 'from Leticia's phone to [friend] said that she was leaving the game the night before' and that 'Leticia had run into an old boyfriend  and ended up hanging out with him all night." 
Time unknown, approximately 2 p.m: Phone records show Gitchel drove out of Seattle into a "remote mountainous region in King County, stayed for a short period of time and then returned to Seattle," according to court documents.  
6:30 p.m: Martinez's phone texted that friend again saying she was "ok and was babysitting." 
6:30 p.m: Martinez's phone texts the person she was supposed to babysit for, canceling it. 
Martinez's brother also got messages from her phone on April 1. He said the texts were "odd and uncharacteristic of Leticia." 
"While these messages came from Leticia's phone, the author of the messages cannot be verified," court documents said. 
Prosecutor Chris Anderson said in court on April 7 that phone data also showed him "driving to a remote mountainous region of King County on April 1," though it was not specified where. 
11:57 p.m: "Detectives located video that depicted Brett Gitchel walking to the front of Leticia's home," according to court documents. Court documents say Gitchel was alone at Martinez's home. This was approximately 13.5 hours after they were seen leaving T-Mobile Park together.
April 2
2 a.m:  Martinez's son woke up to the sound of someone knocking on his bedroom door (from inside the house). He did not recognize the man, but believed he may have been a neighbor. The man told him that his mother had been hurt in a fall and that he could take him to the hospital to see her. 
Newly released court documents say Gitchel's "cell phone activity is consistent with him being at the Martinez-Cosman's home at 0200 hours." 
4 a.m: Sometime during the car ride, the man parked the vehicle and tried to put a bag over Martinez's son's head in an effort to choke him. The man then used his forearm, when that didn't work. 
It was around 4 a.m. that people nearby (the son had been driven to Renton) heard a horn honking multiple times, which turned out to be the son's head hitting the steering wheel during the altercation. 
Martinez's son was able to escape and the man drove off. He was not able to confirm whether his attacker was Gitchel. 
6 a.m: Gitchel is seen on surveillance footage buying a gas canister at a gas station on Beacon Ave. S in Seattle. He leaves the gas station and then returns to buy a lighter and to fill the gas can, according to court documents. 
6:16 a.m: Phone records indicate Martinez's phone was close to Gitchel's. 
6:39 a.m: Martinez's Honda CRV is found burning on the side of the road near Lewis Park in north Beacon Hill. She was not inside. Court documents say the fire appeared to have been intentionally set from the passenger side. This location is about 0.8 miles away from the gas station Gitchel was seen buying a gas can at. 
Prosecutor Chris Anderson said in court on April 7 that Gitchel's phone had pinged where Martinez's car was burned. 
Gitchel's defense attorney Dylan Johnson argued that "that type of information is not capable of geo-locating a phone with a great deal of precision." Johnson said the data used to "ping" the phones indicates being in the general vicinity of the ping, rather than an exact location like GPS. 
1 p.m: Martinez is reported missing to the King County Sheriff's Office by her brother. He called deputies after not hearing from her and after hearing her son tell him about his attack earlier that day. 
Gitchel's arrest and police questioning 
April 4
The SoDO Costco reported a theft of $10,000 worth of jewelry. This was the same Costco where Martinez had met. 
Surveillance at that Costco captured footage of the jewelry suspect and recorded his license plate and car. According to court documents, the suspect was Gitchel and 1999 tan Audi A6 seen on camera was identified as his, with the plates to match. 
April 5
7:08 p.m: Security at a Costco in Shoreline recognized Gitchel from the theft the day before. Court documents say he was wearing the same clothes as the previous day. Gitchel was taken into custody.
Gitchel initially told officers that he did not have a phone or a car at the Costco he was at, though a search warrant later found his car in the parking lot and his phone inside the car, according to court documents. 
Court documents said "Brett had numerous visible injuries on his body, including many cuts and scrapes on his hands, including some that were covered by band-aids. Brett had cuts and scrapes on his face, arms and body and had bruises on his torso and arms." The marks on his body appeared to be several days old and were in various stages of healing and scabbing. There was blood on the inside of his right shoe," court documents said. 
Additional court documents said Gitchel "exhibited injuries consistent with the assault of [Martinez's son]." 
During questioning, when asked about his activities within the last week, Gitchel told officers that he had gone to Ellensburg on April 2 but other than that had been in the Seattle area.
When asked if he had attended any concerts or events in the last week, Gitchel said he had not. Court documents say Gitchel had a Seattle Mariners attendance wristband on at the time of his arrest, but he took it off and put it in his pocket before his police interview. 
He was asked specifically if he had attended any Mariners games this year and he said no. He said the wristband was from his friend.
He was shown a photo of Martinez, and said he didn't know her. He then said he may have seen her at Costco but didn't know her. 
He was then shown the selfie that Martinez had taken of him at the Mariners game on March 31. After that, he admitted that he know her and that he had been there at the game with her and that he was given the wristband upon entering the Diamond Club at the game, court documents explained. He then told officers that he didn't know where she was and that she left with another man.
He then asked for an attorney.
Gitchel did not appear in court on April 7 and bail was not addressed. He remains in the King County Jail.
He has been charged with: 
First-degree attempted murder
First-degree kidnapping
Second-degree unlawful possession of a firearm
First-degree theft
Second-degree arson
The attempted murder and kidnapping charge are related to Martinez's son. The arson charge was related to Martinez's SUV that was found burned, and the theft charge is for the alleged Costco theft. 
The charges may change as police gather more evidence. 
April 11
Seattle police said they found a body in the woods in Renton on April 11.
April 14
The King County Medical Examiner later confirmed that the body was that of Martinez. She died of asphyxiation due to strangulation. Her body was found about one mile from where police found her son, who investigators say was kidnapped by Gitchel.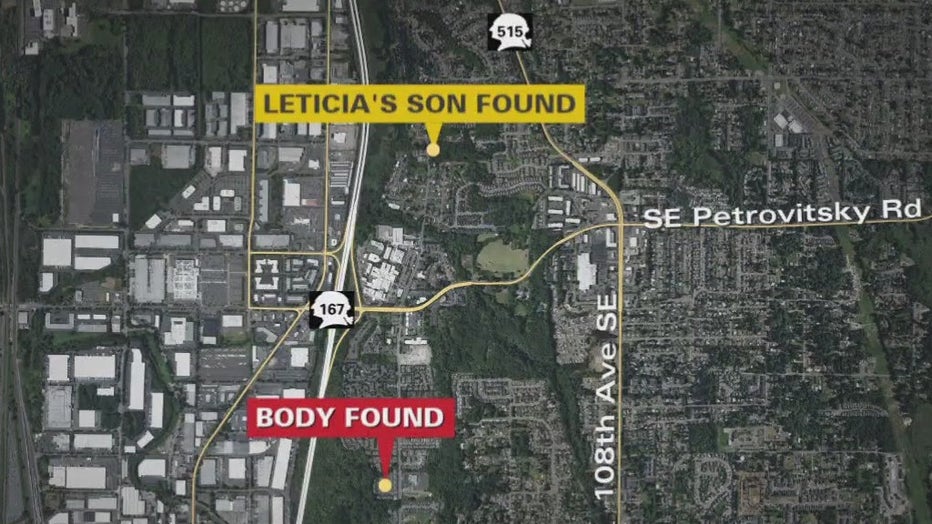 April 24
Gitchel has additionally been charged with second-degree murder in connection to the death of Martinez.