In just moments, a mudslide changed everything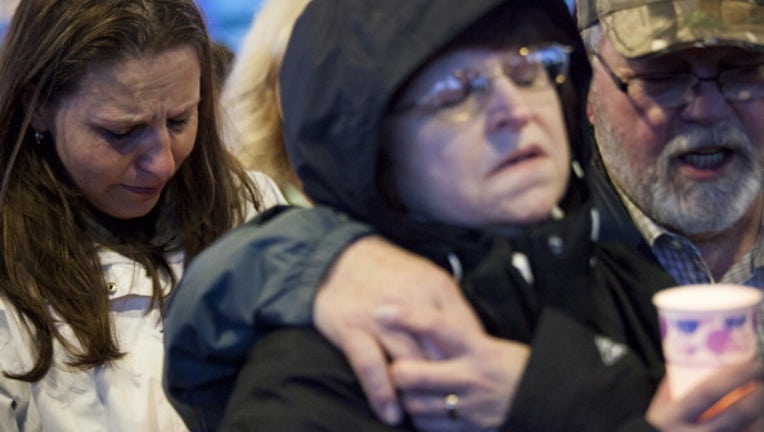 article


By Maria L. La Ganga, Molly Hennessy-Fiske and Matt Pearce

Los Angeles Times

OSO, Wash. — Volunteer firefighter Jan McClelland, who runs a dairy farm outside this tiny town on the edge of the Cascade Range, was delivering baby goats on the morning of March 22. It was a sunny Saturday in birthing season, filled with the gentle mewling of new life.

Summer Raffo, punctual to the core, was heading down State Route 530, passing through Oso on the way to one of her three jobs. She had an appointment to shoe horses in nearby Arlington, and she would not be late. Her anvil was stowed in her blue Subaru.

Christina Jefferds was baby-sitting baby Sanoah — 4 months old, her first grandchild — at the home she shared with her husband, Seth Jefferds, and daughter, Natasha Huestis, on Steelhead Lane. Huestis was taking a yoga class and buying eggs.

It was just another Saturday morning in springtime. Until 10:37 a.m. And then it wasn't.

The first mudslide hit here in rural northwest Washington about an hour north of Seattle, shoving homes off their foundations and dragging them up to a quarter-mile away. The second one began four minutes later.

When it was over, an estimated 15 million cubic yards of mud and debris had thundered down on the neighborhood of Steelhead Haven in one of Washington state's worst natural disasters.

Forty-nine homes and RVs were flattened. The official death toll has climbed to 18, but more remains have been found. An additional 30 men, women and children were still missing more than a week after the disaster.

"Everything's gone — the houses are gone," cried a frantic caller to 911 shortly after the slide hit. "I got people here screaming for help.... They're in the middle of the mud. Oh, my God!"

The placid Stillaguamish River Valley will never be the same.

One of the first 911 calls came from Marla Jupp, 63, a retired teacher's aide. At 10:50 a.m., Jupp had heard what sounded like a big truck rumbling by, "like the wind was blowing real hard, like we had a big gust."

When she walked outside, she says, she "saw the mess." The road was blocked by mud, debris and a house knocked off its foundation.

"We could hear somebody crying," she said.

Randy Fay was prepping for a training exercise at Taylor's Landing Search and Rescue Facility in southern Snohomish County when the call came in at 11 a.m. about a mudslide along SR 530. At first, the 61-year-old crew chief for the county helicopter rescue team didn't think much of it.

"We were thinking, like, a single house," Fay said, "the type of slides you have around here."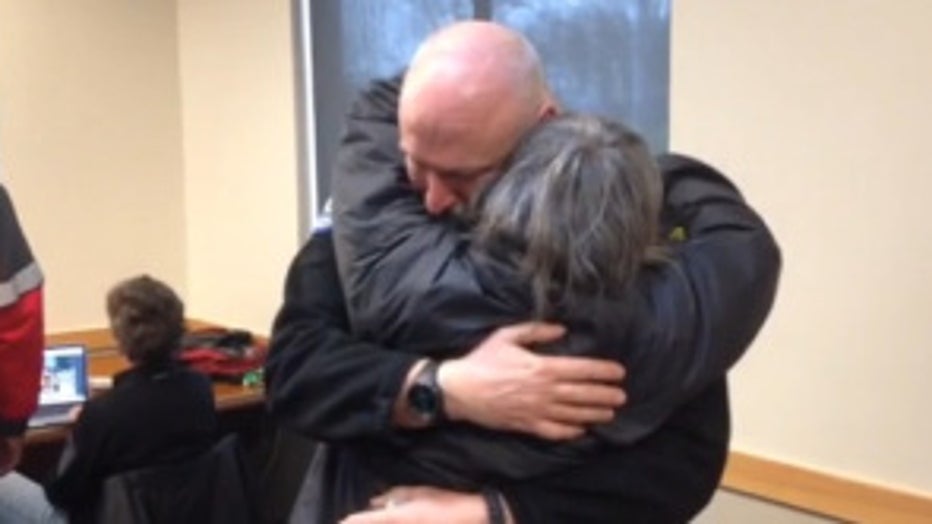 Helicopter pilot Randy Fay hugs mudslide survivor Robin Youngblood. (Photo: KCPQ-TV)


But as Fay and his team listened to sheriff's deputies on the scanner, their concern mounted. One deputy warned that the flow of the Stillaguamish River downstream had all but stopped. No one in the copter could figure out why.

"When we rounded the corner of the Stillaguamish," Fay said, the river "was gone."

The helicopter team weaved around pines and alders tossed helter-skelter in the muddy moonscape, and finally spotted two survivors, stranded on a rooftop in a foot of water. The stunned women stared at Fay with glassy eyes in mud-caked faces, "like they could see me, but it didn't mean anything."

The women, Robin Youngblood and Jetty Dooper, had been sitting in Youngblood's dining room talking when they heard the roar of the deadly slide. Then a river of mud came barreling through the house, upending them both, filling Youngblood's nose and mouth with muck. Dooper was pinned by a downed tree.

After hoisting them to safety, Fay was about to climb in the chopper and take off when he saw a movement out of the corner of his eye. Is it a person? he wondered. If so, the figure wasn't waving.

The motionless survivor was a 4-year-old boy, all alone.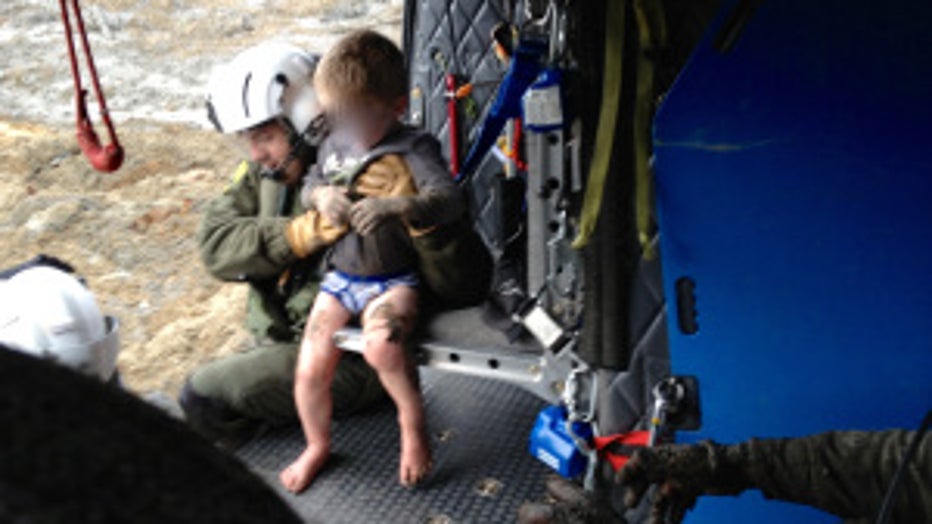 The helicopter had to dip into a low hover in order to reach the solitary child. Fay jumped out into a "molehill of mud." When he plucked the boy out of the muck, the child's pants stayed behind. The boy was barefoot, clad only in a muddy T-shirt and underwear.

"He was obviously very traumatized, hypothermic, shivering," Fay said.

When they arrived at the landing zone, Youngblood gathered the child in her arms. She rocked him and sang.

The first rescue helicopter touched down at 1:10 p.m. at the region's most prominent trauma facility, Harborview Medical Center, where staff cleared out operating rooms and emptied the emergency department. Extra nurses and surgeons were called in to prepare for the waves of the wounded.

Hospital officials expected to treat at least 40 people from the morning's disaster.

But though large numbers of people were missing, only six patients arrived, partly crushed and bloody. They had broken ribs and fractured pelvises, traumatic brain injuries. One had died of cardiac arrest en route to the hospital and was pronounced dead on arrival.

By evening, families from Arlington and Oso began to arrive — frantic, hopeful — searching for missing loved ones.

Most went home Saturday night empty-handed.

The search continued in earnest Sunday with little progress. The death toll rose from three to eight. The only live creature found was a cat.

On Monday, everything changed.

Authorities announced at a morning briefing that the missing list had grown from 18 to 108. By day's end, that number was revised dramatically upward — 176 people were thought to have been nearby when the mud roared down the mountain. Now no one knew where they were.

Rescue workers searching for survivors in Oso, population around 200, instead discovered six bodies Monday buried in the square mile of death and debris dubbed "the pile."

Jason Tucker and his teammates found three of the bodies in the once-familiar landscape, which the slide had rendered "completely foreign" in a matter of seconds.

"There are no recognizable landmarks to get a bearing on where things are and where things used to be," said Tucker, a rescue technician with the nearby Marysville Fire Department who spent 12 hours that day sifting through what emergency officials described as a "moonscape" of gray-brown mud and pancaked houses.

The first body Tucker's team found had been stripped naked by the force of the slide, lodged between two trees and submerged in the watery muck. Chain-saw-wielding volunteers — loggers from the surrounding communities — helped free the remains. Searchers covered the body with a tarp, recorded its GPS coordinates and moved on.

The team discovered the second body wedged flat in a waist-high pile of "housing junk" and tree branches. The third was not far from the second.

John Pennington, director of the Snohomish County Department of Emergency Management, was asked late in the day when the mission to rescue the living would switch to the somber task of gathering the dead. His answer teetered between hope and despair.

"Most of us in these communities believe that we will not find any individuals alive," Pennington acknowledged. "I am a man of faith. I believe in miracles. But we are moving toward a recovery operation."

Scouring the massive pile had quickly become a brutal exercise for the hundreds working at the site around the clock: the highly trained urban search and rescue teams, the volunteer firefighters, the family members numb with grief.

The pile was slick, contaminated with spilled fuel and the contents of septic tanks. Viscous slurry filled shattered houses. Trees were upended, cars reduced to sharp shards of metal. First responders waded waist-deep in mud.

In such conditions, heavy equipment must be used with precision, taking small bites of mud and debris, which are then examined closely for body parts and personal belongings. Gloved hands are often the best tools.

On Tuesday, the rain began.

"It turned an absolutely horrible situation worse," said Jan McClelland, the volunteer firefighter with the goat farm. "Everything got so slick and spongy on the pile. But we kept digging and digging and digging."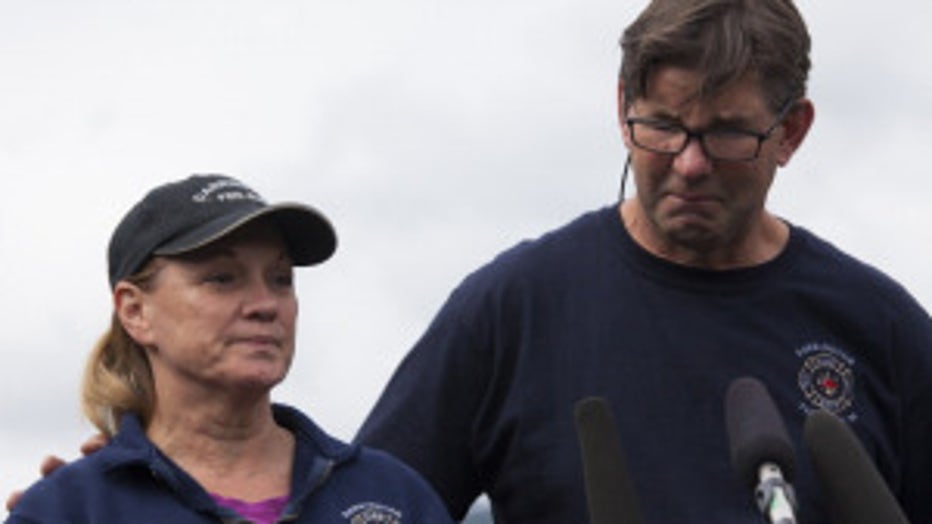 Darrington Fire District 24 volunteer firefighters Jan McClelland (L) and her husband, Jeff McClelland, speak to the media during an emotional press conference on March 26, 2014, in Darrington. The two were among the first to respond to the scene of


Sorting through the rubble of yet another flattened house that day, McClelland stopped short. She realized she was in a baby's nursery, and it was "all crushed." The crib was in pieces, scattered on the mud at her booted feet.

"I picked up this little picture book, and I rubbed all the front of it to get the mud off," she said, eyes welling. "And it said, '20 Big Things for Little Hands to Do.' And it just took my breath away."

She remembers pausing, just looking at the small book. "And then you've just got to begin again," she said. "And we did."

Dayn Brunner dug his sister's body out of her blue Subaru on Wednesday afternoon.

The Tulalip tribal policeman — a community volunteer, not an official responder — had been kicked off the pile after dark the day the mountain came sliding down. He was threatened with arrest if he did not leave.

Brunner came back Sunday and Monday and Tuesday. His sister, Summer Raffo, 36 — a hardworking woman who rode motorcycles and held down three jobs — was last known to be somewhere on SR 530. He had to find her.

"I knew that even if she was in a car, there was no way she would have survived it," said Brunner, 42.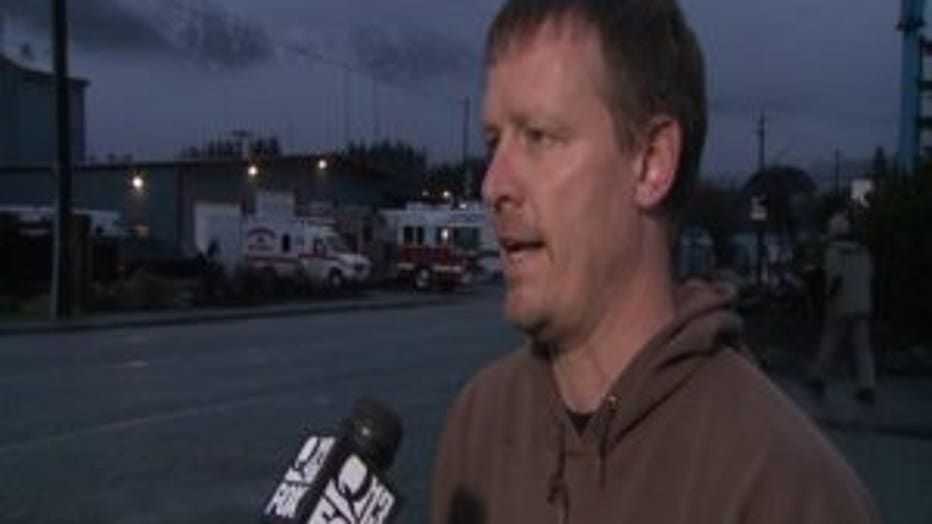 Dayn Brunner talks of finding his sister's body in her car days after the mudslide struck. (Photo: KCPQ-TV)


Rescuers were finding vehicles crushed to "the size of a washing machine. I knew then it was not going to be a rescue."

Brunner got word at around 1 p.m. Wednesday that his sister had been found. He was searching the rubble, aided by his 16-year-old son, Riley. A team had found Raffo's car a little to the west.

Before they headed over, Brunner made sure his son was prepared for what they would find.

"He said, 'Yeah, Dad. I've been preparing myself for the last five days for this.'"

The Subaru's roof had been ripped off by the slide's force. The trunk lid was gone. The passenger side was caved in a foot and a half. Raffo's hands were still on the steering wheel. The rescuers dug and dug.

"When it got down to the point where we could pull her out, I wrapped my arms around her upper torso, and two other guys got her legs, and we pulled her out," Brunner said. "We laid her out on a tarp. She looked really peaceful."

Then, in what has become a regular ritual on the Oso mud flow, the rescue workers moved away and allowed the Brunners a private moment to say goodbye before the helicopter arrived to carry Raffo's body away.

"Every machine goes silent," Brunner said. "Every chain saw goes silent. Everybody stops what they're doing. They stand silently and look at where the body's being extricated until the body's being hoisted and that bird is away from the site."

Brunner remembers feeling not just sadness, but something like awe. Then the searchers began looking again.

Christina Jefferds, the 45-year-old woman who'd been baby-sitting her infant grandchild, was the first victim of the Oso slide officially identified by the Snohomish County medical examiner. The adventurous grandmother who dabbled in skydiving and the flying trapeze died, the official report said, of accidental blunt impact.

It was Thursday when searchers found Jefferds' body in the rubble of the home along the Stillaguamish River where she'd lived with her firefighter husband, Seth; her daughter, Natasha Huestis, a 26-year-old single mother; and her granddaughter Sanoah, age 4 months.

Ten feet away from Jefferds' body was the lifeless form of baby Sanoah.

Huestis got word from her grieving stepfather, a volunteer firefighter himself, that there was nothing left of the family home on Steelhead Drive, the heart of the disaster, with its "amazing" view of Mount Higgins.

"It was like someone had put a stick of dynamite in there," said Huestis, who tried to explain why she felt somehow grateful nonetheless.

"Don't get me wrong — it's a really sad, tragic event," she said. "But I'm so happy my mom and my daughter have each other, and they're in a good place. "I got to hold , and all I could do is smile. Because I was so happy to have her and to hold her."

At 10:37 Saturday morning, exactly a week after the mudslide hit, Washington state observed a moment of silence in memory of the dead and up to 30 people still missing as a steady rain fell in Oso.

Summer Raffo and Kaylee Spillers, age 5. Christina Jefferds and Sanoah Huestis. Stephen Neal, 55, and Joseph Miller, 47. Shelley Bellomo, 55, and Jerry Logan, 63. Bill Welsh, 66, and Tom Durnell, 65.

And many, many others.

(La Ganga and Hennessy-Fiske reported from Washington state and Pearce from Los Angeles. Paresh Dave in Los Angeles contributed to this report.)