May Day 2013: Peaceful protests ruined by anarchists, police say


SEATTLE --- Seattle police say the May Day march was a complete success and peaceful.

It wasn't until a rally held by a group called the Puget Sound Anarchists that things took a violent turn. .

The anarchists held an unpermited march on Capital Hill at 6 p.m. Wednesday.  The protesters called it an anti-capitalist, anti-state May Day rally.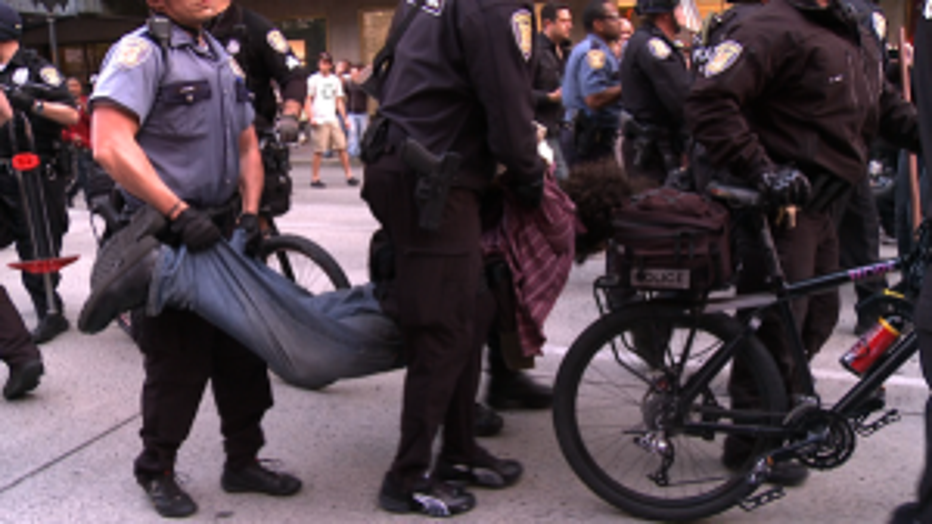 The march kicked off at Seattle Central Community College and a short time into the march, anarchists began to get violent, police said.

First, anarchists began to spray costumed Rain City Superheroes with Silly String and then later, a window at Sun Liquor was smashed, police said.

As the march wound its way downtown, demonstrates began shoving and attacking reporters who were covering the event. Rocks, pieces of asphalt, glass bottles, fireworks and a skate board were thrown at officers. Eight officers were slightly injured including one who was hit by a rock, police said.

Anarchists also shattered windows at several businesses. Officers made several arrests and at one point protesters blocked a police van from leaving. A woman driving by the scene was injured when a glass bottle shattered the window of her car.

Police used pepper spray to disperse the crowds, which eventually died down around 9 p.m. Wednesday. Seventeen  people were arrested for various offenses including property destruction and assault.

Seattle police will form a task force to investigate the criminal activity and damage.  Police are asking the public for pictures and videos of the violence.