Mom accused of leaving 3 small children in filthy house without food reveals she's pregnant, using meth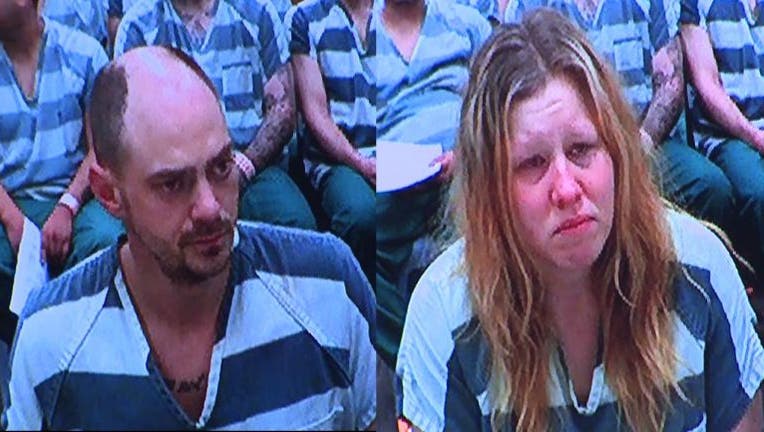 article


LAKE STEVENS, Wash. -- Neighbors say they are sick after hearing about the alleged abuse going on next door.

A Lake Stevens couple is accused of leaving three young children alone inside a locked home.

The home was filthy, with garbage everywhere, police said.  When officers first got to the house, police said, a 7-year-old girl repeatedly told them that her parents were upstairs with her baby brother. But there were no parents -- just three small children all alone, possibly for days.

Prosecutors say Amanda Foley admits her children would have been safer living on the streets than in the deplorable conditions in the house where police found her children, ages 7, 2 and 11 months, locked inside with a padlock.




Foley, as well as Mark Dorson, the father of the infant, showed up to court for the parents' first appearance on Wednesday.

"Ms. Foley has indicated to officers that she is pregnant, that she is currently using meth," the prosecutor said.

With another baby on the way and admitted drug use, prosecutors asked to keep Foley behind bars.

Acting on a tip, police rushed to the Lake Stevens home on Saturday where the two oldest kids were huddled under a blanket. Detectives found the infant upstairs in a crib behind a locked door suffering from hypothermia and dehydration.

"He is still exhibiting signs of dehydration and developmentally the age of a 3-month-old instead of a 1-year-old," the prosecutor said.

The children had no heat and no food. The carpet was soaked in urine and animal feces. Authorities say it's one of the worst cases they have ever seen.

Police still don`t know where Foley and her boyfriend, Mark Dorson, were or how long they had left the kids alone.

"Living in a place like that, it is horrible," Becky Hensley said.

Hensley is the stepmother of Foley`s 10-year-old child, who does not live with her.

"She lies about everything, lies about everything I don`t believe anything that comes out of her mouth," Hensley said.

Neighbors are also pointing the blame at the children`s grandmothers. Detectives say Dorson`s mother lives nearby and said she was supposed to help with the kids but contended she didn't know where the keys were.

Foley`s mother lives in a camper right outside the home. She didn't answer the door when we knocked.

"They should have held her accountable, you're darn right; they should have arrested her, too," neighbor Greg Surdyk said.

It`s unclear if the grandmothers knew the kids were left alone.

"I can't even imagine; it brings tears to my eyes, it's crazy," Surdyk said.

Child Protective Services says the three children have been placed in foster care. Court documents state the family has a history with CPS and that the 7-year-old girl's school  alerted CPS because the little girl smelled like urine.

Neighbors say CPS should have done more to protect the children. In response, CPS on Wednesday said they couldn't talk about the details because of confidentiality laws.

As for the couple, they have an extensive criminal history. Dorson is a four-time felon and Foley did prison time for stealing a car.

Bail was set for $100,000 for both Foley and Dorson.