Mudslides damage house, threaten petroleum pipeline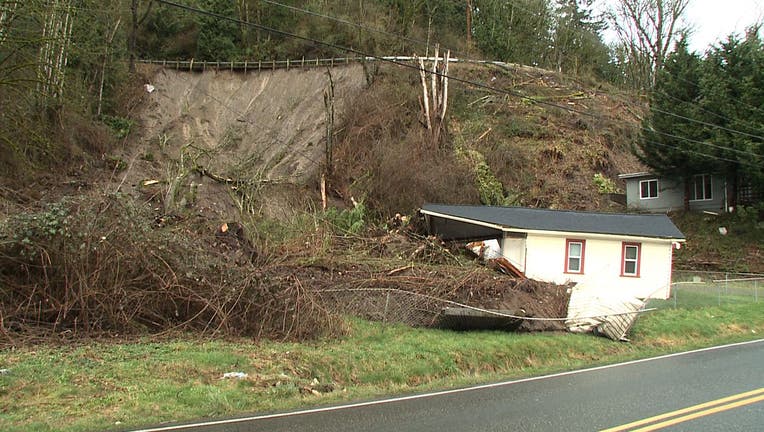 article


AUBURN -- The heavy rains may have stopped for a moment Wednesday afternoon, but the threat of landslides still continues.

Officials worry that a small landslide on West Valley Highway could turn into an even bigger problem.

It doesn't look like much but workers from the city of Auburn pay close attention to the shifting hillside.

"We watch the weather closely, as always, so we can anticipate certain things happening," said Dana Hinman,  who works for the city of Auburn.

Running through the ground is the 14-inch Olympic Pipeline. It moves jet fuel, diesel and gasoline from Blaine to Portland.

"We can't afford to have any sort of chemical spill down here," said Hinman.

The line wasn't damaged by the slide but company engineers are keeping a close eye on any new movement.

West Valley Highway was closed for most of the day from 15th Avenue to 37th Avenue in Auburn.  The closure meant detours for drivers – and a big headache for Greg Smith.



"I've had to make a complete loop, only to find it blocked off at the other end and having to go through back streets to come out other ways to get over here," said Smith. "This is not a break, this is a hassle."

Just a few miles south of that slide is another landslide.

Trees and mud crashed into a house, ripping apart the walls and tossing the structure off its foundation.

Danielle Beck had to pull over and take a photo.

"My jaw dropped when I saw it because this house was way up against the hillside before," said Beck.

The house was vacant when the hillside crashed into it, and the road above it had to be closed.

The home sits just a short distance from another slide that closed West Valley Highway two weeks ago.