'He had just shot my coworker:' Emotional testimony at trial of Everett cop's killing
EVERETT, Wash. - Bodycam video of Richard Rotter's arrest was shown in court Wednesday as the murder trial continues for the death of Everett police officer Dan Rocha.
Testimony focused around Rotter's arrest following the deadly shooting and his reckless getaway attempt that ended in a crash.
The jury also heard from the officer who took Rotter into custody, and he described the tense moments.
"He had just shot my coworker," said Detective Devin Hackett. "My big thing is that he is still armed, and if he's still armed he still presents a threat. Even if he's unarmed he still presents a potential threat to me, to Lt. Collings, to the public that he just caused a crash, and I'm watching his behavior very closely because if he attempts to access a firearm in any way I made up my mind to shoot him."
RELATED: 'The system is broken:' Everett mayor says change is needed following killing of officer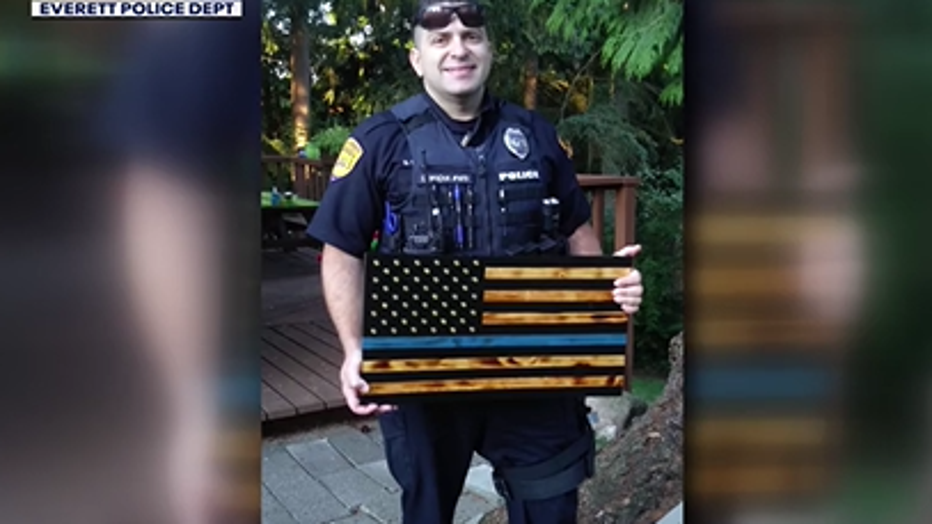 Everett Police Officer Dan Rocha.
Prosecutors say Rotter decided to kill Rocha rather than face jail time for being a felon in possession of firearms and illegal drugs.
But Rotter's defense plans to show that impairment from mental illness and substance abuse prevented him from premeditating his actions.
The prosecution estimated they would likely need at least three weeks for the trial, which will include around 50 to 60 witnesses.
'They're not going to take me alive'
Authorities say Officer Rocha, 41, contacted a man in the parking lot of a Starbucks at 1010 N. Broadway Avenue around 2 p.m. in March 2022 regarding some "suspicious behavior."
The two got into a tussle and the suspect then fired at Rocha multiple times, killing him.
After the shooting, the suspect is accused of running Rocha over with his car, speeding away. The chase ended when the suspect hit two vehicles at the intersection of 35th Street and Rucker Ave. He was taken into custody there.
Rocha leaves behind a wife, two sons and a large extended family.
Rotter has a lengthy criminal history including at least 18 felonies and hundreds of contacts with Kennewick Police over the years.