State's wildfire danger: 'Everything's building up for that one big fire'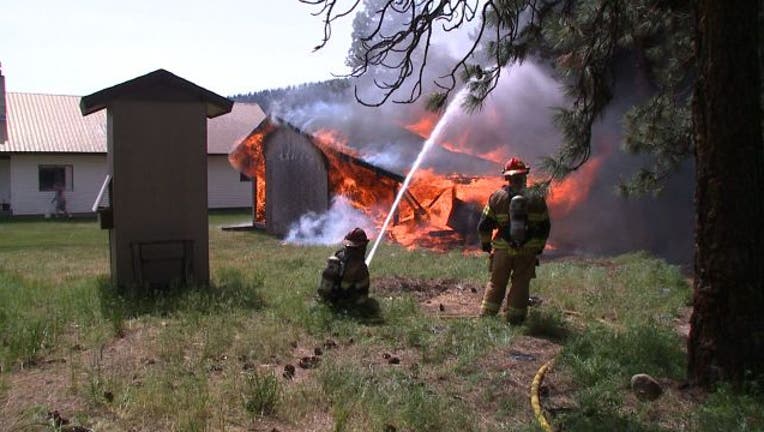 article


KITTITAS COUNTY, WASH. -- Wildfire season is just around the corner and officials worry this year could be the worst in recent memory.

On Thursday, firefighters torched a small shed to prove a point to homeowners – that now is the time to remove any fuel sources around the home.

"We want to get the message out early this year," said Kittitas County Fire District 7 Chief Russ Hobbs. "We want people to really realize, for homeowners to take ownership of their own home."

Thanks to all the dead leaves, needles, and tree limbs lying around, the old shed is about to go up in smoke and it only took about 5 minutes for the fire to spread.

Firefighters and agents from PEMCO insurance staged the burn while fire hoses doused the nearby trees to keep them from catching fire.

MORE: One killed as wildfires scorch San Diego County: 'Mother Nature was not on our side'

The rural Kittitas County community is no stranger to wildfires. The Taylor Bridge fire burned 61 homes and scorched 37 square miles in 2012

"We know this year the potential for another Taylor Bridge fire is a given," Hobbs said. "Everything's building up for that one big fire."



Neighbors remember watching the wildfire race up to their property lines.

"It was scary," said Jay Ballard. "It came down to Lambert Road there, so it was right on our back porch."

Another worry for firefighters are the homeowners who don't live in the area full-time.

"So many of their neighbors are seasonal or weekend residents who, one, aren't aware of the danger of wildfire and, two, don't do anything to prepare their property," said Jon Osterberg, a spokesman for PEMCO Insurance.

Fire officials say it's up to all homeowners to clear out defensible space around any structures before the 2014 wildfire season gets under way.

"Throughout the eastern side of the Cascade Range, this is what our summer's going to look like," said Hobbs.

The state Department of Natural Resources warns that this season could run about 5 degrees warmer than last year, and fire officials worry they're going to be very busy in 2014.