Viaduct will close when Bertha tunnels underneath


SEATTLE -- Washington Department of Transportation officials say they will close the Alaskan Way Viaduct when they start tunneling underneath it. The closure could last up to two weeks.

About 110,000 cars and trucks drive the viaduct through downtown Seattle every day. When all these vehicles have to find an alternate route, it could get ugly.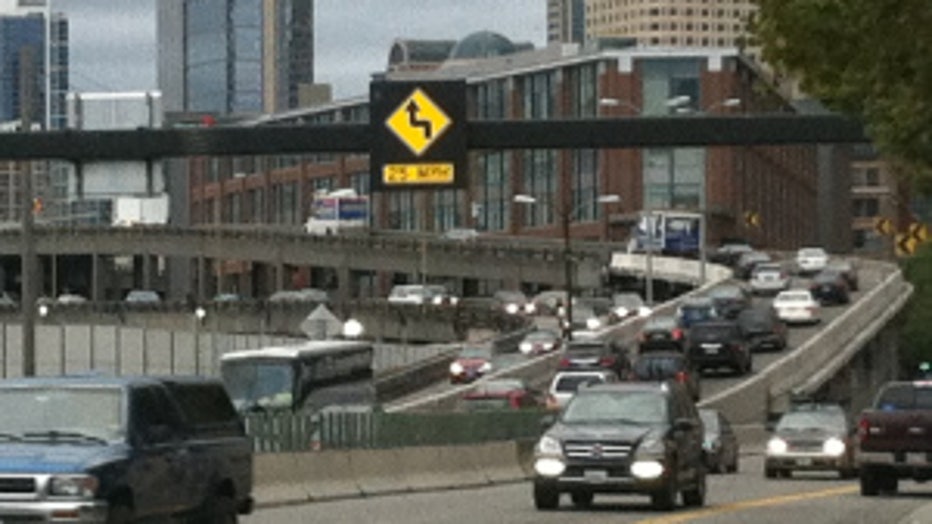 "I can foresee a little bit of congestion," says driver Julian Allen.

"I think it will definitely clog the city up more," adds driver Ryan Weatherstone.

WSDOT officials say drivers should start getting ready. They made the announcement about the closure to the Seattle City Council Monday afternoon.

"This is no representation of a fear of anything happening to the viaduct," says project manager Todd Trepanier. "It's just purely a risk precaution that we can control."

Labor disputes have kept Bertha from moving these last few weeks, so WSDOT doesn't know exactly when the closure will take place. Right now, they think it will be after the first of the year.

They say drivers would get plenty of notice, but not everyone thinks that will help.

"I think Seattleites get set in a routine, they know exactly how their commute should be laid out, and as soon as something changes, it's problems and issues," says Allen.

But commuters have survived traffic issues like this before. WSDOT closed the viaduct for a week in 2011. They say part of the reason they're going to do it again is because it worked out then. This time, the closure could last up to two weeks.

"We really want to get Bertha moving and see what her production rate is in this type of soils," says Trepanier. "Then we'll be able to more accurately predict how long it will take to go underneath the viaduct."

Some drivers say the inconvenience will be worth it in the long run.

"It's a city that's grown beyond its streets, so I think we're pretty used to it," says Sheila Kasprzyk. "I think we'll be probably fine."

"It's really difficult to lay out a city anticipating the kind of traffic in decades to come," says Allen. "This is going to solve a lot of issues that people don't realize need to be solved yet."