Washington, Washington State agree to five-year extension of Apple Cup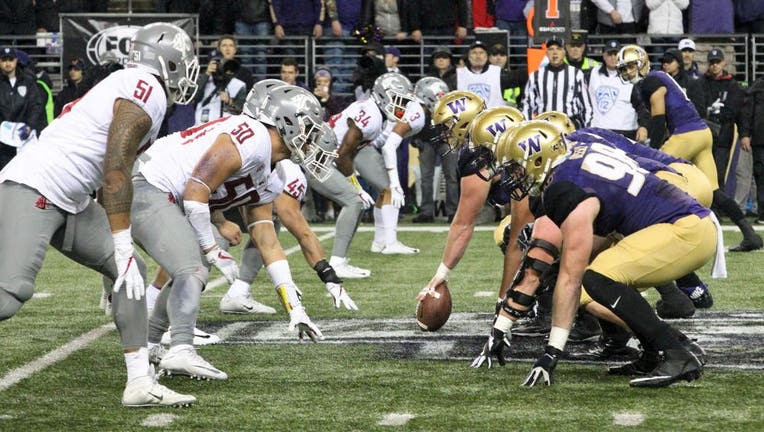 article
The University of Washington and Washington State University have reached an agreement for a five-year extension of the Apple Cup football rivalry between the two schools.
The series will continue through at least the 2028 season. The rivalry was threatened by Washington's decision to join the Big Ten beginning next year. Terms of the agreement are still being finalized.
"The Apple Cup is one of the oldest and most renowned rivalries in all of collegiate athletics," Washington State President Kirk Schulz said in a statement. "For more than a century, fans across the state have been circling the Apple Cup date on their calendars. We are pleased that we will be able to continue this beloved tradition for future generations of Coug fans."
The agreement has the 2024 edition set to be played at Lumen Field in Seattle, which hosted Washington's home games for two seasons in 2011-12 while Husky Stadium was under renovation. The series will then shift back to campus sites in 2025 with the game being held in Pullman and alternating each year.
"The Apple Cup tradition is beloved by Huskies, Cougars and football fans across Washington and beyond, so one of my priorities has been to ensure that it continues into this new era," University of Washington President Ana Mari Cauce said in a statement. "I'm thrilled that we'll be able to continue this tradition, and to kick off the new era at Lumen Field before returning to each campus. I'm grateful to Troy, our colleagues at Washington State University and our partners at First & Goal, Inc. for collaborating to make this happen. This is a win for our fans, our universities and the state of Washington." 
The two teams are set to meet this weekend at Husky Stadium for the 115th edition of the Apple Cup. Washington clinched a spot in the Pac-12 Championship Game with a 22-20 victory over Oregon State on Saturday to improve to 11-0. Washington State crushed the Colorado Buffaloes 56-14 to snap a six-game losing streak.
Per Dave Mahler of Sports Radio KJR, the 2024 game is scheduled for September 14 at Lumen Field. It will be the first time in the history of the rivalry that the game will be played in September. It's regularly been a November matchup since 1950. It's been played in December once (2010) and 14 times total in October, but none since 1947. The game was not played in 2020 due to the Covid-19 pandemic, or in 1943 and 1944 during World War II.
The game was first played in 1900.