Sneaky home burglars: Broke in and stole purse while family was home, never knew crooks were there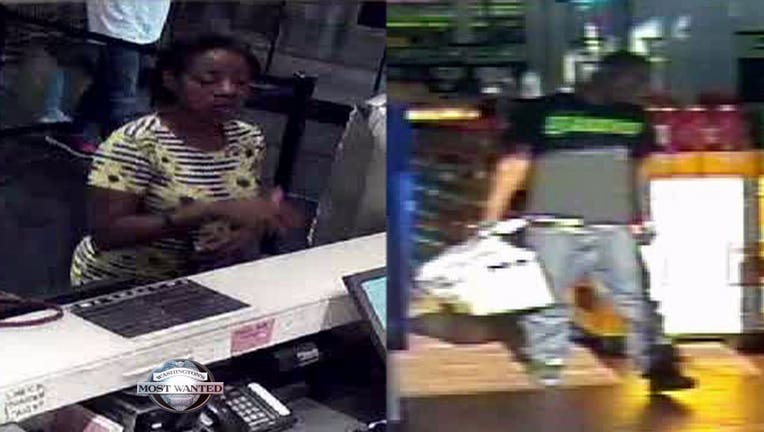 article
WANTED IN SEATTLE -- I can't imagine anything much creepier than someone breaking into your home and sneaking around to steal from you while  you were there. It happened to a family in Seattle's Rainier Valley neighborhood, and now police are hoping someone recognizes the two suspect. Great surveillance video shows one of them really well. Watch the video and take a look at the woman in the  body-hugging dress with the bright sunflowers on it.
The video is from Niketown in Seattle. She's trying to pay for some shoes, but when the clerk asks her for an ID that matches the credit card she used, she starts digging in her wallet like she couldn't find it. At one point, she looks toward the camera and we get a good look at her face. Truth is, she never had the ID because the credit card she tried to use was stolen earlier that morning while a woman and her kids were home. The shoes go back behind the counter, and the woman gives up and leaves. You might have noticed the Nordstrom bag she took with her. She'd already hit that store. But, she isn't the only suspect. Take a look at the man wearing the Seahawks t-shirt in Walmart. Notice he appears to have Vitiligo, or depigmentation of his skin. He walked out and got into a green convertible Camaro. It was followed closely by a white, four-door Cadillac sedan.
In all, the stolen credit cards were used at five different stores. The victim's television was stolen at the same time as her purse. If these accused burglars were brave enough to go into somebody's home to steal from them while they are there, who knows what they might do next. If you know who they are, call an anonymous tip into: CRIME STOPPERS: 1-800-222-TIPS You must call the Crime Stoppers hotline with your tip to be eligible to receive a cash reward for information leading to a fugitive's arrest. Click here for information on how to text a tip to Crime Stoppers.