9 confirmed dead, more than 20 hurt in Oregon bus crash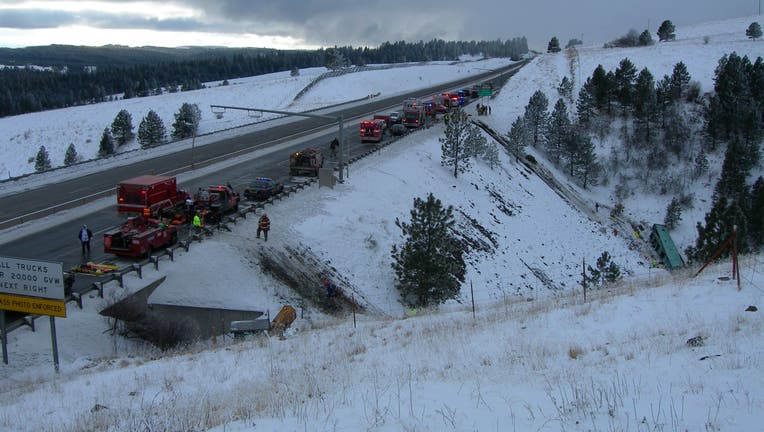 article
PENDLETON, ORE. -- A charter bus crashed through a guardrail and went down an embankment about 200 feet Sunday morning on I-84 east of Pendleton.

According to Oregon State Police, nine are dead, and 18 people were transported to an area hospital. More patients were being transported while rope teams worked to retrieve people from the accident scene.



An icy, snowy roadway is being cited as a possible factor as to why the charter bus lost control near milepost 227 on Interstate 84 as it was heading westbound, KPTV reported.

All 39 survivors on board the buses were taken to the hospital.

The stretch of road is called Cabbage Hill, but Oregon State Police said it's also known as "Deadman Pass," KPTV said. Truck drivers have been warned by the state's Department of Transportation about the area's extreme hills and treacherous winter weather conditions.

"I've been a firefighter for 20 years and this is the first time I've seen anything like this," firefighter Steve Brost told KPTV.

The bus was carrying foreign exchange students from South Korea, who are living with host families in Vancouver, B.C., and northwest Washington.

Police said the bus was returning to British Columbia from a trip to Las Vegas when it crashed. The bus belongs to Mi Joo Tour and Travel out of Vancouver, B.C., according to investigators.

The company did not provide a comment when contacted by KPTV.

The Red Cross set up a shelter at the Pendleton Convention Center Sunday evening. The organization was paying for hotels for the survivors who were released from the hospital.

One survivor at the shelter described the situation after returning from the hospital. The bus driver survived the crash.

"Me and my brother got out of the bus and we saw many people spread in the snow," he told KPTV. "We find some people who alive, who died."

Many of the people who were onboard the bus do not speak English and crews contacted a Korean translator in Pendleton for assistance.

Additionally, three fixed wing medical aircraft were being mobilized in order to transport patients to out-of-area hospitals.