CAPTURED: Suspects in Silverdale armed robbery spray paint getaway vehicle for disguise
SILVERDALE, Wash. - Kitsap County Sheriff's detectives have just about wrapped up an armed robbery case thanks to great tips from Washington's Most Wanted viewers to Crime Stoppers of Puget Sound and the tremendous efforts of Det. Mike Grant, Det. Dave Meyer, Sgt. Dave Bowman, Bremerton PD Officer Chris Faidley and his K9 'Esco' and the Bellevue Police Department's crime lab.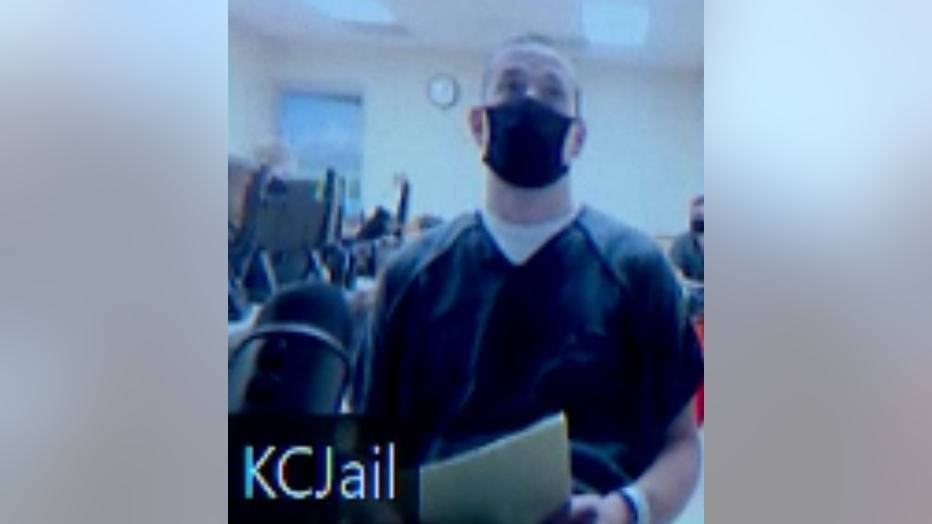 Evans James Corelli, 28, pleads not guilty in Kitsap County court to Robbery 1st Degree 
Evans James Corelli, 28, and Jacob Dalton, 28, are both in the Kitsap County jail on charges of Robbery 1st Degree.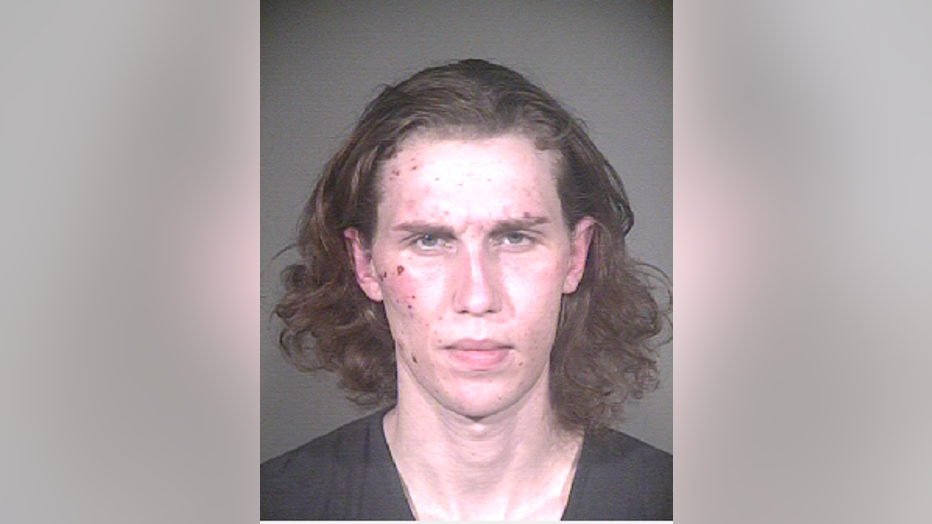 Jacob Dalton, 28, booked into Kitsap County jail for Robbery 1st Degree.
It all started when a gunman walked into the 76 station in Silverdale on June 26, demanded cash, cigarettes and the clerk's cell phone. Detectives say that after he left, he tossed the clerk's cell phone.
He didn't come there alone though. Detectives found surveillance video of the getaway driver in a blue Ford Focus station wagon. I aired the surveillance video of the second suspect entering the store to scope it out before the armed robbery. 
When deputies responded to the 911 call, both suspects were gone so they called in K9 'Esco' and Officer Faidley.
"The K9 did a track. We weren't able to find the suspect but the K9 did a great job and found a piece of evidence which turned out to be the cell phone that was taken from the clerk at the time of the robbery and discarded. The K9 located that cell phone. Our Sgt. on duty, who just happened to be freshly promoted, came out of detectives so he was very experienced in crime scene type stuff, knew how to preserve that evidence of the cell phone, did a great job of doing that. We found a fingerprint on the cell phone, a very good fingerprint. We sent that to our partners over at Bellevue Police Department crime lab who did a terrific job and in short order, gave us back a name.
That name was Evans James Corelli who had just been arrested for a different crime and was already in the Kitsap County jail. Prosecutors requested a $50,000 bail but Judge Tina Robinson felt that wasn't high enough so she set his bail at $100,000 for the Robbery. He has also been charged in a separate case for Assault 4th Degree, Violation of a No Contact Order and Failure to Appear/Contempt of Court. He also has a $30,000 bail for the Assault.
Then, detectives turned their attention to the getaway driver and his vehicle. Thanks to Crime Stoppers tips from you, they located the Ford Focus and identified the driver as Jacob Dalton. He was arrested at a casino early Thursday morning and booked into the Kitsap County jail on $250,000 bail. Detectives also served a search warrant on the Ford Focus that they had impounded.
"Interestingly enough, the car that we put out was a blue Ford focus station wagon. Well, since the airing of your story, it had been spray painted a different color and changed in a couple of minor ways to try and conceal its identity but that didn't throw us off," said Sgt. Dickinson. Photos of how they tried to disguise it are in the video below.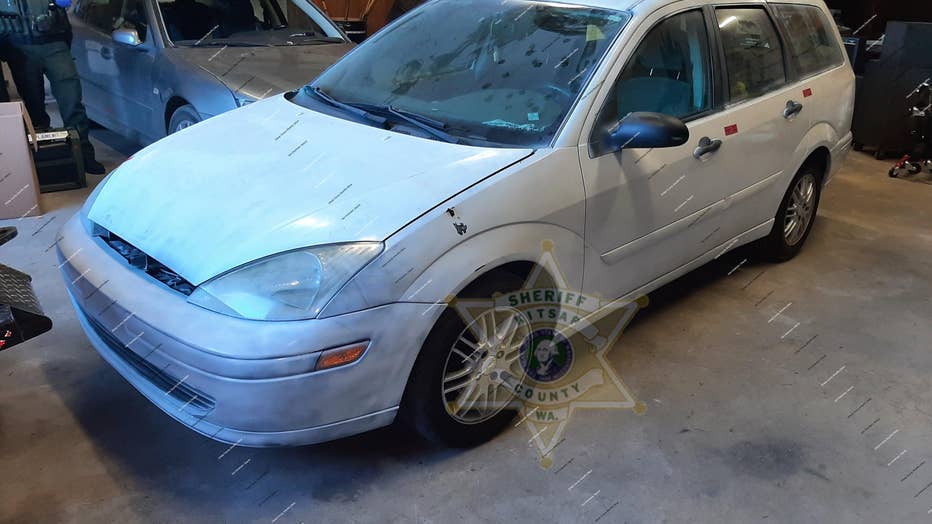 Jacob Dalton is Washington's Most Wanted Capture #1215 thanks to tips from our viewers. 
"It's pretty rare for everything to fall in place the way this one did, the fingerprint on the phone was a very good fingerprint, then the person was in our system already, that Bellevue was able to do that for us that quickly, the tips that the viewers gave us coming in very quickly, right on target, everything worked well and it's nice when things like that, partnerships work with police and community to get things done that quickly," said Sgt. Dickinson.
ORIGINAL STORY: 
The search is on in Kitsap County for the accomplice in an armed robbery last weekend. 
Detectives say this guy walked into the 76 station in Silverdale early Saturday morning to scope it out. 
He was driving this 2002 - 2007 blue Ford Focus station wagon with no front license plate or front passenger rim. 
The same car returned to a nearby business a short time later. A different suspect got out and robbed the clerk at gunpoint. 
Thanks to some quick work by Kitsap County Sheriff's Det. Mike Grant and the Bellevue Police crime lab that processed the evidence for him, that gunman was identified as 28-year-old Evan James Corelli and arrested early Thursday morning for robbery first degree, but he's not talking so detectives are still asking for your help to identify his getaway driver. 
If you can identify him or help deputies find his Ford Focus station wagon, submit an anonymous tip to Crime Stoppers for a cash reward of up to $1,000.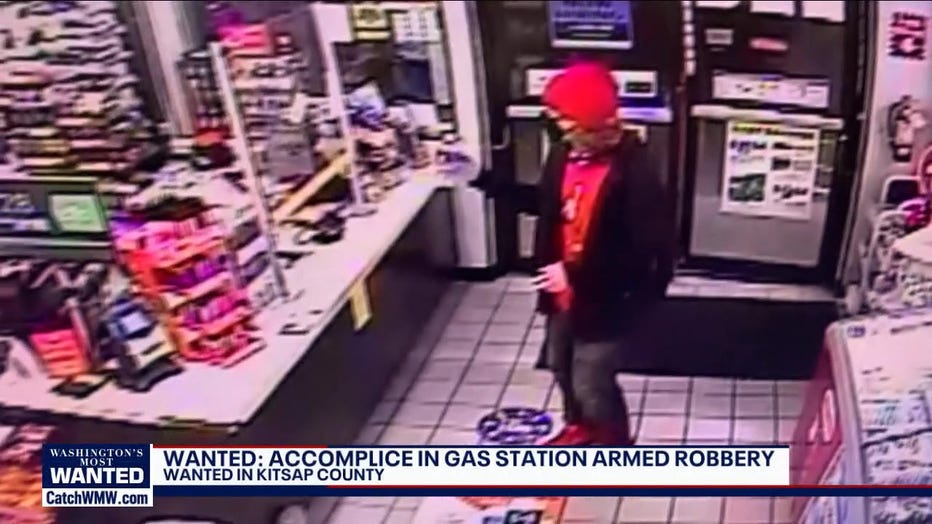 Stay connected with Q13 News on all platforms:
DOWNLOAD: Q13 News and Weather Apps
WATCH: Q13 News Live
SUBSCRIBE: Q13 FOX on YouTube
DAILY BRIEF: Sign Up For Our Newsletter
FOLLOW: Facebook | Twitter | Instagram