Don't fall for this scam claiming your Netflix account is disabled


The latest scam going around involves the popular streaming service Netflix.

According to WGN, a scam email is being sent to customers claiming that there has been a billing error. The email asks customers to email or click a link and update their payment information.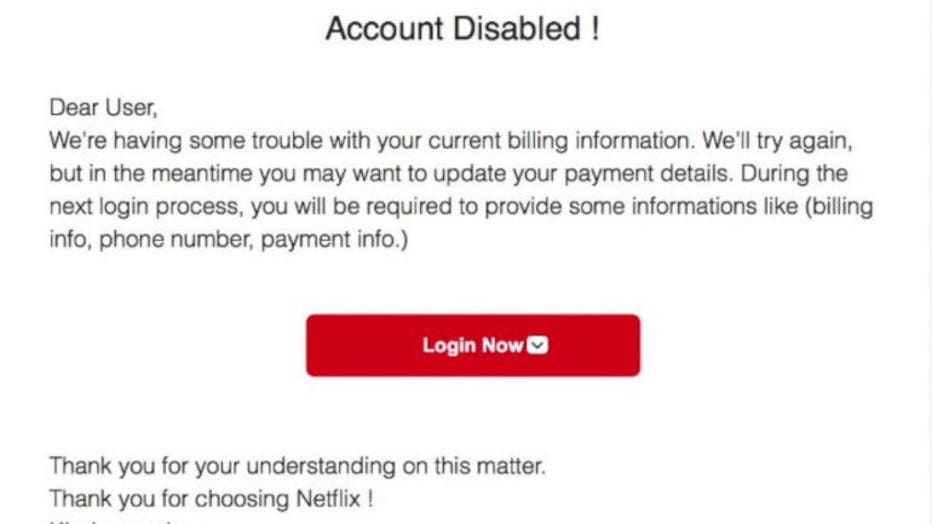 The streaming service says it will never ask for any personal information to be sent over email.

If you have any concerns about your billing account, Netflix says you should log into your account directly on their web site.

"Phishing is an attempt to acquire your personal information by pretending to represent a website or company you trust online.

Phishers will go to great lengths to try to take over your account or steal your personal information. They may create fake websites that look like Netflix, or send emails that imitate us and ask you for personal information.

Netflix will never ask for any personal information to be sent to us over email. This includes:




Payment information (credit card number, debit card number, direct debit account, PIN, etc.).


Social security number for US citizens (in any form), identification number, or tax identification number.


Your account password.




Netflix may email you to update this information with a link to our website, but be cautious of fake emails that may link to phishing websites. If you're unsure about a link in an email, you can always hover your cursor over the link to see where it directs in which you can see the real linked web address at the bottom of most browsers.

If you believe you have received a phishing message, visit our Help Center to learn how to report it to us."