'Doomsday Preppers' felon pleads not guilty to gun charge


[trib_ndn vid=25529401]

TACOMA -- Tyler Smith, 26, a felon who lives in Buckley, was charged Thursday with unlawful possession of a firearm after he was seen firing two rifles on the reality TV show 'Doomsday Preppers.'

"If you threaten your neighbors and commit a crime on national TV, you're likely to be caught," said Pierce County prosecutor Mark Lindquist said after the charge was filed.

In addition to the TV show footage, Pierce County sheriff's detectives located evidence at the defendant's residence, including ammunition, receipts for ammunition and a date-stamped photo of the defendant holding a rifle in 2012, Lindquist said.

As a felon, Smith is prohibited from possessing firearms.

Smith pleaded not guilty to the gun charge in Pierce County Superior Court Thursday. Bail was set at $30,000.

On Wednesday, when Smith was arrested, Pierce County Sheriff Paul Pastor said he couldn't believe what Smith had done on national TV.

"Did he really think we wouldn't notice that he had done this? He was seen on television possessing, firing, holding a firearm and indicating that it was his intention to rob his neighbors, not defend his family in the event of something extreme, not to stay home and defend what he had, but to go out and take things from someone else," Pastor said Wednesday.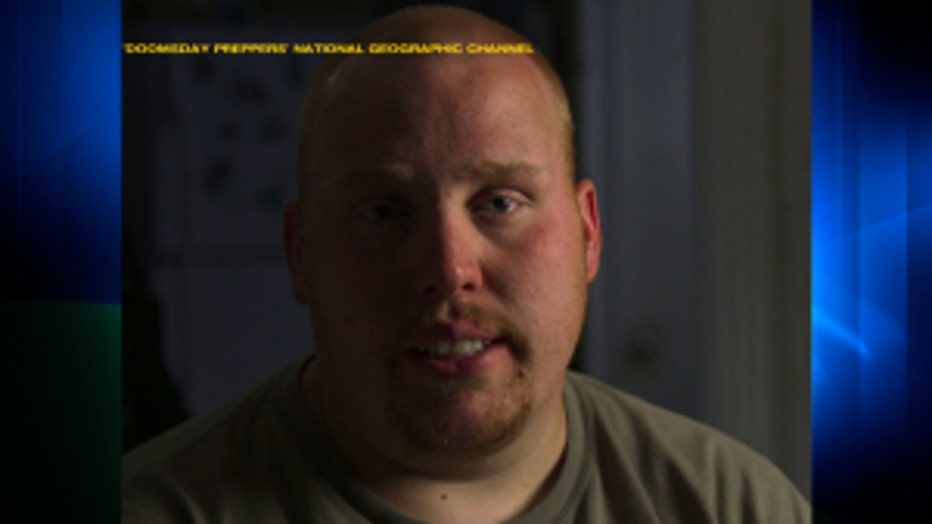 Smith appeared in an episode of the National Geographic Channel's 'Doomsday Preppers' reality show.

"We're not in it to stockpile," Smith says of what he plans to do in the event of a Doomsday event. "We're in it to come take what you have, and there's nothing you can do to stop us."

Smith claimed to be a part of a group of survivalists known as Marauders, and he made it clear he was armed.  But, as a felon, possession of a firearm is against the law.

"A convicted felon and you go on television committing another crime, possessing firearms. What are you thinking? Did he really think that we would not notice that he had done this. We noticed and we arrested him today" on gun charges, Pastor said.

Smith's episode of Doomsday Preppers was filmed at an old ranch house on the Sumner/Buckley Highway in Buckley.

"Strange.  That's the only thing I can say about it, strange," neighbor Bob McDonald said.

"I thought it was ridiculous.  Yeah, real ridiculous," neighbor Gordon Wozeniak said.

Wozeniak and McDonald were two of smith's closest neighbors; in proximity, that is.

"They did a lot of shooting on the weekends from time to time, and a few big bangs, but he never bothered me.  Bothered the wife more than me," Wozeniak said

Other than that, they say, Smith seemed like a normal guy.

But, it didn't sit well with either man when they heard Smith on the show say he planned to steal from his neighbors.

"Well, that's fine, but I may outgun him. I'm not sure. I wasn't worried about that, no," McDonald said.

Smith is also a convicted sex offender. Officials are now checking on his status relative to that.

If convicted of possession of a firearm, he could get up to a year in prison.  But if he is charged on the federal level, he could face up to five years in prison.