Family reunited with dog after car stolen from Tacoma parking lot
TACOMA, Wash. - Two sisters are overjoyed after they were reunited with their missing dog after their car was stolen in a Tacoma Target parking lot at around 4 p.m. Sunday.
"We are all so very excited, we feel like we can hardly breathe," said Nicole D'Amico after the dog's return.  
"It felt like a part of my heart was missing every night when I went to sleep. I couldn't stop thinking about him," said Julianne D'Amico.
Koji, a 10-year-old Shiba, was taken along with the family's Kia.
The sisters offered a reward for Koji's safe return. 
According to the sisters, they got a call Tuesday night from someone who said they found the dog at the mall and wanted to give Koji back.
The two met up with the person at about midnight and exchanged the reward money for the dog. 
A second dog, Coconut, was also in the car at the time, but was found by a passerby and eventually reunited with the family Sunday night.
"The second she saw Koji, she started smiling and jumping up and acting like her old self again," said Julianne.  
Coconut was recovering at home Monday after the terrifying ordeal. Her eyes were battered and bruised following the theft.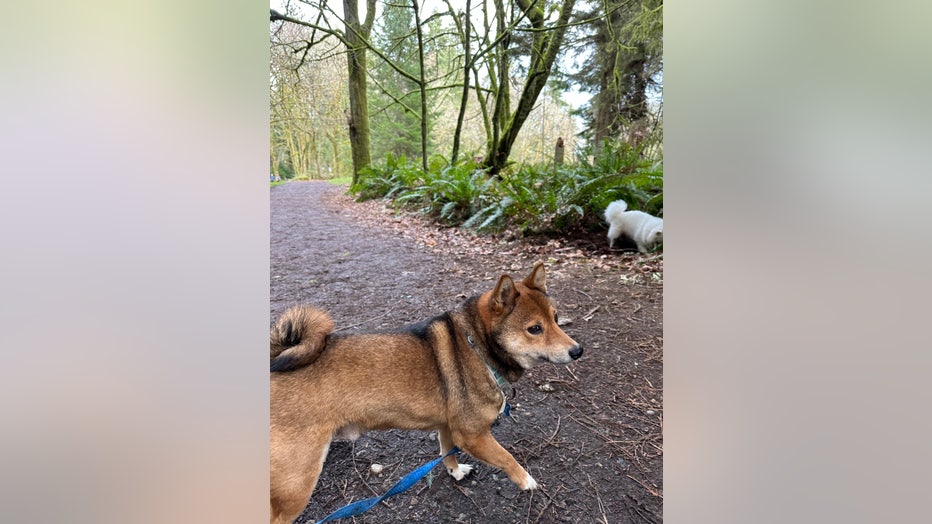 "She's a fighter for sure," said Nicole. "She's been very scared since this all happened."
Nicole is not sure what happened to their dog "Coco," but said it looked as if someone had punched her in the eyes and head.  The dog was rescued by a good Samaritan after she was dumped near a stretch of River Road, the fresh injuries to her face evident.
"When I saw her I was just devastated," said Nicole.
"We were crying, and I was so glad she's going to be OK," said Julianne.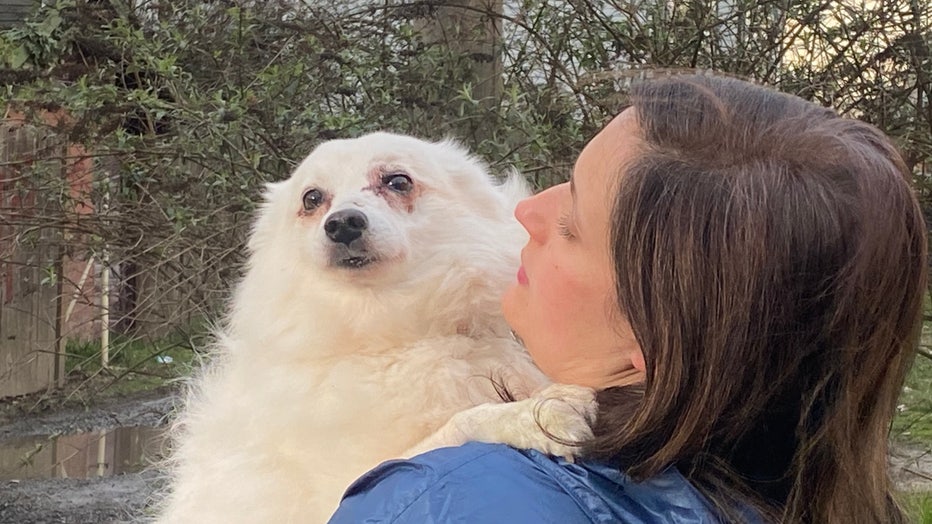 She says this nightmare began when she stopped by the local Target on the way back from the park.  She placed her keys in a cup holder on her shopping cart when she went inside the store, a decision she came to regret.
"I don't know if he was following me or if he noticed I put the keys in my cart, but he was right behind me took the keys," said Nicole.
When she realized they were gone, security video showed it was too late.
"They had video of him outside, clicking around to find the car, and there were two gentlemen. There was someone else with him," said Nicole.
Four hours after the car was stolen by the two men, the sisters got a call from the veterinarian's office, where the good Samaritan had taken Coconut and her microchip was scanned.
"I was really naive before, I didn't think someone would be this terrible to steal a car with two dogs in it," said Nicole. "If you don't have to have your dogs in the car don't have them in the car period, because who knows who just wants to grab a car for a joyride.  Definitely if you have to pop in somewhere, and you have no other choice, have your keys on your body."
The car was also recovered, though it looked as if the thieves had a Valentine's Day date inside-- there were chocolates, wine and roses spread everywhere.