Four Boeing Machinists take action against own union to try to get 777X revote


SEATTLE -- On Tuesday night, Boeing union members attending a regularly scheduled lodge meeting of the International Association of Machinists Local 751-E adopted two resolutions aimed at addressing what the members call a contract voting process that was improper and unfair.

"The vote (date) was announced on the Saturday before Christmas.  It was held on the Friday after New Year's. Thousands of our members weren't able to vote.  In fact, we estimate about 25% of our total membership wasn't able to vote on that day," union spokesman Bryan Corliss said.

If accurate, that 25 percent -- or roughly 8,000 members -- might be more than enough to change the outcome, considering the contract extension passed by only a few hundred votes.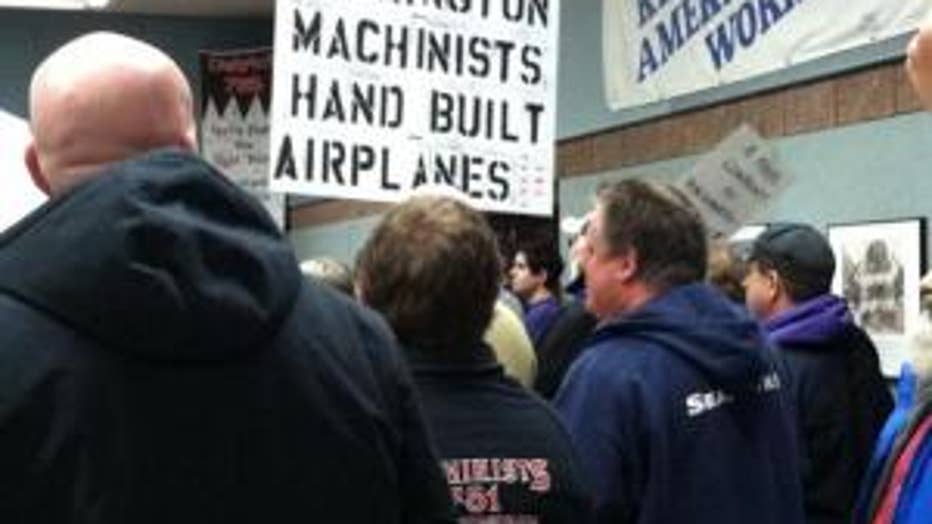 "Given that the margin between the accept and reject votes was so slim, having thousands and thousands of people not able to vote, they feel, affected the outcome," Corlisss said.

The timing of the vote was decided by the union's international president instead of local leaders and it will be the international president who will decide whether there is a recount or a revote.

Regardless, there is a rift within the union.

"We have not made any decisions as to the merits of this case. At this point, this is the very initial stages.  We are just investigating them now," National Labor Relations Board attorney Anne Pomerantz said.

The rift is so bad that four union members filed complaints with the NLRB -- an independent regulatory agency charged with investigating charges of unfair labor practices.

"The gist of the four of them is that the vote was improperly held because of the timing of the vote," Pomerantz said.

The vote was held last Friday, during the holidays, while many workers were off work, on vacation, or otherwise unreachable because, one member said, not everyone's email address was on file with the union.

Putting the vote off just a couple of weeks, they say, would have made all the difference and may have changed the outcome.

"Essentially disenfranchisement, how the proposals were presented, the dichotomy between the International's position and the district lodge's position," Pomerantz said.

The NLRB investigation is just getting under way and could take a few months to complete.

As for the resolutions passed Tuesday night, the same man who set the voting date in the first place, the international president, is the same man who will decide whether a recount or revote should be held.

No word on when that decision will be made.