Is there any glimmer of hope for prospective home buyers in Western Washington?
Is there any glimmer of hope for prospective home buyers in Western Washington?

The short answer is, nope.

"For the foreseeable future prices are going to continue to escalate because of the very simple economic fundamentals of supply and demand," said Chief Economist for Windermere Real Estate Matthew Gardner.

With about 1,000 people moving to Seattle every week, Gardner says there are far more buyers than there are sellers in the Seattle metropolitan area right now.

"Given that migration pattern, that's going to put a lot of pressure on house prices unless we start seeing builders building more... and that's one of the things we're not seeing, which is putting a lot of pressure on the housing market and therefore upward pressure on home prices," said Gardner.




New statistics out from Northwest Multiple Listing Service show declines in both inventory and sales. At the end of April, MLS brokers reported 10,679 homes and condos for sale across a 23-county area in Washington compared to a year ago when there were 14,235 listings.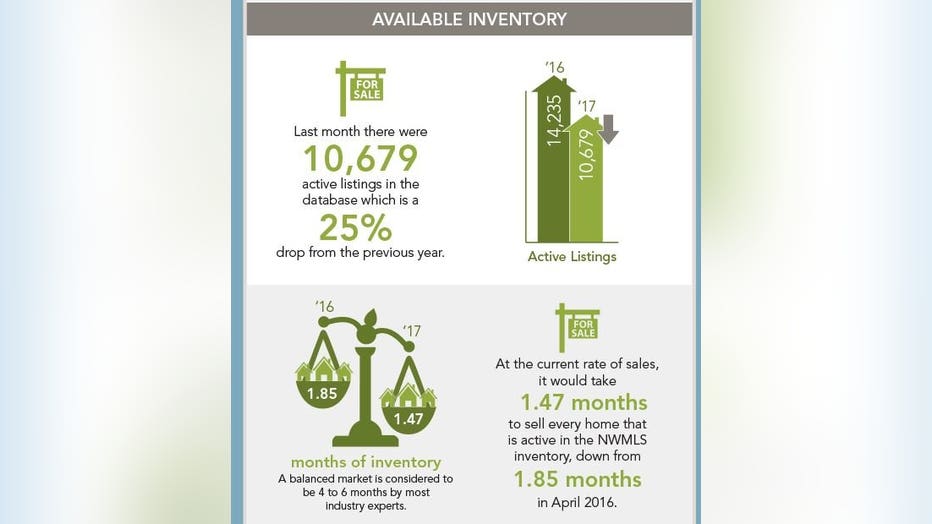 Credit: Northwest Multiple Listing Service


But it's not just hard for buyers, it's hard for prospective sellers too. Sellers who haven't found their next home because of lack of inventory and rising home prices, are ultimately giving up and undertaking major remodels instead of moving.

Homes and condos that sold in April in King County were up about 15.8% compared to last year, according to MLS. A median home price for a single family home, excluding condos, was $625,000. MLS says that's $85,000 more than the year-ago figure, and $25,050 more than the previous month.

"We've seen well above average price growth. Unfortunately, I do not see that changing, certainly for the next year or so. I'm hoping we'll see a bit of a slow down in price growth but we're down to the low to middle $700,000 mark today in Seattle. That's likely in three years time to be somewhere in the low to middle $800,000 price range," said Gardner.

Homes in Snohomish County were up 17.3% from a year ago. The median price for single family homes in Snohomish County climbed to $440,000. That's up from $375,000 in April 2016.

Homes in Pierce County were up 10% from $269,925 in 2016 to $296,950 in 2017.

"Affordability is the one thing which keeps me up at night more than anything else. If you're not affordable at some point companies will say 'we don't need to expand and you're too expensive.' They'll look elsewhere," said Gardner.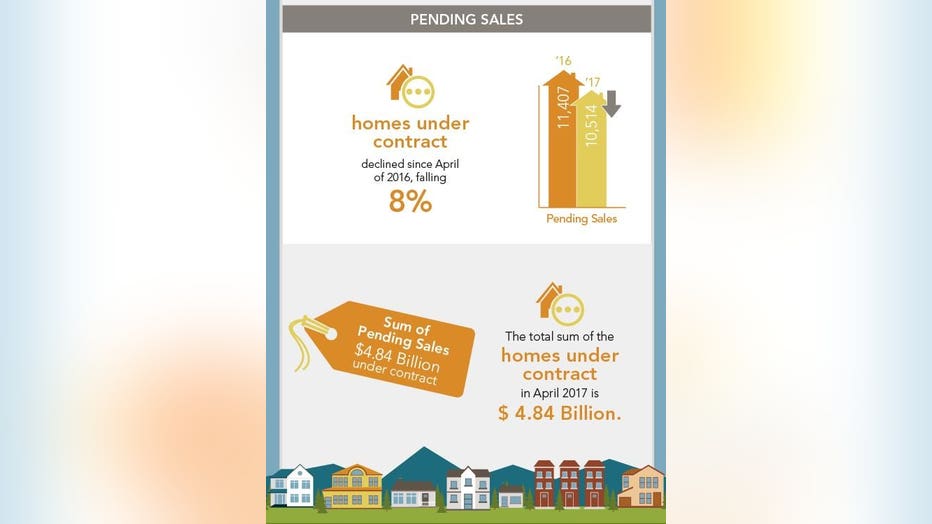 Credit: Northwest Multiple Listing Service


J Lennox Scott, CEO of John L. Scott, told MLS the market is as "intense as ever with 80 percent of homes in King County selling within 30 days of being listed."

Q13 News wanted to find the cheapest home in Seattle and discovered this (as of Monday, we assume it'll go fast): a one bedroom, one bath in West Seattle for $199,950.



But back to the original question: is there a glimmer of hope for home buyers?

"The end game for the rest of 2017 is clear: more scarcity, more angst by buyers, more reluctance to sell among sellers because they can't find their next home," said real estate agent Dick Beeson.

We wish we had a more liked answer.