Mystery in Kent: Possible alligator or crocodile spotted in Lake Meridian?


KENT, Wash. -- There's a mystery in Kent after some claim they may have seen an alligator or a crocodile in Lake Meridian -- and now the city is posting warning signs.

If true, it's an unusual sighting for the state because the Washington Department of Fish and Wildlife says alligators are not native to this area.

Whatever is swimming in the water has a lot of people talking.

"I see what looks like an alligator," laughed Denise Sables, who was visiting the park on Wednesday.

At Lake Meridian, sign after sign is posted notifying visitors of an unconfirmed report of a possible small alligator or crocodile in the water.

"It's underneath all that, see it just came back up right there," added Sables.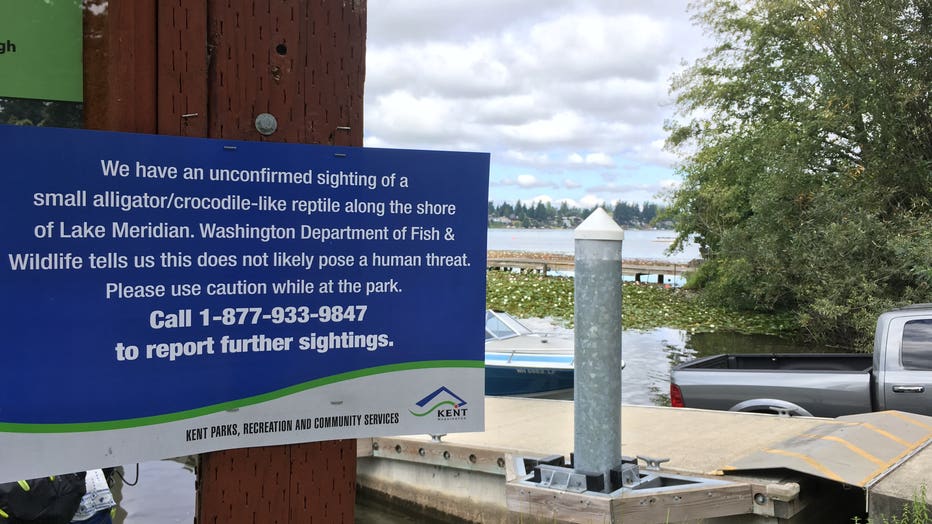 On Monday evening, Orest Silchuk of  Covington was fishing at the lake and took cellphone video of what he believes is a crocodile moving around the lake.

"While fishing right off the boat launch dock, I started seeing this creature swimming back and forth between the lily pads, about 10-15 feet out from the dock," said Silchuk.

He says he watched it for a while and even noticed when it tried to go after a duck in the water.

"There was a duck sitting there on right side of the lily pads and it was, kind of, swam up to it – waited, waited and then kind of thrashed from under the water. I thought it grabbed the duck but the duck fluttered away," Silchuk said.

Our cameras were rolling when we spotted something moving back and forth near the dock. It moved slowly in the water, under the lily pads before going back to where it started. We don't know if this is the same thing spotted on Monday.

"If you were far away and you didn't know better, you would think it's an alligator or crocodile," added Sable.

The city of Kent isn't sure what it is and, as a precaution, decided to warn visitors, even though they say there is no real threat.

"It kind of frightens me a little bit because I don't want to swim when there could be potentially be an alligator in the lake," said Dalton Saggau, who lives around the lake.

Reptile experts say crocodiles and alligators would have a hard time surviving in any lakes in this state because it's too cold.

They believe if it truly is a reptile, it likely was a pet at one time.

Meanwhile, Dalton and his younger brother heard about the possible sighting and decided to check it out.

"I think they're cool, I like going to Florida and seeing them but I don't want to be up close and personal with one anytime soon," added Saggau.

King County Animal Control is going to monitor the lake to confirm if they truly have an alligator in the water, and if they find it, the Washington Department of Fish and Wildlife will help remove it and take it to a new home.