Same-sex couples say 'I do' across Washington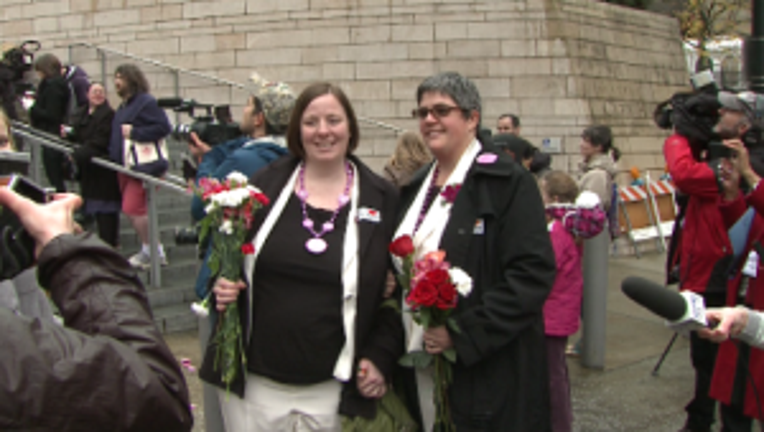 article
SEATTLE --It wasn't just a ceremony but a celebration at Seattle City Hal Sunday as 140 committed couples exchanged vows.

And for many couples, including For Marji Lynn and Sue Hopkins of Seattle, it's a moment 16 years in the making.

"We're so excited to finally be able to make a commitment that means something to everyone," said newlywed Sue Hopkins. "I don't think we ever expected in our lifetime that this would happen."

Already married once in Canada, Brian Ochalla and David Schowengerdt took the opportunity Sunday to renew their vows.

"I just think it's wonderful to be recognized in the same way that every other couple is recognized when they get married," Ochalla said.

Outside city hall, each couple was introduced to a crowd of people joining in the festivities.

The full day of "I do's" led to the "Love Wins" event at the Paramount Sunday night. Inside, a room full of couples such as Steve Azzola and James South reveled in the right to marry.

"We were the last couple to be married there and to leave city hall and that was kind of special too," Azzola said.



Couples that have been together for decades were staring at each other like newlyweds. Nothing has changed between them but everything has changed surrounding them.

Sara Lopez said of her fiancé Eleanor McElvaine, "We've been together for 25 years so this is our 25th anniversary year. It means a lot. All of the sudden it feels really different to have that acknowledgement, that public acknowledgement."

Officials predict Dec. 12., or 12/12/12, will be another popular wedding day.