Suspect arrested in brutal beating, rape of woman in White Center
article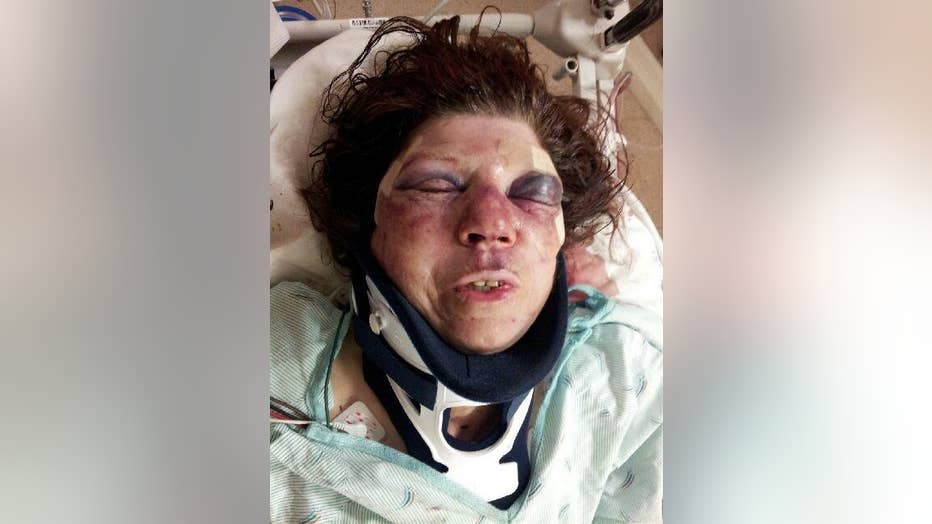 This photo of a woman raped in White Center in March was provided by her family to show the brutal nature of the attack. The victim was beaten so badly that she was unrecognizable, and would not be recognized today by anyone based on this photo. (Photo courtesy of family)

 

 

 

 

 

 

 

 

 

 

 

 

 

 

 

 

 

 

 

 

 

 

 

 

SEATTLE -- A 25-year-old man has been arrested in Oklahoma for the brutal beating and rape of a 58-year-0ld woman in the White Center area in March, the King County Sheriff's Office announced Wednesday.

The King County Prosecutor's Office has filed charges of first-degree rape and first-degree assault against Christopher Anthony Brown. It said he already has felony convictions in Oklahoma for first-degree burglary, aggravated assault and better on an Office of Juvenile Affairs employee and second-degree burglary.

DNA evidence collected at the scene of the crime led police to the suspect, who apparently had been visiting King County from Oklahoma when the assault and rape were committed, the sheriff's office said.

The suspect will have to go through an extradition process before being returned to King County.

King County sheriff's detectives said Brownwas visiting Seattle between January and mid-April and was staying two blocks from where the rape occurred.

Court documents said he first propositioned the victim and asked her if she would have sex with him for $40.  She tried to walk away, but detectives say he grabbed her around the neck from behind, choked her until she was almost unconscious, lifted her off her feet and dragged her into a dark, secluded lot.  He allegedly told the victim not to make any sounds or scream he would "kill her" and "shoot her." She told investigators he ordered her to call him "Antoine" or "Anton."

Prosecutors are asking for a $1 million bail when he is returned to Washington.

On April 10, the victim spoke exclusively with Q13 FOX News Thursday. She didn't want us to show her normal face or use her name, because she's afraid this man might come after her again. But she decided to share a gruesome picture of what she looked like after the attack, because she wants people to know just how dangerous this man is and how important it is to get him off the streets.

She was beaten unconscious and unrecognizable when she came to. Her eyes swollen shut, her skull fractured, her jaw broken in several places.

"The police were amazed I made it the two blocks that I walked to get help," she said.

The grandmother was visiting friends in the White Center area on the night of March 6. She had missed the bus she normally takes to get home, so she was walking down Roxbury to catch a different line.

"A young man comes up, asks me for a cigarette, I give him a cigarette. He asked for a light, I lit his cigarette."

She said he seemed polite at first. But a second later, he grabbed her.

"I attempted to fight back, but he had his arm around my throat. He was choking me, and he lifted me straight up off the ground."

King County sheriff's detectives said the rapist stole an unusual purse from the victim that night that is shaped like a high heel.

"He's possibly out there looking for other victims, because I can't imagine this is the only time he commits a crime like this," said King County sheriff's Sgt. Cindi West. "We really hope someone recognizes the sketch so we can get him off the streets."

The victim knows she is lucky to be alive, even though her recovery is far from over.

"I still have a long ways to go, very long ways. I can't have solid foods, you can only drink out of a straw for so long."

But she won't feel better until the person responsible for her injuries is caught.

"This person needs to be found," she said.