Unemployed woman breaks into piggy bank to help mudslide victims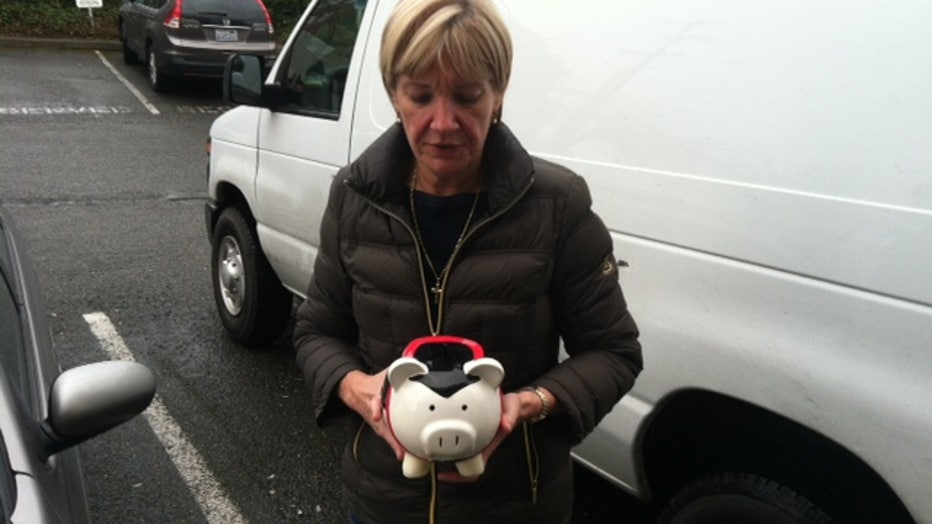 Regine Smith of Lynnwood brings her piggy bank to help out mudslide victims on Thursday, March 26, 2014. (Photo: KCPQ-TV)


ARLINGTON, Wash. -- Just after Christmas, Regine Smith of Lynnwood began saving coins and cash in her piggy bank.

"I even rubbed it's belly, and I said: Please, a job, this is all I want," Smith said Thursday.

Her wish has not been granted.

Still unemployed, Smith recently considered breaking into her piggy bank to pay some of  her bills.

And then the mudslide hit near Oso.

"Words cannot describe how I feel," said Smith, tearing up. "I sit in front of  the television and cry. My heart goes out to them."

Now, Smith is bringing her piggy bank to the local branch of Umpqua Bank to donate to the landslide relief fund. She figures she has only a small amount, $15 perhaps. But it is a big gesture, one of many happening all over the region.

Jeff Anderson, owner of 3 Rivers Cutting, a logging company, has volunteered his 22-man crew and equipment to building makeshift roads around the slide and moving debris to help rescuers move faster. But he said what they have witnessed can make even the most stoic man break down.

"People are hurting, they need help. and we just happen to be the people that have the personnel and equipment that can help," said Anderson.

Smith doesn't have so much to give, but after pouring out her piggy bank, she found out she had much more then she thought, a total of $45. Smith jumped up and down and danced around, like she had just won the lottery.

In reality, she is giving her last few dollars to people who she says need it the most.

If  you want to help, you can donate at any Umpqua Bank branch. All of the money will go to the victims of the landslide.