Watch Neil Diamond sing 'Sweet Caroline' at Boston's Fenway Park


BOSTON -- It may be the most heartfelt ovation Neil Diamond has ever received. One of the legendary singer's best-known songs, "Sweet Caroline", has served as an unofficial anthem for the Boston Red Sox the last several seasons. It is played during the eighth inning of every home game, with fans coming to their feet and singing along.

In the wake of the Boston Marathon bombings last Monday, and after the two people allegedly responsible for the bombings were found, many Red Sox fans were looking forward to the game Saturday against the Kansas City Royals. It served as a chance for the community to unite once again. First responders to the bombings were honored on the field before the game. Victor Ortiz gave a passionate speech supporting Boston.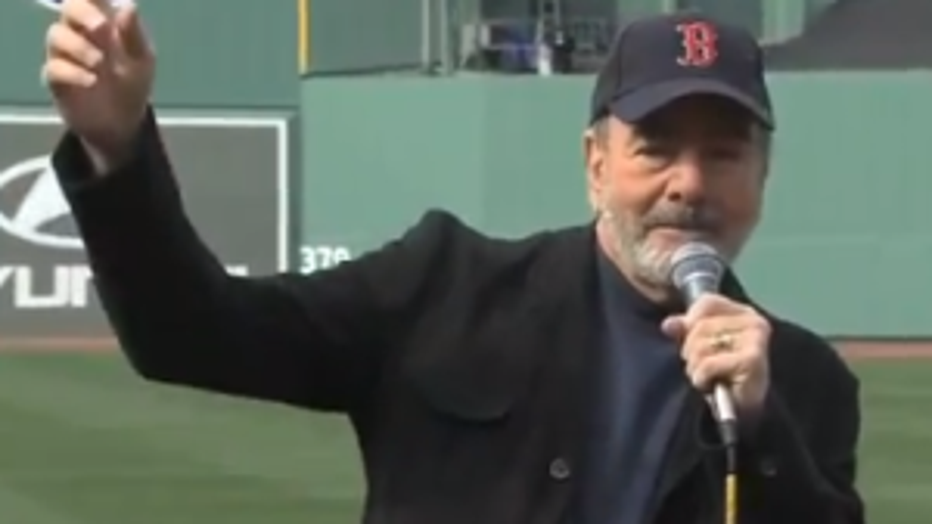 That was all a precursor to "Sweet Caroline," however. So, when the eighth inning rolled around, fans stood up to start singing, but the song didn't start playing right away like it usually does. What was going on?

Then, a figure emerged from the Red Sox dugout, wearing a Red Sox cap. Neil Diamond. The singer flew into Boston on Saturday, called the Red Sox and asked if he could sing the song in person.

"What an honor it is for me to be here today!" Diamond said as the fans gave him a lengthy ovation. "I bring love from the whole country."

And then Neil Diamond sang. You can watch it all in the video above.

From LA Times. Full Video here:

http://www.youtube.com/watch?feature=player_embedded&v=ZAo_kM_z_38