'We're all going to get through it together:' Marysville community turns out for students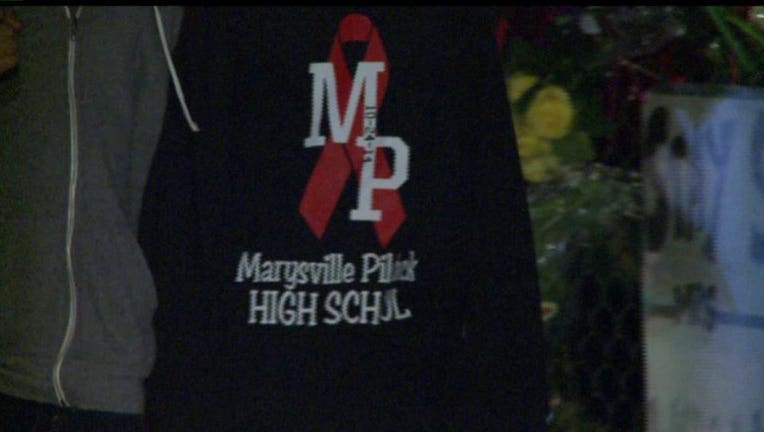 article


MARYSVILLE -- The bells rang at Marysville-Pilchuck High School Monday for the first time in more than a week.

Though the sounds of the chimes were the same as always, it's unlikely any student walking through the entryway feels the same as they did before an Oct. 24 shooting that left four students including the shooter dead and two others seriously injured.

Still, returning to some semblance of normalcy is the goal. And students are finding peace in knowing they don't have to readjust alone.

"I feel like we're all here to support each other," Alyssa Miller, a MPHS Senior said. "We're all going to get through it together as one big school."




The doors opened at 10 a.m. and school was slated to start with an assembly at at 10:30. Hundreds of family and concerned community members stood outside the school, waving and cheering the kids back to class.

In preparation for Monday, administrators and community leaders have been talking to other school districts that have dealt with tragedy, trying to figure out what students might need for their return. Fifteen extra grief counselors as well as extra police were at the school, available for any students who needed to talk.

"It won't be business as usual," says Superintendent Dr. Becky Berg. "We'll start with some kind of assembly, bringing them together. There will be time for the kids to wander around the campus, and time for them to show their support for each other."

The lunchroom -- the site of the shooting -- will remain closed. Lunch will be served in the gym.

"We want the kids to feel safe, and that's what we're working towards," says state senator John McCoy. "We're waiting for the kids to tell us what they want done with the cafeteria"

On Friday, Shawylee Chuckulnaskit, 14, died from her injuries sustained in the shooting at Providence Regional Medical Center in Everett. Zoe Galasso, 14, died the day of the shooting and Gia Soriano, 14, later died at the hospital. The shooter -- 14-year-old Jaylen Fryberg -- took his own life.

Nate Hatch, 14, continues to improve and remains in satisfactory condition at Harborview Medical Center.  Andrew Fryberg, 15, remains critical in intensive care.

On Sunday, Gov. Jay Inslee declared Monday Red and White Day, encouraging residents around the state to wear the colors of Marysville-Pilchuck to show support for the students.