2 UW students strike gold with crew socks idea
SEATTLE -- You may have noticed a slight change to Marshawn Lynch's uniform when the Seahawks took on the Falcons in Atlanta in January. It wasn't his Skittles shoes -- those debuted a few years back -- but did you notice the Seattle skyline?

"We literally lost it when we saw. We got all these texts being like, 'Is Marshawn wearing your socks? Like no way!' " said Jake Director, Strideline co-founder.

Childhood friends Riley Goodman and Director came up with the crew socks idea while playing lacrosse together in high school.

"That's when we started to notice the trend of athletic crew socks being a huge part of everyone's outfit," said Goodman, Strideline co-founder. "We took a pretty slow trajectory really, mainly because we had no funding other than our high school graduation money. But we came up with that idea that one night; it was June of 2009. We went out and found manufacturers overseas just going online; sent out a couple ideas for what we wanted. We actually physically drew our design on a sock."

The men are now seniors at the University of Washington and, as co-founders of Strideline, they're looking to bring in more than $2 million this year.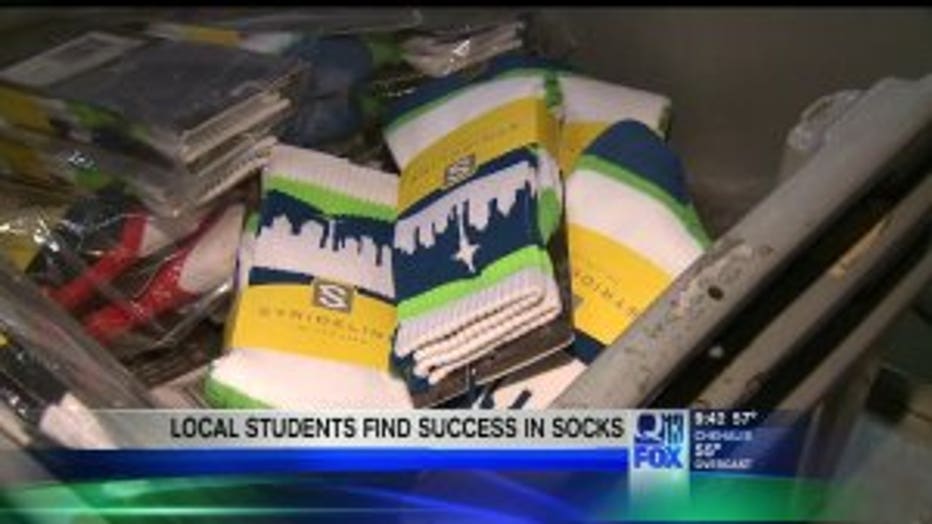 "I don't think there was anything really special about me and Riley besides (that) we are obsessed with taking this company somewhere, and, you know, we just took a first step and we were just amazed by the support that we've gotten. People all over the place wanted to help us out and along with UW and that's whats gotten us to where we are today," said Director.

"We've really been fortunate with this company, but we've always said you've really got to set yourself up and put yourself in a position to get fortunate," said Goodman.

Fortunate may be an understatement. Goodman and Director got a $25,000 grant from the Fosters School of Business at UW, and now their Strideline socks are available in 30 different stores nationwide, including Nordstrom's and Zumiez. But that's not the coolest part for these Seahawks fans.

"It really is a dream come true. These are the type of people who can wear any brand in the world, you know? Marshawn Lynch can put on whatever he wants and it's cool, and he chooses our brand. It's really rewarding knowing how much we've put into the brand and our sock quality and getting it up to par with some athletes and celebrities is really rewarding," said Goodman.

Lynch isn't the only fan of these hot socks. Fellow Seahawks player Kam Chancellor wears them, as do Sounders players. Even celebrities like Snoop Lion and Wiz Khalifa have been spotted in them.