How would repeal of federal Defense of Marriage Act affect residents here?


SEATTLE -- The U.S. Supreme Court heard arguments Wednesday for and against the 1996 Defense of Marriage Act, also known as DOMA, which restricts federal marriage benefits and required inter-state recognition to marriages only between a man and woman.

However the Supreme Court rules, it won't directly affect the 41 states that don't have gay marriage, at least not right away. The immediate change would affect states such as Washington, where gay and lesbian couples are allowed to get married under state law but aren't recognized under federal law.  And because they aren't, they don't have access to the many federal benefits that come with marriage.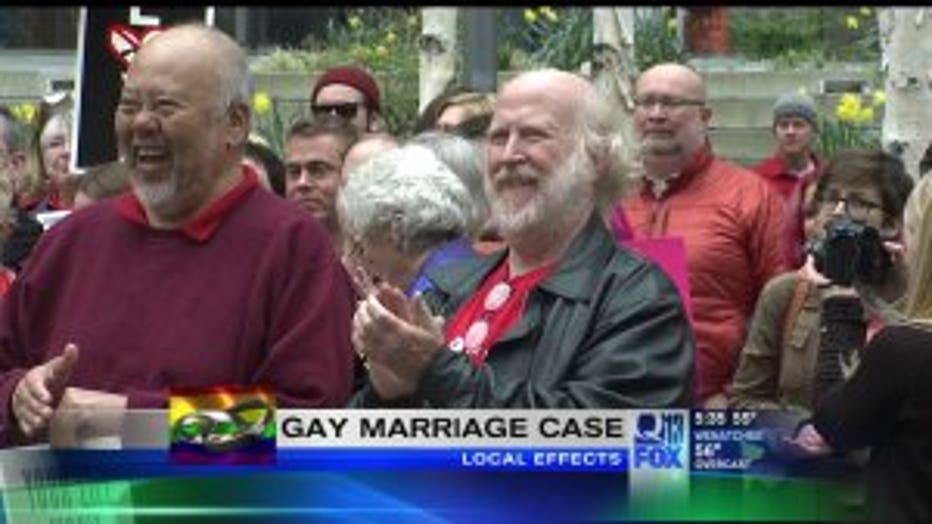 "They are doing everything we ask people in this country to do -- pay taxes, look out for their children, and they face DOMA and (are) told, you are second class," said Lisa Stone, executive director of Legal Voice, a Seattle-based advocacy group for women. "If DOMA falls, then their families have full recognition, not just the 187 rights in Washington state but the 1,100-plus that come with full citizenship."

Among those federal rights: Access to a partner's Social Security benefits; ability to file a joint tax return; health care benefits for the spouses of federal employees, including those in the military; and many more.

"If I caught the flu and I needed to go see a doctor (under her spouse's federal health care plan), I wouldn't be able to because that's not covered," said Kelly Martin, who was married to a federal employee in Washington last December. Her spouse, Lindsey, is a petty officer in the Navy. 

"She would like to go back overseas, and, at the moment I can't go overseas with her because DOMA is preventing us from being a recognized married couple," Martin said.

Martin was among dozens who rallied Wednesday in downtown Seattle to mark the historic day at the Supreme Court.

"We'd like to be given the exact same benefits as every other couple in the country and, you know, full citizenship," said rally attendee LeeAnn Martison, who plans to marry her partner Colleen Ozolitis soon.

The Supreme Court is expected to come down with its DOMA ruling, and a ruling on a California same-sex marriage case that was argued Tuesday, sometime between now and June.