Tribal leader and 'Fish Wars' activist Billy Frank, Jr. dies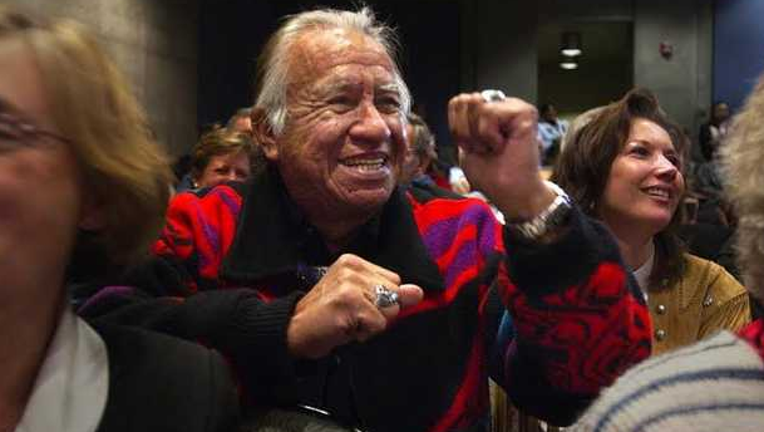 article


OLYMPIA -- Noted activist and Washington tribal leader Billy Frank, Jr. died Monday. He was 83-year-old.

A staunch advocate of Native American rights, Frank was most noted for his involvement in the Washington state Fish Wars of the 1960s and 70s when controversy surrounding Indian fishing rights erupted.

Frank was born in Nisqually, Washington in 1931 and fished the Nisqually and surrounding rivers often as a boy. When in the 1960s many tribal fisherman were required to purchase permits to fish off a reservation, Frank began advocating the U.S. Government recognize the Point No Point Treaty of the 1850s which allowed tribes to continue to fish in their traditional tribal waters.

Frank and others began protesting the violations of their treaty, often setting up encampments along riverbanks and fishing in waters that were closed to the public. Protests grew and Frank was arrested more than 40 times in Washington, at one point even threatening federal officers at gunpoint when they approached his nets.

The so-called Fish Wars sparked passion on both sides of the issue, even leading high-profile stars such as Marlon Brando to weigh in on the issue.

Frank's activism help lead to a landmark Supreme Court decision, known as the Boldt Decision, allowing tribal fisherman to take up to 50 percent of all fish harvested in traditional tribal waters.

Frank was appointed the head of the Northwest Indian Fisheries Commission in 1977, and after a brief hiatus, chaired that commission until present day.

Gov. Jay Inslee released a statement following the notice of Frank's death, saying the Pacific Northwest lost a "true legend."

"Billy never wavered in his conviction and passion," Inslee said. "He stressed to me the spiritual and cultural relationship that indigenous people have with salmon."