'Very significant' storms could bring flooding, outages to Western Washington
SEATTLE – Some areas of Western Washington could get up to five inches of rain and widespread power outages and tree damage are possible this week as two "very significant" storms loom on the horizon, the National Weather Service warned Tuesday.

The first storm is expected to roll in early Thursday and could potentially bring up to 2 inches of rain in the lowlands, up to 4 inches in the mountains, and up to 5 inches in the south-facing slopes of the Olympic Mountains by Thursday night. The Washington Coast could receive more than 6 inches of rain.

As Thursday moves along, very strong winds are in the forecast – particularly along the coast and the north interior.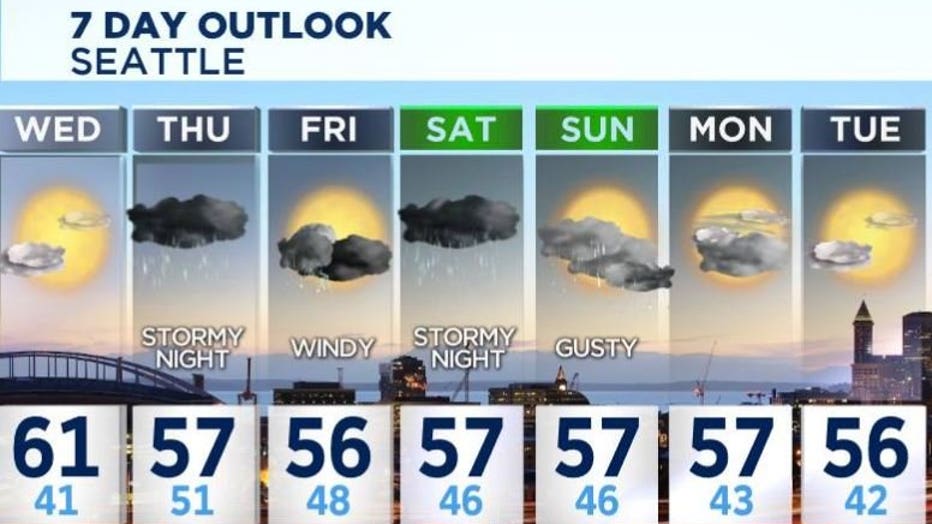 Gusts could reach 40 mph in the Seattle metro area,  Q13 News meteorologist Walter Kelley said.

Saturday, things have the potential to get even worse.




Even stronger winds and heavier rains could begin developing Saturday morning, and high seas up to 30 feet could cause significant flooding along the coast, including saltwater flooding.

A flood watch is already in effect in Mason County for Thursday afternoon through Friday afternoon. Kelley said the Skokomish River is likely to flood.

Saturday's storm will be the revived remnant of Typhoon Songda, which is currently making its way through the western Pacific Ocean. The National Oceanic and Atmospheric Administration said it will develop into an "impressively deep and strong" low pressure system.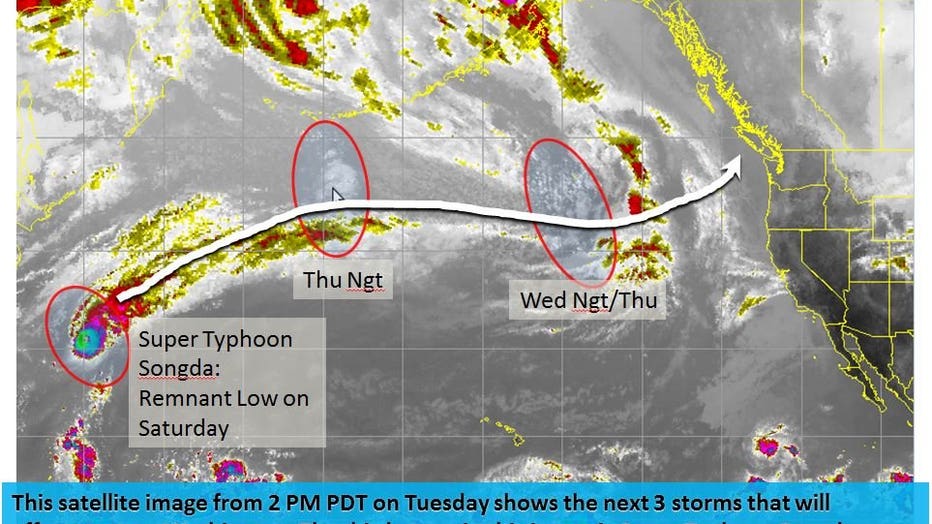 The National Weather Service in Seattle suggested these tips for how to prepare before windstorms:

-- Trim tree branches away from your house and power lines

-- Secure loose gutters and shutters

-- Identify an interior room of your house, such as a basement or interior bathroom, that you can take shelter in during high winds.

-- If you live in a mobile home, identify a sturdy building you can go to if NWS issues a high wind or severe thunderstorm warning

-- Update your emergency kit and be sure to include enough food and water to last for 3 days for each person in your home

-- Make a list of items outside your home you will need to tie down or put away so that they don't blow away or fly through a window. When NWS issues a high wind or severe thunderstorm watch, immediately secure those items to avoid damage or injury once the wind starts picking up.