Jamal Adams, Riq Woolen set for return to lineup; Artie Burns, Tre Brown ruled out for Seahawks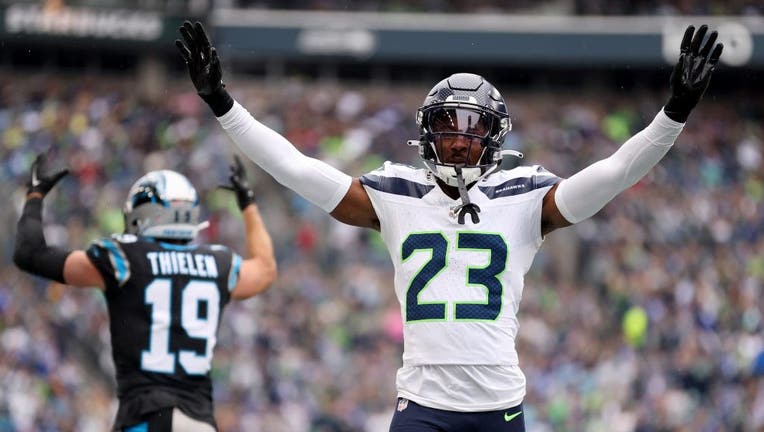 article
RENTON, Wash. - Safety Jamal Adams was off the injury report for the Seattle Seahawks on Saturday as he will make his season debut on Monday night against the New York Giants.
However, the team will need to find an answer for the nickel cornerback spot as Artie Burns was ruled out with a hamstring injury and Coby Bryant is doubtful with a toe injury.
Adams is making his return to action for the team nearly 13 full months removed from tear his quadriceps tendon in last year's season opener against the Denver Broncos.
"He did great. He had a complete week. He was on it," head coach Pete Carroll said after practice.
Adams makes his return to the Seattle lineup in the same stadium he played his first three seasons in the NFL while with the New York Jets.
"I knew Week 4 was going to be a special moment just being back at MetLife (Stadium)," Adams said on Friday. "It's special."
Burns and Bryant have played the nickel spot for Seattle through the first three games of the year. Bryant injured his toe in the Week 2 win over the Detroit Lions while Burns hurt his hamstring in practice this week.
Bryant is making the trip to New York but is a long shot to play against the Giants.
"He's going to go with us," Carroll said. "If he's on the trip anything can happen, but he's coming back. He's had some really specific treatments for his toe and we're hoping that he can make a quick turn. We'll see where he is on the weekend."
Burns was ruled out on Saturday and won't play. Carroll wasn't sure what Burns' recovery timeline would be as the team enters it's bye week next week.
"We know what he's got, we just have to wait and see how he responds to the rehab and getting back," Carroll said.
Assuming Burns and Bryant are both out, the Seahawks will need to adjust to the absences defensively. The team also ruled out Tre Brown due to the concussion he sustained on Sunday against the Carolina Panthers, which takes another possible option off the board. Carroll was asked about what they would do on Saturday and poked some fun at the question.
"Ah, nuts. I knew there was something I was supposed to look after," he quipped. "Gosh darn it. I don't know. We'll figure out something."
There's only a few somethings Carroll could turn to.
Rookie Devon Witherspoon spent a lot of time learning the nickel spot in training camp. Witherspoon could be asked to slide inside in nickel situations along with Jackson replacing him on the outside when an extra cornerback is needed. It's a scenario Witherspoon said he was comfortable with earlier this week.
"Of course, whatever coach needs me to do I can get it done," he said.
If Carroll doesn't want to put that much on Witherspoon's plate, safety Julian Love could also play the spot. It's a role he has experience in during his time with the Giants and could play it again with Seattle against his former, especially with Adams set to return to the lineup.
Rookie defensive back Jerrick Reed II and waiver pickup Kyu Blu Kelly are less likely options for the role.
Tight ends Will Dissly (shoulder) and Noah Fant (knee), defensive end Dre'Mont Jones (hip), outside linebacker Derick Hall (knee) and center Evan Brown (quadriceps) are all listed as questionable, but Carroll indicated they're all likely to play.
Jones sounded the most iffy of the group, but Carroll liked the progress he's making.
"Dre'Mont got some fieldwork today and things are really moving in the right direction. He's going (on the trip) and thinking he's going to play and be available," Carroll said.
Cornerback Riq Woolen is also set to return to the lineup after missing last week's game against the Panthers with a shoulder/chest injury.
Fines:
Safety Julian Love, wide receiver DK Metcalf and safety Teez Tabor were all fined for unnecessary roughness infractions from last week's victory over the Panthers.
Love was fined $21,833 for a roughing the passer penalty against Carolina quarterback Andy Dalton. Metcalf was fined $16,391 for an illegal blindside block, and Tabor was fined $6,000 for an uncalled runnecessary roughness penalty for a hit on receiver Adam Thielen on his late fourth quarter touchdown.