7-year-old gives gift of life to teen brother battling leukemia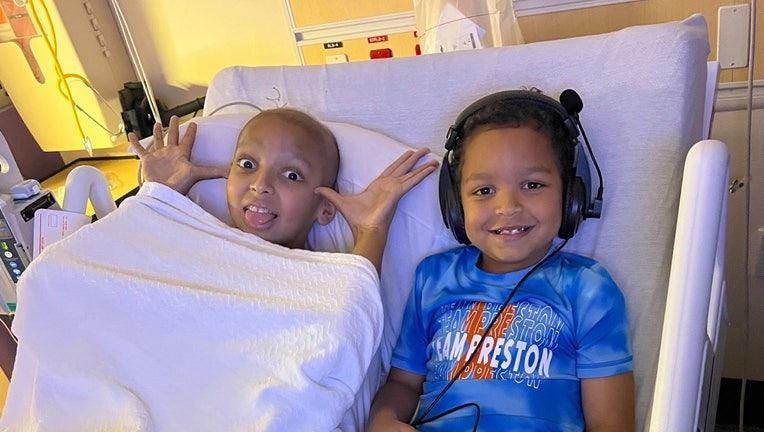 article
DALLAS - Brothers Preston and Cameron Pipkins have been inseparable from the start. It's no surprise that when Preston needed Cameron the most, the 7-year-old was "grateful" to give the ultimate gift.
Their mother Rachael Pipkins said it all started in September 2022, when Preston, 13, wasn't feeling well. It would be another two or three weeks before the family realized "something was really wrong," she told FOX TV Stations.
Preston was diagnosed with acute myeloid leukemia on September 27. Without a bone marrow transplant, doctors said he wouldn't survive. After more than three months in the hospital, there were no viable matches on the national registry —  Preston's only match was his little brother.
READ MORE: 'Get certified': Stranger saves 10-day-old baby with CPR at restaurant
And so began their journey to transplant surgeries at Children's Medical Center in Dallas. Fittingly, the extraordinary act of love happened on Feb. 14, Valentine's Day and National Donor Day.
Preston and Cameron Pipkins (Rachael Pipkins)
Preston will be in the hospital for six to eight weeks after the transplant surgery, followed by close observation for up to a year and regular check-ups for the rest of his life. His parents are hopeful the transplant will cure Preston's cancer.
"He has endured many obstacles and overcome them all with a level of maturity unheard of for a new teen and heart of gold," Rachael said. "Preston says 'to take it day by day and don't get overwhelmed with all the possibilities.'"
READ MORE: Georgia boy with inoperable brain tumors has life-long dream come true
Admittedly, it's been hard to follow her son's advice at times, as it's "been the most difficult challenge of our lives." Rachael said she gets through it by finding the positive in every situation.
"Even in times of great sadness there is good around us — hold on to that," she said.
Friends and family have set up a fundraising page to help the Pipkin brothers as they recover.