CAPTURED: Woman accused of robbing mom of sick child at Children's Hospital held on $200,000 bail
CAPTURE UPDATE November 5th, 2018 --
Robbery suspect, Paige Nicholls, pleaded 'not guilty' to Robbery 1st degree in King County court on Monday.

Her bail was set at $200,000.




CAPTURE UPDATE October 25th, 2018 --
Robbery suspect, Paige Nicholls, was booked into the King County Jail on Thursday, where she is being held on $400,000 bail.

She is scheduled to be  formally arraigned in court on November 5th on a charge of Robbery 1st Degree.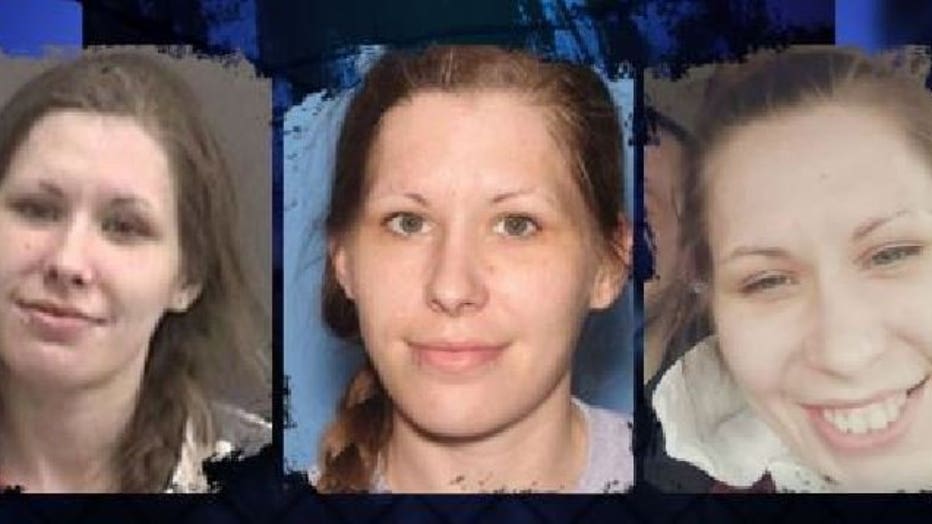 FUGITIVE CAPTURED October 23, 2018 --
Tri-Cities Crime Stoppers received a tip from a Washington's Most Wanted viewer on Tuesday that Paige Nicholls was located at an apartment in Kennewick.  The US Marshal's Regional Task Force in the Tri-Cities made up of US Marshals Deputies, Kennewick and Benton County Detectives and Washington State Dept of Corrections Officers responded and her into custody along with Stephanie Heeney who had a misdemeanor warrant.  They were transported to the Benton County Corrections Center.

King County Prosecutors have charged Nicholls with Robbery 1st degree after Seattle Police say she put a knife to woman's throat after the victim caught her prowling her vehicle at Children's Hospital.

Heeney and Nicholls are both suspects a home burglary in the 4000 block of 168th St NE in Arlington on October 9th. Nicholls escaped.  Heeney was arrested out on bond and already had an active misdemeanor warrant for her arrest.

Nicholls is WMW Capture #1025 thanks to tips from our viewers.

---ORIGINAL CASE---
FUGITIVE WANTED IN SEATTLE October 8, 2018 --
Police are asking for the public's help to find a woman accused of robbing the mother of a sick child outside Seattle Children's Hospital.

Detectives say on September 12th, Paige Nicholls smashed out the right rear wing passenger side window of the victim's car. When the victim came to get something for her 11-year-old son being treated for a brain disease, detectives say she found Nicholls sitting in the backseat.

"The female notices the victim gets out and immediately takes a swing at her and hits her in the face. Then, the suspect pulls out a knife, puts it towards the victim's neck and says some curse words at her and then the victim starts screaming. A witness comes up and notices the suspect. Suspect looks at the witness and takes a $20 bill, throws it at the victim, says 'Hey, I'm sorry and she takes off running," detectives said.



Nicholls already has an arrest warrant in Marysville for car prowling and now King County prosecutors are filing charges for robbery.

Washington's Most Wanted host David Rose said he gave Nicholls several chances to do the right thing, but she has not turned herself in.

Rose said he spoke with Nicholls last Thursday.

"The first time I called, she hung up on me. When I called back, she said it was a bad reception. I encouraged her to surrender. She wanted to know how much her bail was going to be. I didn't have an answer for her. She later texted me and asked what she needed to do," Rose said.

Nicholls had until Monday at 10 a.m. to turn herself in. She didn't show up and has not responded to calls or texts from detectives.

Paige Nicholls is 5'05" 130 pounds with blonde hazel and hazel eyes. She is a 3-time convicted felon for residential burglary and possession of controlled substances with no prescription. She has two gross misdemeanor convictions for vehicle prowling-2nd degree and theft 3rd degree.

She was last known to be staying somewhere in the Arlington or Marysville area.

Crime Stoppers is offering a cash reward of up to $1,000 for information on her whereabouts. If you can tell officers where to find her, you will remain anonymous. Submit the information by using the P3 Tips App on your cell phone or call 1-800-222-TIPS (8477). You can also go to www.P3Tips.com.