Fiancee of Tacoma police officer killed in line of duty shares her pain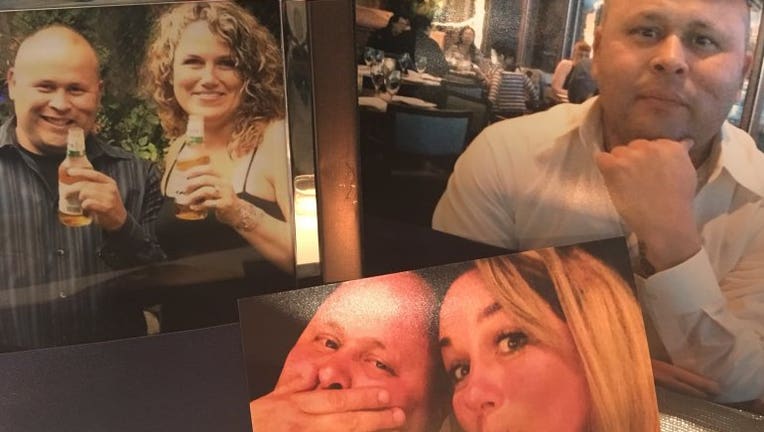 article
GIG HARBOR, Wash. - The fiancee of the Tacoma police officer killed in the line of duty was robbed of the chance to get married.

"I love you, I love you, you are amazing," Rebecca Humphrey said.

Humphrey says those words out loud at night hoping her fiancé, officer Jake Gutierrez will hear her.

"Laying in bed at night, laying in his spot and I don't lay in my spot anymore. I lay in his spot to be closer to him," Humphrey said.

It's impossible to let go of the love of her life.

"Very few people find the kind of relationship Jake and I had, it's like his soul was looking into mine the way he would look at me," Humphrey said.

The two were supposed to be married this month. Instead, she buried him.

"My stomach just gets sick," Humphrey said.




Knowing there will be no more moments, no more laughs with Jake.

"Any pictures he posed for was something funny," Humphrey said.

Gutierrez was funny but most of all thoughtful.

Humphrey says Gutierrez showed her he loved her every day, not through big gestures but the small things. He would go to her hair appointments, often bring her short stem roses and always find her missing items around the house.

As she grieves, Humphrey's family is worried about her future.

"I just hear Jake in my ear constantly saying take care of my girl," Rebecca's sister Jeannie Fischbach said.

Although several funds have been set up to collect donations for Jake's children, it's unclear if any of that will get to Rebecca.

"It's not their fault it's all legal they weren't married it's a messed up situation," Fischbach said.

Fischbach says Jake was happily the sole provider as Rebecca tried to get her own business started.

"He was in the backdrop doing things, but I always had his support," Humphrey said.

Although she legally never got to marry Gutierrez she says in her heart she's already his wife.

"I still want to honor him by having his last name and carry that on," Humphrey said.

Humphrey's family says Gutierrez would want his fiancee to be financially supported as well as his children. They have set up an account at KeyBank in memory of Jake Gutierrez for the benefit of Rebecca Humphrey.

As for those other accounts and how that money will be doled out, Tacoma Police says that is a union question because they are organizing the funds.

Q13 News reached out to the union and we will update the story when we hear back from them.

Fischbach also says there will be a donation drive at her work Tuscan Salon in Puyallup for her sister. The event is on January 8th and Fischbach says people in the community is invited to get a haircut and to leave a donation.