Fiery tanker-truck crash kills 1, thousands of gallons of fuel spills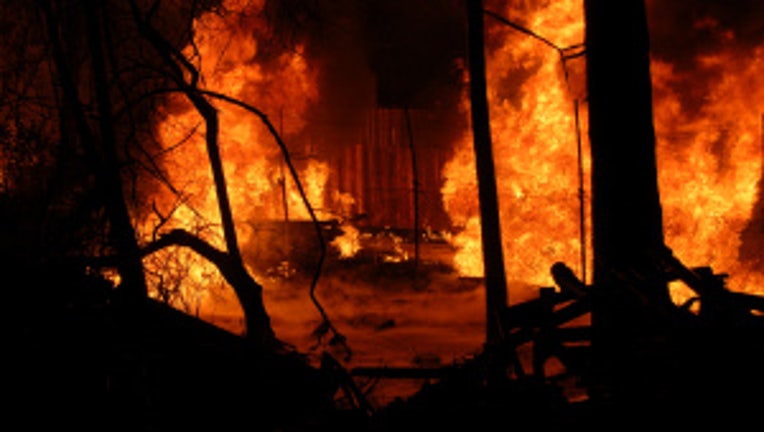 article
FEDERAL WAY, Wash.—
A 68-year-old Sumner man died early Sunday morning when a tanker-truck he was driving filled with 9,000 gallons of aviation fuel crashed on Interstate 5 near Federal Way.

The incident started around 2:30 a.m. when a 21-year-old driver of a 2001 Nissan Altima lost control and ran into a barrier while traveling southbound on I-5 near 320th Street.



---


According to the Washington State Patrol, the driver of a 1995 Toyota Camry slammed into the Altima from behind and pushed both vehicles into the center lane. The tanker-truck loaded with fuel hit the wreck, left the freeway and rolled onto its side. The driver of the truck was killed, and both tankers burst, spilling fuel over the roadway. The fuel soon caught fire, officials said.
Officials arriving on the scene found the tanker-truck driver dead. The driver and two passengers of the Toyota Camry were taken to St. Francis Hospital in Federal Way with serious injuries. The driver of the Altima was arrested for a suspected DUI. He was booked into King County Jail.

South King County Firefighters put out the tanker blaze and conducted a controlled burn to remove some of the excess fuel that spilled from the tanker trailer, Dave Mataftin of South King Fire and Rescue said.

Officials with the Department of Ecology said on-site monitoring didn't find any health or safety concerns to nearby homes or businesses because of the fuel spill.

All southbound lanes of I-5 were closed until 8 a.m., officials said.

Beginning at 6 p.m. Sunday night, crews closed the two right lanes of I-5 southbound near Mile Post 145 to remove the tanker-truck. All lanes reopened again at 8 p.m.

Those who lived nearby said the experience was a terrifying sight.

"There were embers falling everywhere," said Federal Way resident Ken Dawson. "There were embers falling everywhere. Way up in the tall trees."

Dawson said he was sleeping in his bed before he heard a large explosion.

"You could see the bright light through the window," he said. "So, I get up and look and I just see this huge fireball and the trees are going up in flames."

It was a long day, Mataftin said, and his thoughts and prayers are with the family of the dead truck driver.

"Our thoughts and prayers go out to the family," Mataftin said. "We feel bad about this. This is just horrible."