'Her hands touched us all, healed us all'; Vigil held for missing Thurston Co. chiropractor
LACEY, Wash. - Dozens of people gathered for a prayer vigil honoring Dr. Karen Koep and her husband Davido. Both were reported missing last week.
Authorities now believe the couple to have been killed.
Sunday's vigil took place outside Keop's chiropractic office.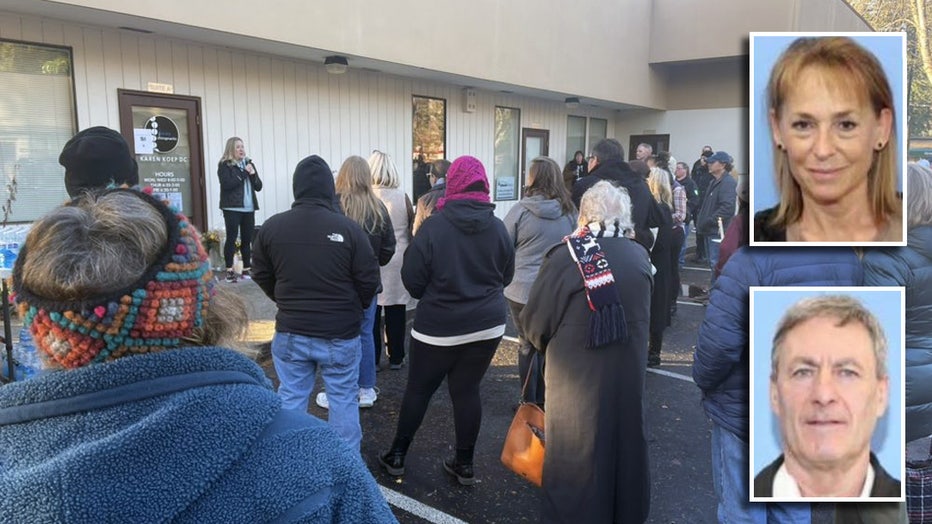 "Seeing all these people and hearing the memories they're sharing really gives my family strength," said Pauline Dutton, Karen's sister.
62-year-old Koep and 68-year-old Davido were first reported missing from their Lacey home on Monday.
The pair's gray Toyota hatchback was initially missing from their home, but was later found in a rural area in Olympia.
Authorities now believe they were killed in an attack at the residence, the Sheriff's Office wrote in a statement on Facebook early Saturday.
"They were people of faith," said Dutton. "They developed deep relationships with everyone they met."
The tragic update quickly flooded social media with comments from Koep's former patients at her Lacey chiropractic clinic. Many of them showed up for the prayer vigil.
PREVIOUS COVERAGE: Homicide arrest made in connection with missing Lacey chiropractor and husband
"Her hands touched us all, healed us all," said Lucas Saul, a former patient.
"She gave me words of encouragement," said another.
The vigil comes as investigators announced an arrest in connection to the couple's disappearance.
According to the Thurston County Sheriff, an Olympia man in his 40s was taken into custody Friday and faces two counts of first-degree murder and first-degree kidnapping related to the vanishing of Karen Koep and her husband.
Family members said the individual arrested was the couple's tenant and was in the process of being evicted.
"I just hope all of that of this has been resolved," said Dutton. "I just keep wondering, is there more about this that we don't know?"
As the Lacey community continues to grieve, they are leaning on each other for support and are asking that Karen and her husband be remembered for their contributions to the community.
"I just want everyone to slow down in this world," said Dutton. "Just stop and honor my brother-in-law and sister in the way that they were, kind, loving, patient and of service."