Lines still stretch around block on 2nd day of marijuana sales in Colorado


DENVER (KDVR-TV) -- Colorado made history New Year's Day when it became the first state to allow stores to sell marijuana for recreational purposes to anyone age 21 or older.

On day two of marijuana sales in Colorado, most of the lines in front of the state's new recreational pot shops were still stretching out the door and around the block.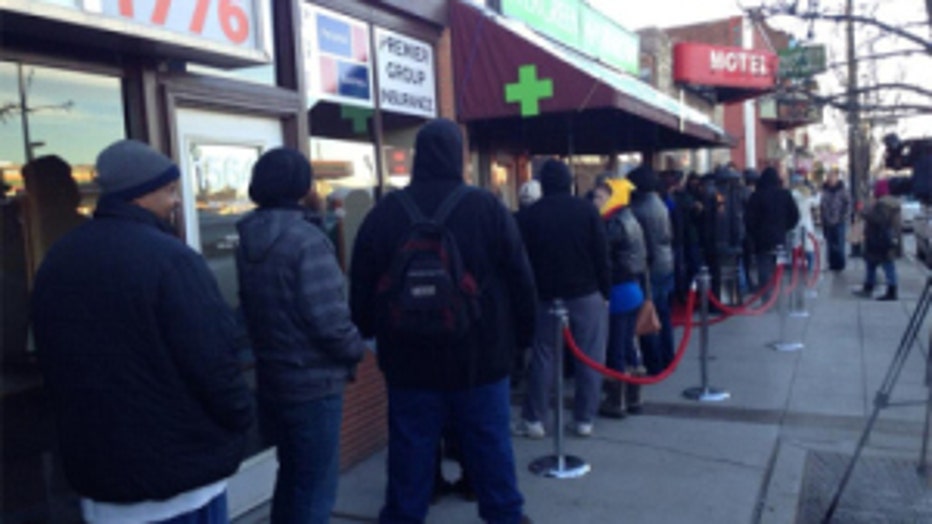 Lines were once again large outside Denver's Evergreen Apothecary on Jan. 2, 2013, for the second day of legal recreational marijuana sales in Denver. Many had no luck on Jan. 1. (Photo: Twitter / Chris Jose)


As many as 30 stores throughout Colorado were able to start selling recreational weed on Jan. 1, with 18 of them being in Denver. With that few stores and such high demand, many were worried about the possibility of a pot shortage.

Tim Cullen wasn't one of them. Cullen owns Evergreen Apothecary, a recreational marijuana retail shop near the intersection of East Iowa Avenue and South Broadway.

"The stores were ready for this," Cullen said. "We've been preparing for this for months. We're well connected and friends with many in the industry. We didn't talk to anyone who was concerned about a shortage yesterday."

Despite his assurance that there wouldn't be a shortage of marijuana available for purchase, Cullen was limiting purchases to one-quarter of an ounce on Thursday, which is well below the one ounce limit that is permitted for purchases by new Denver laws.

As far as the prices of marijuana across the states, it's been estimate that one-eighth of an ounce will cost between $30 and $50, depending on the type of marijuana. That's not including tax.

Many marijuana customers were reluctant to go on camera to talk about their purchases, with most citing concerns about their bosses seeing them with weed. In many cases, their concerns have some credence, as retailers are permitted to collect buyer information from marijuana customers and there are also no laws preventing them from passing out that information to third parties, which would include concerned employers.

That said, Cullen said his store and most marijuana retailers he has spoken with will refuse to give out that buyer information.

A total of 136 stores just received state licenses last week, but most of them apparently haven't obtained approval yet from their local governments to open on Jan. 2.

Mayor Michael Hancock said he is proud of how the city implemented Amendment 64.

"I want to thank the businesses and consumers alike for acting responsibly and with great accountability today. Denver is a progressive city, a vibrant city, and it's incumbent on all of us to continue getting this right," Hancock said in a statement.

Voters in 2012 approved the sale of recreational marijuana, as have voters in the state of Washington, but Colorado was the first to have the pot shops up and running under regulations recently established.

Not all of the state is participating in the new law. A community can decide not to allow the shops, and in fact, most of the state geographically hasn't, including communities such as Greeley and Colorado Springs.

Proponents of the new law were dealt a setback last week when Denver and state officials threatened to shut down a private party at a dance club scheduled for Jan. 1 celebrating the end of the prohibition against cannabis — an event billed as "Cannabition." The organizers canceled the party because officials said it would violate a Denver ordinance prohibiting the public consumption of marijuana.

Cannabis can only be smoked on private premises, with the owner's permission.

Under the new state law, residents will be able to buy marijuana like alcohol. The cannabis purchase is limited to an ounce, which is substantial enough to cost about $200 or more. People from out of state can buy up to a quarter ounce.

Meanwhile, in a vivid example of how recreational pot is a new reality for the state, Denver officials posted public signs in the tourist-populated corridor known as the 16th Street Mall. The street signs read, "Know the Law about Marijuana Use in Denver."

"You must be 21 or older to have or use retail marijuana," says one bulletin on the sign. But further below it, the sign warns readers that "it is illegal to use, display or transfer marijuana on the 16th Street Mall."

Meanwhile, Denver International Airport authorities this week have banned all marijuana on the airport grounds. Medical marijuana had been legal to bring to the airport as long as it didn't go through security checkpoints, said airport spokeswoman Stacey Stegman.

But a total ban was implemented to avoid confusion as the recreational pot law rolls out, she said. Officials are concerned that a large influx of people may take marijuana to the airport and transport it across state lines.

So even if a visitor brings marijuana to the airport and leaves it in the car to pick up a relative at the terminal, that visitor will be breaking the law and could face a fine of up to $999, Stegman said.

Colorado will also become the first place in the world where marijuana will be regulated from seed to sale. Pot, by the way, is the third most popular recreational drug in America, after alcohol and tobacco, according to the marijuana reform group NORML.