Man trying to swim across Clackamas River rescued by police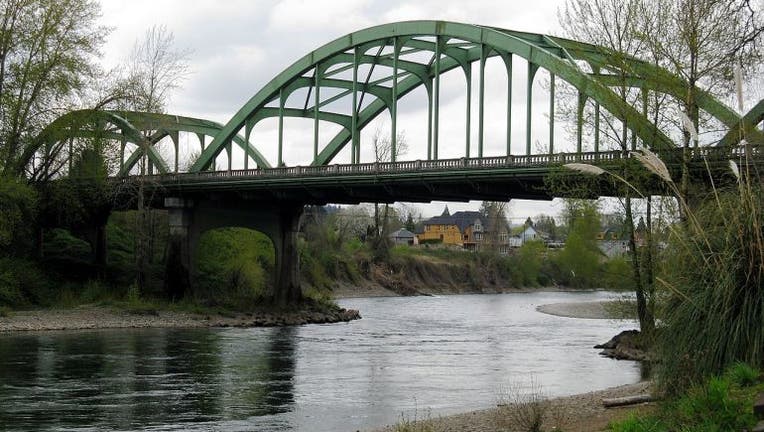 article


GLADSTONE, OR (KPTV) -- A man who tried to swim across the Clackamas River near High Rocks Park in Gladstone was rescued by a police officer Tuesday, who likely saved his life.

Lt. Kirk Stempel of the Gladstone Fire Department said the man's internal temperature at the time of rescue was 89 degrees, and he wouldn't have been likely to survive another 15 to 20 minutes in the water.

The man, who has not been identified, told rescuers he wanted to swim across the river, so he stripped down to his underwear and jumped in.

He was unable to make it to the other side and was swept roughly a quarter of a mile downstream in the current.

A man who happened to be walking his dog called 911 after he saw the man "up to his armpit" in the water and clinging to a rock.

Sgt. Travis Hill with Gladstone Police arrived on the scene before firefighters or paramedics and grabbed a life jacket and rope from his patrol car. Tying them together, he threw the life jacket to the man in the water, and the man was safely rescued.

"That sounds like his lucky day," said Jay Lee, who lives in the area. "You always hear stories about people jumping in and getting pulled by the undercurrent and some people don't make it."

The area near High Rocks is notoriously dangerous for swimmers in the summer months, with water that looks deceptively calm in places but has deadly undercurrents.

Stempel said with the fall rain, the water is even more dangerous as it's moving higher, faster and much colder than in the summer months.

"I just don't understand why people are still taking the risk," said Gladstone resident Helen Ing.

Fox 12 spoke with the man who made the 911 call off-camera.

He said he didn't want any recognition, but wanted this to be a lesson to others to be alert and get involved. He said there were two other people in the area who saw the man in the water but did not act.

It's not clear why the man wanted to swim across the river in the first place. He was taken to the hospital but is expected to be just fine.