New bill may squash proposed Pierce County airport plans
PIERCE COUNTY, Wash. - The Washington legislature greenlit a commission to site a new airport, and now, there's a legislative push to kill the group and start over.
While the year 2050 seems like a long time away, state aviation experts say Washington will outgrow The Seattle-Tacoma International Airport by that year. Back in 2019, the state began talks to seek a new location that would build a new airport that would alleviate the expected congestion.
While there's the belief that a new airport is needed, locals in prospective locations have pushed back.
The Commercial Aviation Coordinating Commission (CACC), created by Washington's state legislature, was tasked with siting a location for a future airport. The commission targeted three sites for a future airport: two in Pierce County and a third location in Thurston County.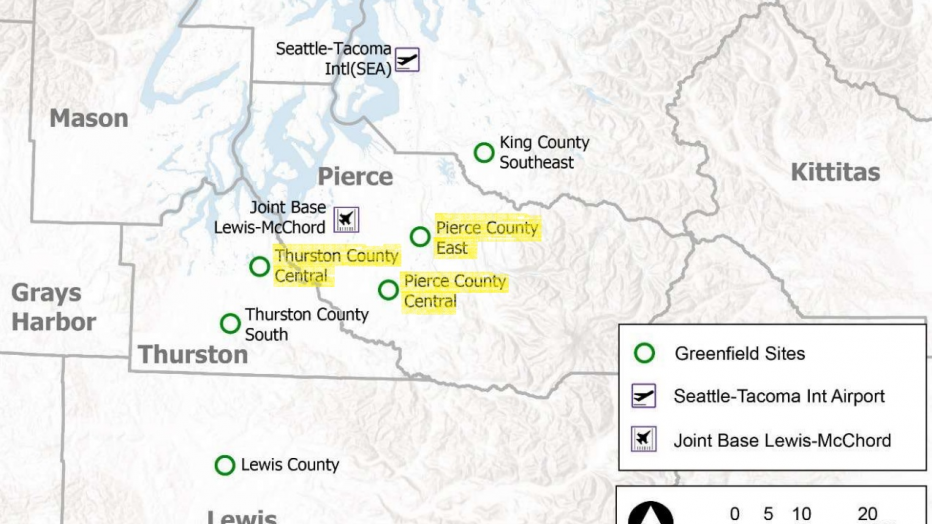 Those who live in the area have fought back. The pushback has spanned from environmental concerns to property concerns and questions over whether infrastructure could ever match the site's needs.
On Tuesday, the Pierce County commission went a step further, filing a resolution that requests the CACC remove the Pierce County sites from consideration.
Reached via e-mail, a spokesperson from the CACC said that the concerns of Pierce County leaders would be discussed at an upcoming meeting, currently scheduled for March.
It's not clear that the CACC will survive to have such a meeting. Rep. Jake Fey (D-Tacoma) told FOX 13 that he plans to kill the CACC through legislation or defunding -- whichever is necessary.
This week, Fey filed House Bill 1791, a bill that would dissolve the CACC. In its place, HB 1791 would create a workgroup that includes a variety of stakeholders, ranging from the aviation industry to environmental groups and citizens.
"If this bill doesn't pass, we will pass a bill that will defund the commission," said Fey. "We will put it on budget to defund the commission. It either goes away from the legislation or it goes away because we don't fund it anymore."
According to Fey, the bill will restart the process with more input and analysis from the beginning. It doesn't guarantee that the current locations are off the table, but it would take more information into consideration.
One of the major issues that has arisen since the unveiling of the CACC's chosen sites is the proximity of the sites to Joint Base Lewis-McChord. Fey told FOX 13 that leadership at JBLM has concerns over how close the proposed sites are to an important national security site. 
It's unclear if any of the sites would be allowed to move forward.
"I think we made an error when we did this bill a few years ago looking for a single site," said Fey. "We put a timeline for when this would happen. It should have been a natural progression and it might be that none of these sites are acceptable."
There's no guarantee that HB 1791 will pass during this legislative session, but Fey has high hopes -- noting that it has bi-partisan support, including 12 sponsors from both sides of the aisle.