One-on-one with state Attorney General Bob Ferguson


SEATTLE -- State Attorney General Bob Ferguson has been on the job just about a year, but he has already created many headlines: convincing the feds not to challenge legalized pot; pushing for faster cleanup at the Hanford nuclear site, and suing a Richland business for not providing flowers for a gay wedding.

Few know that before politics and before the law, Ferguson wanted to make a living playing chess.  He's a two-time state chess champion and an internationally rated chess master, a skill he says is key to his work as Washington's attorney general.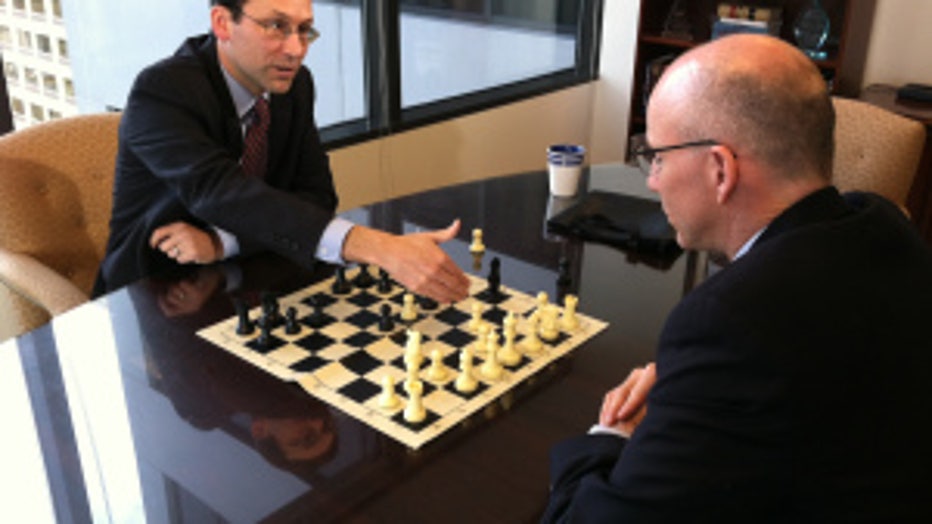 "Even if you are a very good chess player, your opponents, if they are a good opponent, will sometimes surprise you with a move they play, or you will underestimate the move they play," Ferguson said Wednesday.  "That's a really good experience to have."

Earlier this year, Ferguson made it clear to the federal government that he was prepared to go on the attack when it came to letting Washington's pot legalization go forward.

"I told (U.S. Attorney General) Eric Holder very specifically, look we have a legal team in place and we'll defend the will of the voters," Ferguson said.  "If you try and stop us from legalizing marijuana, we with fight that legally in the courtroom."

But, cleverly, Ferguson and Gov. Jay Inslee also decided not to push for a quick answer, which proved key.

"I really thought, give him the space to make a difficult decision," said Ferguson.  "I didn't think that Eric Holder needed the attorney general in Washington state holding press conferences every week and picking a fight with the federal government."

Ferguson is willing to pick a fight with the feds when it comes to clearing up nuclear waste at Hanford.

"The one thing that has been consistent over all those years is the federal government's inability to meet the deadlines that they have agreed to," he said.  "I have little patience for the federal government's approach so far."

Also in Eastern Washington, Ferguson has been putting the squeeze on a Richland florist, which refused to provide flowers for a gay wedding.  Many say the shop owner should be free to do business whoever she wants.

"It's not different than if I walked into a restaurant and they refuse to serve me because I was there because I'm Catholic," Ferguson said.  "It's the same principle."

Ferguson also made headlines during fall's election.  In mid-October he announced a lawsuit against the Grocery Manufacturers Association for not disclosing the names of donors of over $11 million to the campaign against genetically modified food labeling.

"The lawsuit goes forward because there should be a deterrent effect for the next entity that's thinking about breaking our rules again," he said.  "So, we'll be seeking penalties from a court.  The GMA denies any wrongdoing, so we'll let a judge decide that.  But I anticipate a significant penalty for the GMA, yes."

When it comes to the law and chess, Ferguson doesn't like to lose.

"That's true, that's true," he said, smiling.