Seahawks fly by Cardinals 58-0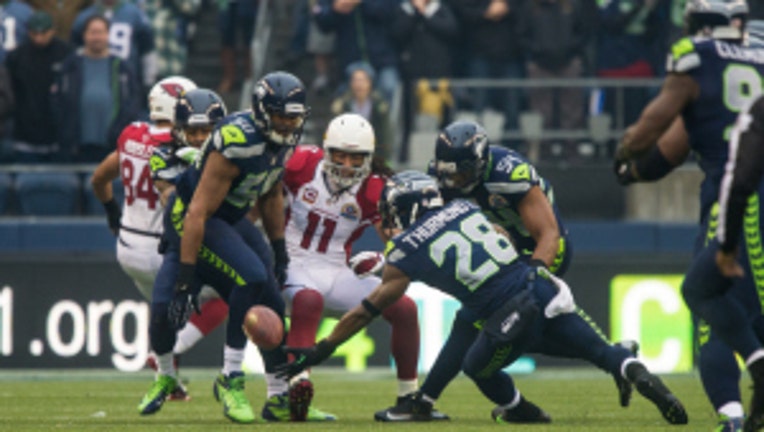 article


When it rains it pours.

Many on the Arizona Cardinals must have been thinking about that old cliche during a soggy Sunday afternoon at CenturyLink field, where the Seattle Seahawks defeated -- or some would say destroyed -- the Cardinals, 58-0.

The 58-point spread set a Seattle Seahawks franchise record for the biggest point differential in team history. It also set a Cardinals record for worst loss in franchise history.

And for an Arizona Cardinals team that came into the game 0-8 in the team's last eight games, the Seahawks didn't let up from the moment Steven Hauschka booted a 31-yard field goal to put the Hawks up 3-0 in the first quarter.

The Seahawks dominated in nearly every category. The team had 22 first downs to the Cardinals 10. Marshawn Lynch rushed for 128 yards and three touchdowns, compared to Arizona runningback William Powell's 20 yards on five carries. Rookie quarterback Russell Wilson went 7-for-13 with a passer rating of 88 compared to John Skelton's passer rating of 18.

But most stunning was the difference in turnover ratio. Skelton threw 4 interceptions, including a pick-6 to cornerback Richard Sherman in the second quarter, and the team lost four fumbles in a game were the ball certainly never bounced the Cardinals' way. The Hawks NFC West division rivals never even made it into the Red-Zone.

After Sherman's interception return for a touchdown, the Seahawks hardly looked threatened. The Hawks scored 28 points in the second quarter alone, including a Malcolm Smith fumble recovery for a touchdown, a Wilson TD pass and a Marshawn Lynch TD run.

Hawks fans even got their first taste of off-season free-agent signing Matt Flynn after Russell Wilson was pulled out of the game in the third quarter. Flynn went 5-for-9, passing for 68 yards and no touchdowns.

In the one touch of bad news, Wilson's streak of interception-less games came to end when he was picked off at the end of the first half.

The Hawks (8-5) will face off against the Buffalo Bills (5-8) Dec. 16 at the Rogers Centre in Toronto.