As Taylor Swift and Travis Kelce rumors swirl, a look back at other celebrity-athlete dating duos
Taylor Swift cheers from a suite as the Kansas City Chiefs play the Chicago Bears at GEHA Field at Arrowhead Stadium on September 24, 2023 in Kansas City, Missouri. (Photo by Cooper Neill/Getty Images)
Taylor Swift made headlines over the weekend when she appeared at Arrowhead Stadium, taking up Travis Kelce's invitation to see him play. 
Swift was decked out in red and white while watching alongside Kelce's mother, Donna, from one of the glass-enclosed suites on a sun-splashed afternoon in Kansas City.
Rumors of a relationship between Swift and Kelce have been swirling for days, ever since Kelce told "The Pat McAfee Show" that he "threw the ball in (Swift's) court" and invited her to a game. She's on a break from her Eras Tour, which resumes Nov. 9 in Buenos Aires, Argentina.
A fan holds a sign supporting Taylor Swift and Travis Kelce as the Kansas City Chiefs play the Chicago Bears during the first half at GEHA Field at Arrowhead Stadium on September 24, 2023 in Kansas City, Missouri. (Photo by Cooper Neill/Getty Images)
RELATED: Taylor Swift appears at Chiefs game to root on Travis Kelce as dating rumors reach fever pitch
From jinxes to good luck charms, here are other times throughout history that athletes and celebrity pairings had people talking. 
Joe DiMaggio and Marilyn Monroe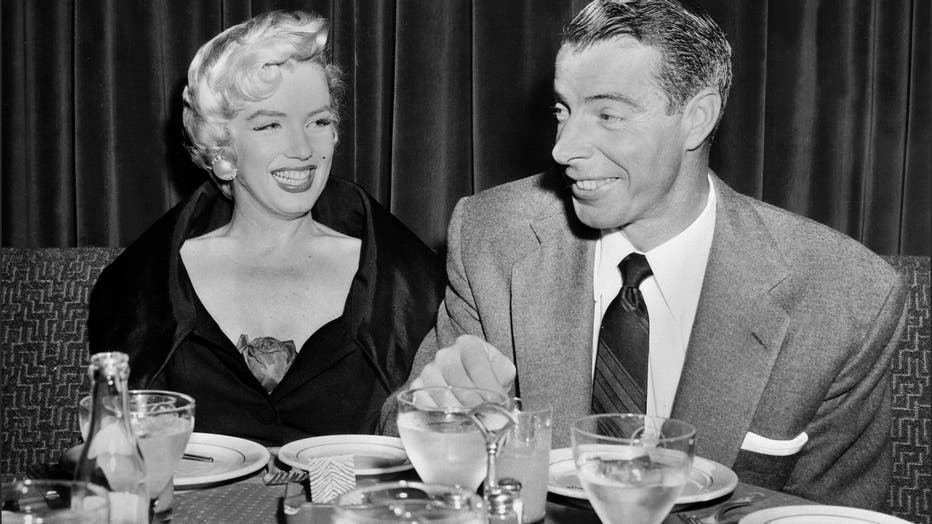 Picture dated of the 1950s showing American actress Marilyn Monroe (L) with her husband baseball legend Joe DiMaggio. (Photo credit AFP/AFP via Getty Images)
Alex Rodriguez and Madonna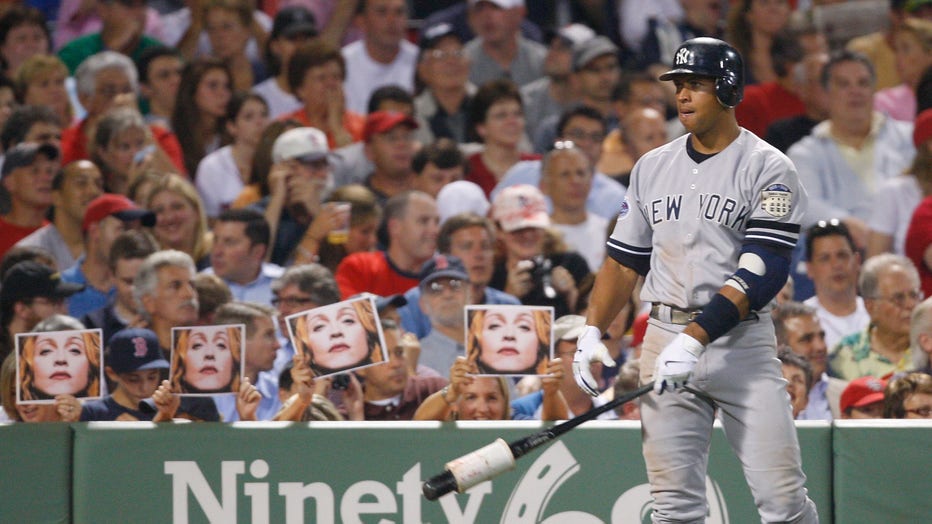 Fans hold pictures of Madonna as Alex Rodriguez #13 of the New York Yankees prepares to bat against the Boston Red Sox at Fenway Park on July 25, 2008 in Boston, Massachusetts. (Photo by Jim Rogash/Getty Images)
Dennis Rodman and Carmen Electra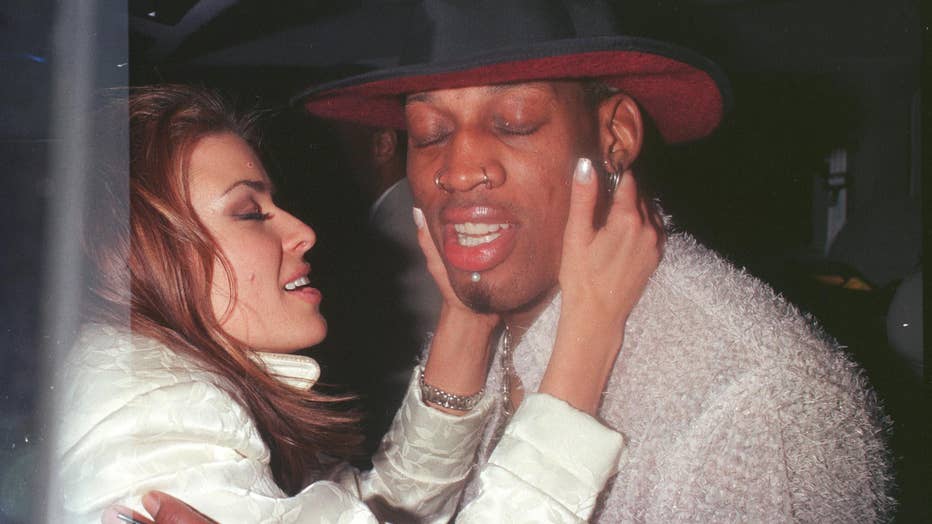 New Laker Dennis Rodman celebrates his first winning game out on the town at GOODBAR with wife Carmen Electra in 1999.
Mike Tyson and Robin Givens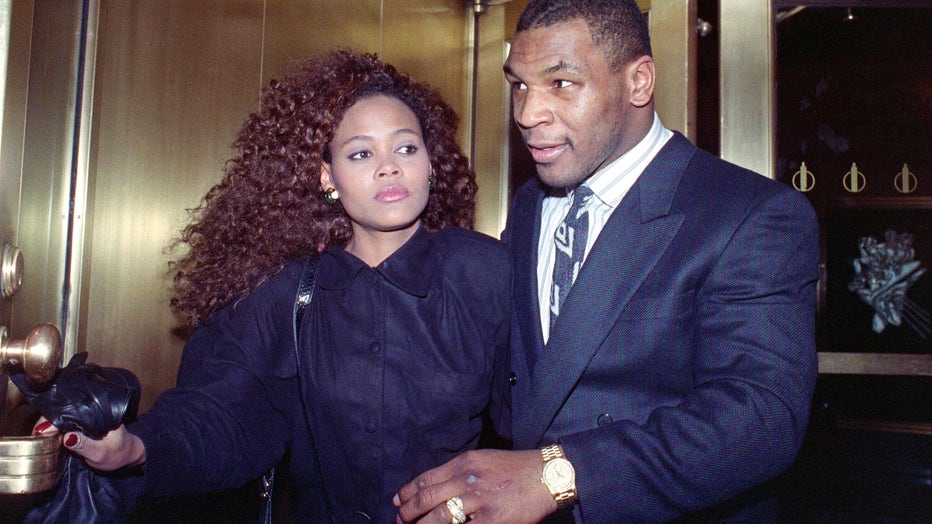 US heavyweight champion Mike Tyson exits the Nippon Television Network International studio in New York with his new bride actress Robin Givens in 1988. (Photo credit Maria Bastone/AFP via Getty Images)
David Justice and Halle Berry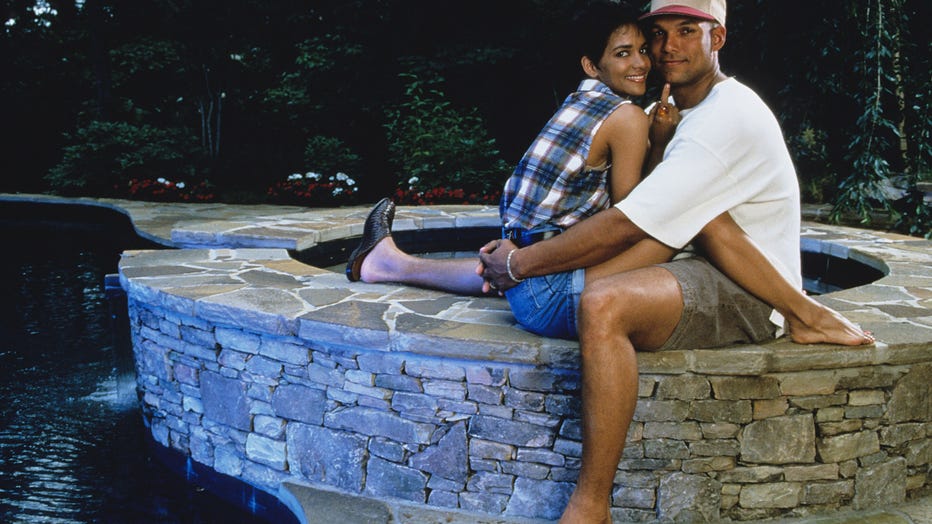 David Justice of the Atlanta Braves and his wife, actress Halle Berry at their home in 1994 in Atlanta, Georga. (Photo by Ronald C. Modra/Getty Images)
Tom Brady and Gisele Bündchen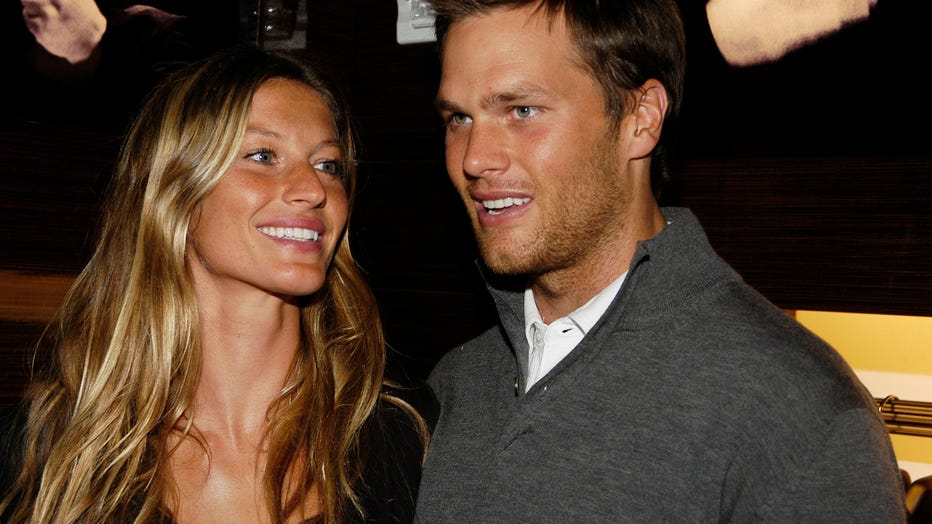 Gisele Bundchen and Tom Brady attend ERMENEGILDO ZEGNA Store Opening Cocktail Party For The Robin Hood Foundation at Ermenegildo Zegna Store 5th Ave on March 11, 2008 in New York City. (Photo by David X Prutting/Patrick McMullan via Getty Images)
Jessica Simpson and Tony Romo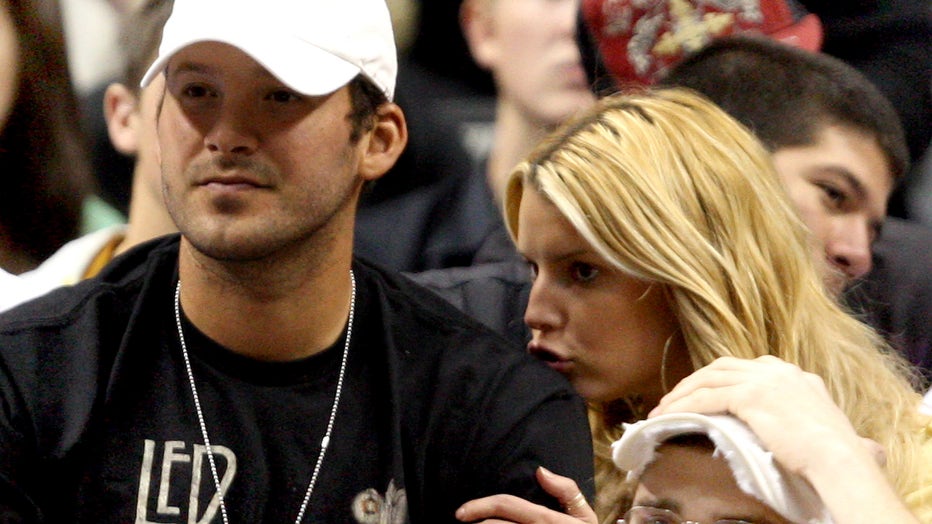 Dallas Cowboys quarterback Tony Romo gets a kiss from girlfriend Jessica Simpson in the second half of the Mavericks' NBA game against the Los Angeles Lakers at the American Airlines Center in Dallas, Texas, on Tuesday, March 18, 2008. (Photo by Ron
Russell Wilson and Ciara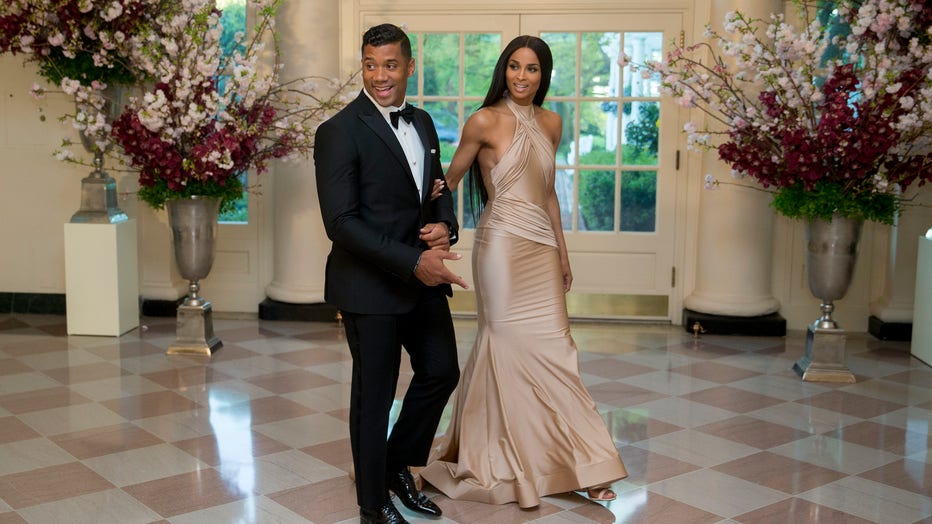 Russell Wilson, National Football League (NFL) quarterback for the Seattle Seahawks, left, and singer Ciara Harris speak to the media as they arrive at a state dinner hosted by U.S. President Barack Obama and U.S. First Lady Michelle Obama in honor o
David Beckham and Victoria Adams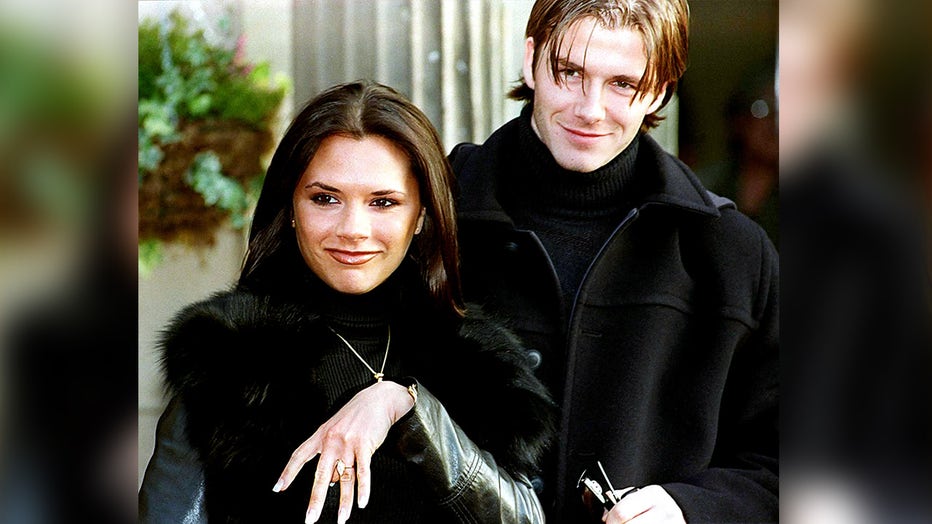 Victoria Adams (Posh Spice) and David Beckham the Manchester United footballer leave the Hotel near Crewe today (Sunday) where the announcement of their future wedding was made. (Photo by John Giles - PA Images/PA Images via Getty Images)
Vanessa Williams and Rick Fox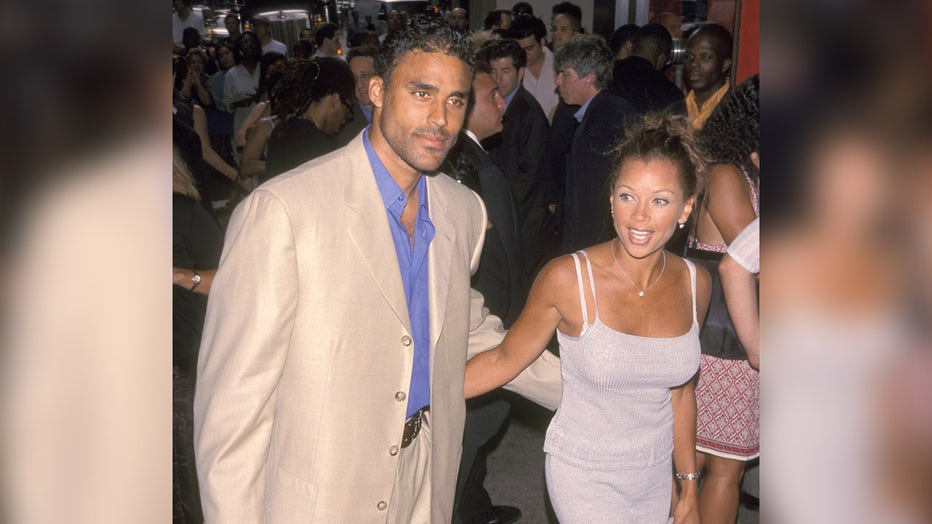 Rick Fox and Vanessa L. Williams at the "Summer of Sam" New York premiere. (Photo by Ron Galella/Ron Galella Collection via Getty Images)
Tony Parker and Eva Longoria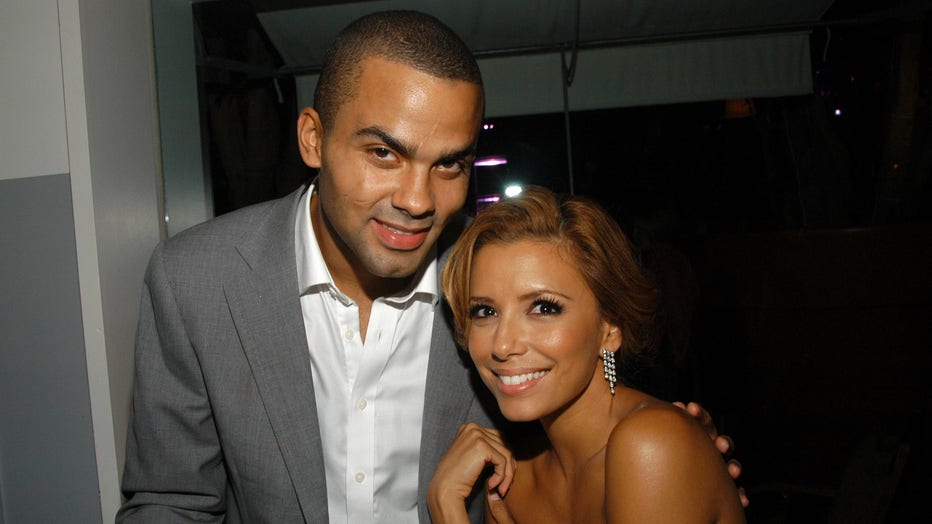 Tony Parker and Eva Longoria attend Entertainment Tonight and People Magazine Hosts Annual Emmy After Party-Inside at Mondrian on August 27, 2006. (Photo by Stefanie Keenan/Patrick McMullan via Getty Images)
Justin Verlander and Kate Upton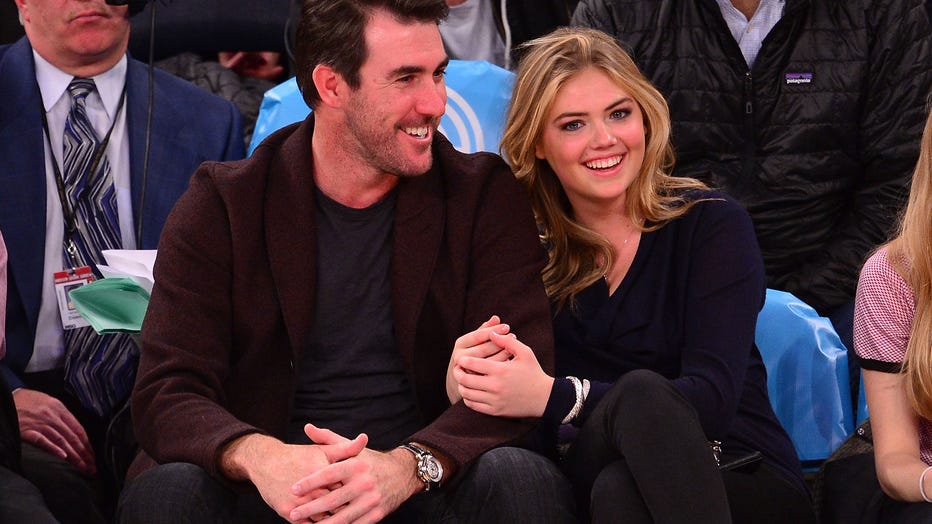 Justin Verlander and Kate Upton attend the Orlando Magic vs New York Knicks game at Madison Square Garden on November 12, 2014 in New York City. (Photo by James Devaney/GC Images)
Mandy Moore and Andy Roddick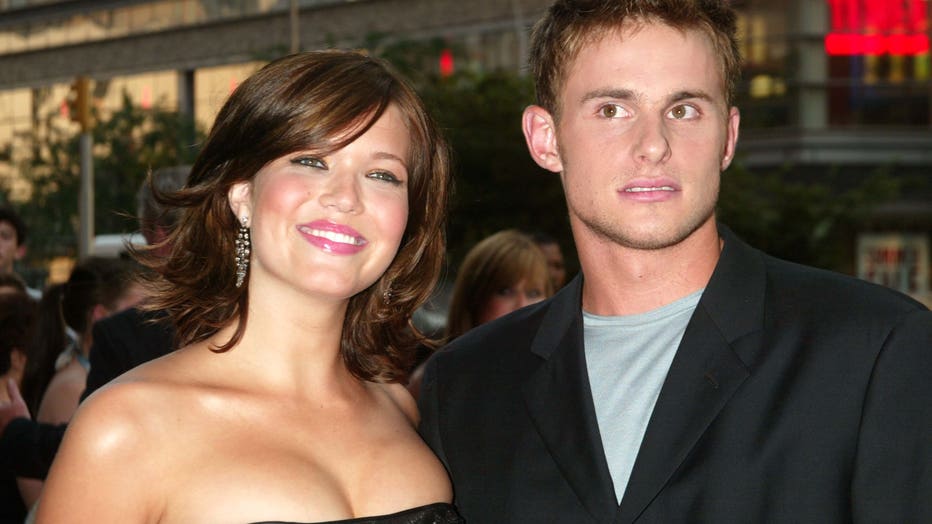 Mandy Moore and Andy Roddick at the "How to Deal" premiere. (Photo by Jim Spellman/WireImage for Harrison & Shriftman)
Common and Serena Williams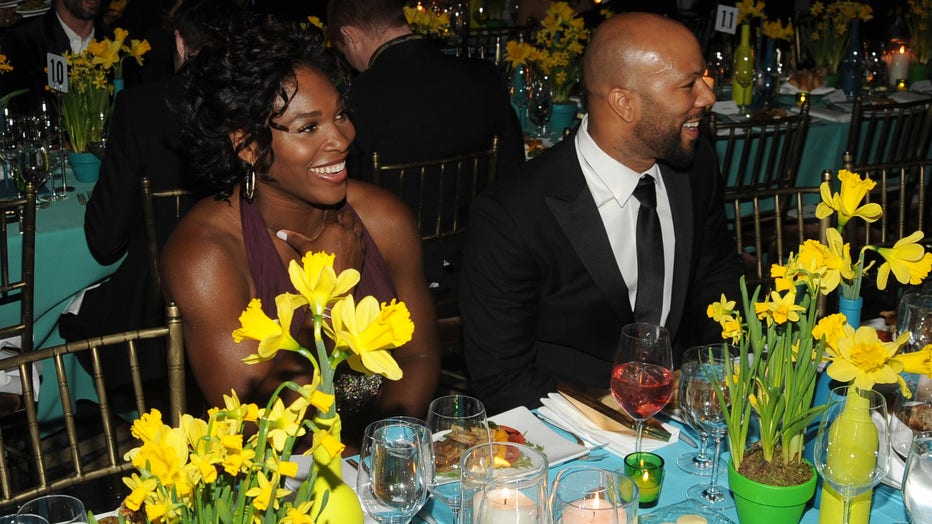 Professional athlete Serena Williams (L) and rapper Common attend New Yorkers For Children's sixth annual "New Years In April: A Fool's Fete" benefit at the Mandarin Oriental in New York City. (Photo by Steve Eichner/WWD/Penske Media via Getty Images
John McEnroe and Tatum O'Neal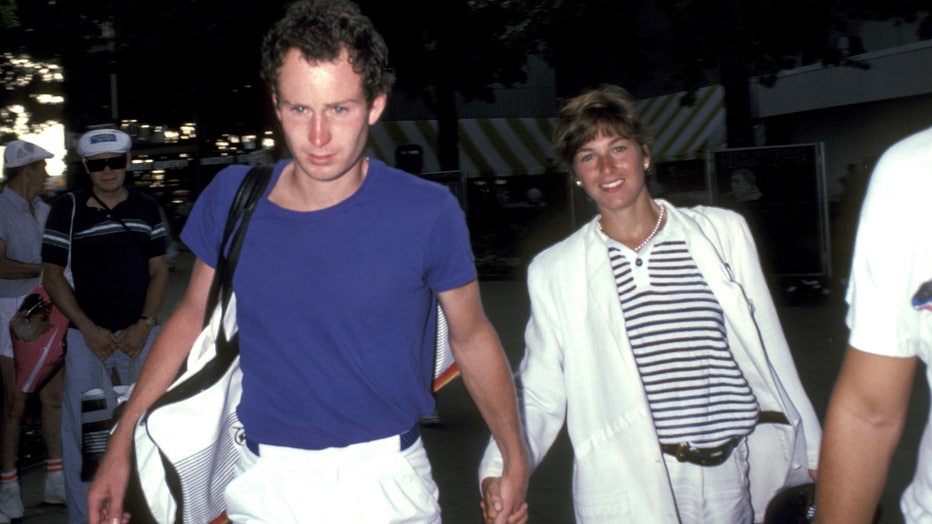 John McEnroe and Tatum O'Neal at the U.S. Tennis Open in 1985. (Photo by Ron Galella/Ron Galella Collection via Getty Images)
Dwayne Wade and Gabrielle Union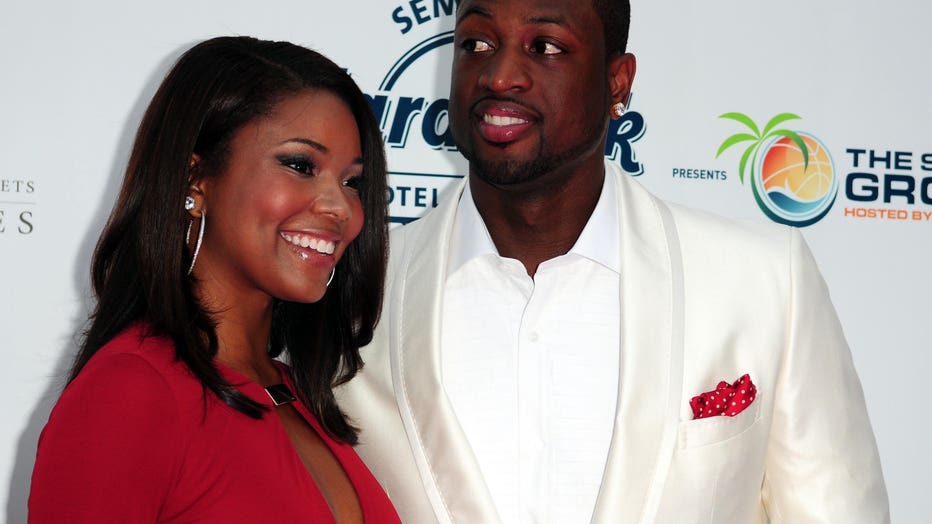 Gabrielle Union and Dwyane Wade attends Summer Groove Benefit Dinner at Seminole Hard Rock Hotel on July 17, 2010 in Hollywood, Florida. (Photo by Vallery Jean/Getty Images)
Kendall Jenner and Blake Griffin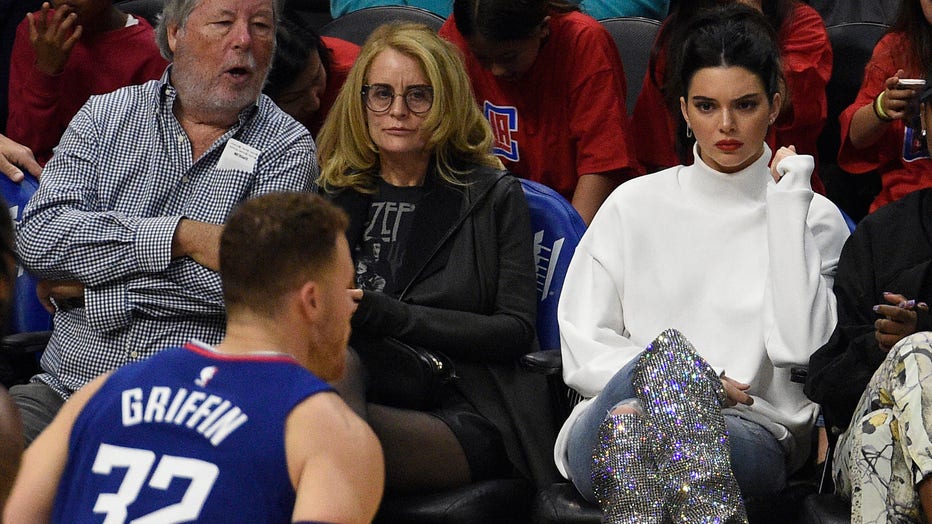 Kendall Jenner looks on as Blake Griffin #32 of the Los Angeles Clippers defends against Memphis Grizzlies at Staples Center November 4 2017, in Los Angeles, California. (Photo by Kevork Djansezian/Getty Images)
Khloe Kardashian and Lamar Odom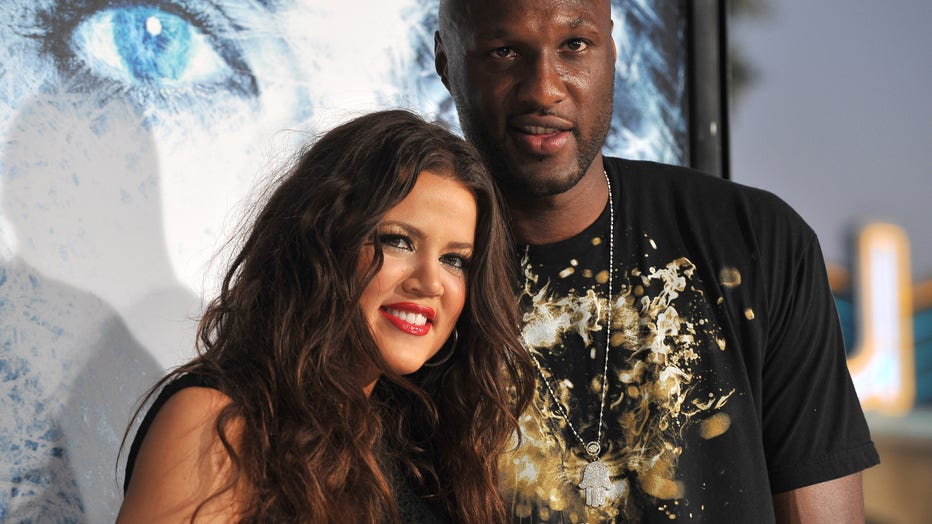 Khloe Kardashian and NBA player Lamar Odom arrives on the red carpet of the Los Angeles premiere of "Whiteout" at the Mann Village Theatre on September 9, 2009 in Westwood, Los Angeles, California. (Photo by Lester Cohen/WireImage)
Kim Kardashian and Kris Humphries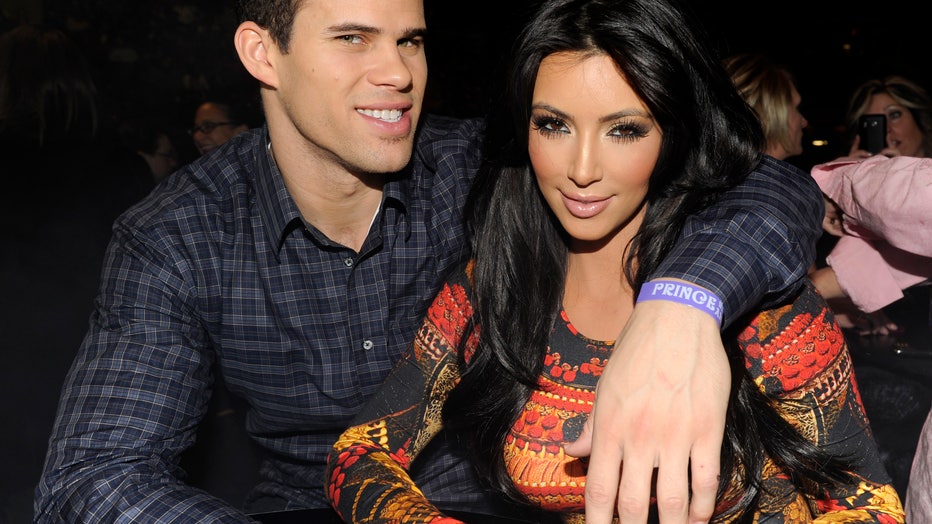 Kris Humphries and Kim Kardashian watch Prince perform during his "Welcome 2 America" tour at Madison Square Garden on February 7, 2011 in New York City. (Photo by Kevin Mazur/WireImage)
This story was reported from Detroit.