Utah vandal follows conscience, pays for vandalism damages 25 years later
OREM, Utah -- A Utah vandal has decided to make things right 25 years later.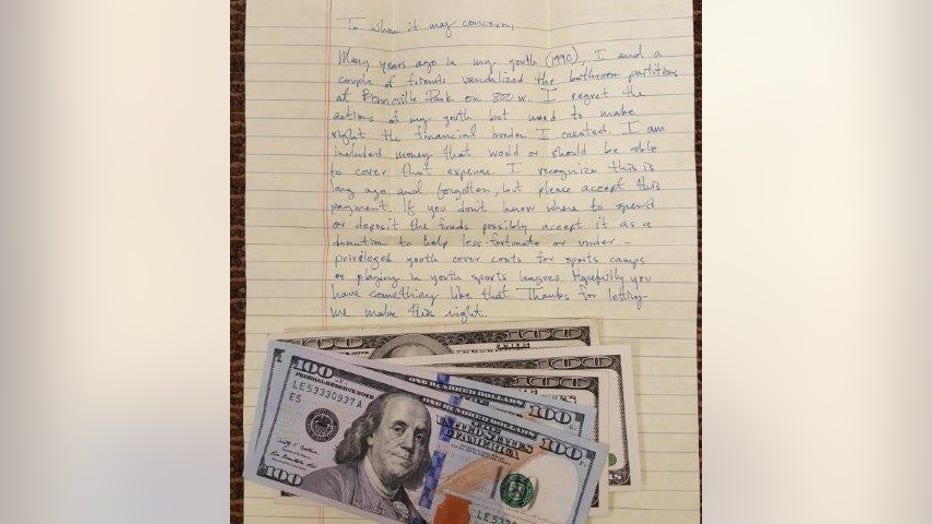 The City of Orem received a letter on Monday with $500 cash explaining the sender had vandalized bathrooms at a local park in 1990.

The letter stated:

"Many years ago in my youth (1990), I and a couple of friends vandalized the bathroom partitions at Bonneville Park on 800 W. I regret the actions of my youth but need to make right the financial burden I created. I am including money that would or should be able to cover that expense. I recognize this is long ago and forgotten, but please accept this payment. If you don't know where to spend or deposit the funds possibly accept it as a donation to help less-fortunate or under-privileged youth cover costs for sports camps or playing in the youth sports leagues. Hopefully you have something like that. Thanks for letting me make this right."

Reed Price, the maintenance division manager for the City's Public Work's department, was the first to see the letter.

"As I read through the letter, I was touched by the heartfelt apology from someone who had been anguishing for nearly 25 years over what has been a long-since-forgotten event," Price said. "I hope they feel peace for making proper amends."

Price said he was even more surprised to find $500 for the repairs inside. He said the money will be the first contribution to the city's all-abilities playground.