Wildfire danger rising across Western Washington
ROCHESTER, Wash. – A pair of homes were damaged Wednesday during an urban wildland fire in southern Thurston County.

Firefighters spent hours Thursday putting out hot spots but the hot dry weather is making conditions ripe for wildfire all over Western Washington.

The Washington State Department of Natural Resources said the fire risk up and down Interstate 5 is in the high or moderate range.

Considering most communities in our region haven't seen any real rain in weeks, fire officials worry we could see even more urban wildfires.

Brad Hall shot cellphone video of the quick moving wildfire near Rochester. He said he's never seen a fire like this so close to his neighborhood.

"It was kind of surreal," he said. "I've lived around Olympia for 50 years, we don't get those kind of fires around here very often."




The radiant heat was so intense it melted siding on two homes on Dakota Court. Firefighters said other structures were also destroyed in the fire.

"You know it's dry out there," said East Pierce Fire & Rescue Chief Bud Backer.

His agency has responded to several small brush fires in the area but he stressed that the conditions for wildfire are growing all across Western Washington.

"We expect it to just get worse in the next several days as this dry weather continues," he said.

Fire crews near Rochester checked for hot spots and by Thursday afternoon had the blaze nearly 90 percent contained.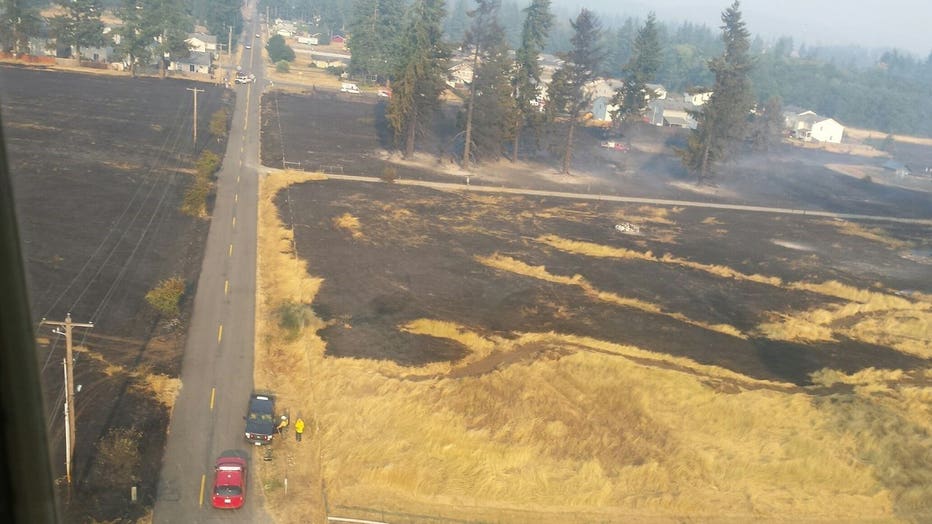 A look at the damage a day after the fire.(Photo: West Thurston Fire)


But until we get some measurable rain neighbors worry more fires like this could pop up.

"Certainly it's a concern for everybody around," said Hall.

Firefighters are urging homeowners to keep dry fuels away from the side of homes in an attempt to create defensible space in the event of a wildfire.